The 10 Hottest Travel Destinations Right Now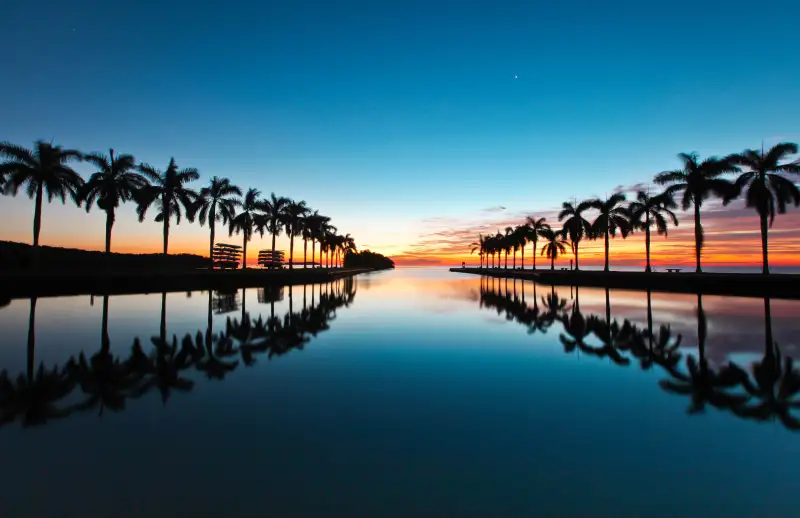 roberto bowyer—Getty Images
When it comes to New Year's resolutions, Americans are most concerned with their health, according to the social media monitoring company Digimind. However, with 12,224 mentions on social media, travel is the second most popular topic of discussion, logging 12,224 mentions in the waning days of 2015.
Low airfare helped many aspiring jet-setters achieve their travel-related resolutions in 2015. Moreover, services like Airbnb allowed travelers to experience popular destinations like New York City, which led Hipmunk's list of the most-searched cities in 2015, more like the locals. According to predictions from Priceline.com, New York City, Las Vegas and San Francisco will continue to be popular travel spots in 2016.
"Within the U.S., Las Vegas and other big cities like New York City, Miami and San Francisco remain top favorites; however, we're also seeing the resurgence of interest in traditional Florida destinations, such as Sarasota and Cocoa Beach — both of which have favorable average daily rates under $125 per night on Priceline.com. International draws include favorites such as Cancun and Costa Rica in Latin America and newcomers such as Bangkok and Sydney in the southeastern part of the world," said Brian Ek, a Priceline travel analyst.
Here is a closer look at some of those exciting destinations as well as other travel hot spots for 2016.
Related: 5 Ways to Make a Better Plan for Your Money in 2016
1. Florida
Affordable accommodations help make the Sunshine State a travel hotspot for 2016, with Orlando, Miami and Fort Lauderdale all making Priceline's list of the top 10 domestic destinations. Orlando and Tampa also scored spots on Priceline's list of most affordable American cities, with Tampa taking the seventh spot with an average room rate of $109.70 and Orlando claiming eighth place with an average rate of $110.91.
Still, savvy travelers know that Florida has more to offer than beaches and theme parks. For example, the 30A Songwriters Festival is scheduled for later this month.
"While Coachella, Lollapalooza, Bonnaroo and Austin City Limits are likely already on festival-goers radars, the 30A Songwriters Festival — the Americana-inspired music event on NW Florida's Emerald Coast featuring 150 accomplished songwriters such as Jackson Browne, Grace Potter, Ani DiFranco, Shawn Mullins and others — is taking place over the Martin Luther King Jr. holiday," said spokesperson Allie Schratz. "More than 200 performances will be featured in indoor and outdoor venues along the 26-mile stretch of Scenic Highway 30A."
2. San Francisco
Coming in at No. 5 on Priceline's list of the most popular U.S. destinations for 2016, San Francisco is a perennial favorite that will be especially attractive to football fans this year. The city will host Super Bowl 50 along with more than a week of events leading up to the Feb. 7 game at Levi's Stadium in Santa Clara, Calif.
According to Anita Covic, North American destination specialist for TripTogether.com, the site's members are planning 2016 trips to coincide with sporting events in order to enjoy the game and visit nearby attractions. However, going to the Super Bowl this year won't be cheap. According to Orbitz.com's booking data, fans visiting during Super Bowl weekend could drive up average daily hotel rates in the area from $156 in 2015 to $434 — a 178 percent increase. If you don't want to deal with the crowds, or shell out $3,500 to buy a Super Bowl ticket from secondhand markets such as StubHub, there are plenty of other attractions in the area to enjoy throughout the year.

"San Francisco offers wonderful food at Fisherman's Wharf, a visit to Alcatraz Island, the beauty of the Golden Gate Bridge, Lombard Street and San Francisco's famous cable cars and much more," said Covic.
3. Portland
Cultura RM/Wonwoo Lee—Getty Images/Cultura RM
Great prices, coupled with a robust culinary scene and easy access to outdoor adventures, will help make Portland a hot spot for 2016.
"Our local area is renowned for its alcohol scene, which vacationers flock to. We have the Willamette Valley an hour away, which produces world-class Pinot Noir and has been on a popularity boom since the movie "Sideways" came out [and] an emergent urban winery scene, which has been getting great reviews from locals," said Skyler Lanning, who operates the tour company Wildwood Adventures. "Within the city metro, there are over 70 microbreweries, which is the highest per capita in the nation."
As an added bonus, Portland tends to be more affordable than other West Coast destinations, coming in sixth on Priceline's affordable American cities list with an average nightly room rate of $108.23.
4. New York City
New York City is another travel hotspot, and an increasing number of visitors are venturing beyond Manhattan to see more of it. The trend prompted Fodor's to release a travel guide devoted entirely to the borough of Brooklyn in 2015 and is fueling a hotel boom in neighborhoods like Williamsburg. In Brooklyn's downtown area, for example, private development is estimated at more than $9 billion, according to Jacqueline Jordan, a spokesperson for the William Vale, a hotel slated to open in the area in April.
"Brooklyn [is] becoming a destination," she said. "Williamsburg continues to [be] a fascination with tourists and, due to the boom, more hotels continue to open, including The William Vale and the Williamsburg Hotel."
Nightly room rates for June 1 at the William Vale start at $512.74.
5. National Parks
The National Park Service will celebrate its 100th birthday in 2016, and according to Henrik Kjellberg, president of Hotwire.com, there's "no better time to get out and see some of the greatest natural areas the U.S. has to offer."
Those travelers who choose to rent cars can do so on Hotwire.com for as little as $11.95 a day. Additionally, families can purchase a standard annual National Parks and Federal Recreational Lands pass — which covers entrance, standard amenity fees and day use fees for a driver and all passengers in a personal vehicle at per vehicle fee areas or up to four adults at sites that charge per person — for $80. As added incentive, fourth graders are eligible for a free annual pass that entitles them and the adults that accompany them to many of the same privileges.
6. Cuba
wellsie82—Getty Images/Moment RM
Travel rates from the U.S. to Cuba have increased by 35 percent since January 2015, according to Tom Spagnola, senior vice president for Fareportal, and experts expect this trend to accelerate once the U.S. government allows travelers to book their own flights rather than relying on charter companies and tour groups.
"Cuba will be the hottest destination for Americans in 2016," said Jared Blank, chief marketing officer of DealNews. "After liberalizing travel restrictions in 2015, in all likelihood we will see scheduled airline service to the island nation from the United States for the first time in more than 50 years. Visitors will discover a country that is untouched by the forces of tourism that have commercialized other popular Caribbean destinations."
For now, travelers can book packages such as Gate 1 Travel's four-night Havana, Cuba, vacation for two, which includes flight, hotel and an escorted sightseeing tour. DealNews currently lists this deal at $5,158. Purchase by Jan. 31 for travel from March 7, 2016 through Dec. 26, 2016.

7. Italy
Experts are predicting that Italy will be one of the hottest travel destinations for 2016.
"It has been a hot spot for tourists from North America for years but people are going out from the big cities like Rome, Florence and Venice to explore the lake region, Puglia, Tuscany and more," said Claire Newell, owner and president of Travel Best Bets.
She added that Sorrento, Italy, is a popular spot for long-stay vacations among those with the time and money to spend a month or so away from home.
"More and more Boomers and Matures take these trips between November and March to escape the cold North American fall and winter, spending three to four weeks in a destination in apartment-style accommodations to experience life as if they were a local," Newell said.
According to an Airbnb search, the average monthly cost of renting an entire Sorrento apartment in February was $1,979. However, the site also returned several rental options for less than $1,000. If you're looking for an affordable Italian getaway off the beaten path, Sorrento might be the ideal choice for 2016.
8. Thailand
Vacationers of all ages are traveling to Thailand in record numbers. According to Newell, good weather and affordability make Phuket, Thailand, a prime pick for long-stay travel. Additionally, the area caters to young families with its animal-themed tours and kid-friendly accommodations.
If you're looking to save on travel in 2016, consider visiting Bangkok. With an average room rate of $58.79, Bangkok ranks third on Priceline's list of most popular international destinations for the year.
9. Brazil
While a trip to the Olympics isn't cheap, cost-conscious travelers can plan a vacation to Brazil before or after the Games to take advantage of a strong dollar and relaxed visa requirements. Additionally, Brazil's warm weather is likely to draw travelers looking to escape the unpleasant effects of El Niño this year.
"El Niño predictions for a long winter will get people traveling to warmer climes — we've seen significant price drops in cities like Los Angeles, Orlando, West Palm Beach and Las Vegas, just to name a few," said Hotwire's Kjellberg. "The Olympics is taking place in Rio — another great warm weather spot! — and according to Hotwire data, [it's] one of the top five destinations with year-over-year price drops in the average daily rate. Win-win!"
For Aug. 5, the first day of the Games, the average room rate for the Rio de Janeiro hotels listed on Hotwire was $212, according to a recent search of the site.
10. New Zealand
The U.S. dollar packs a lot of buying power in New Zealand, and increasing competition among airlines is making the long flight more affordable than ever. As an added incentive, American Airlines will be adding nonstop service from Los Angeles to Auckland starting in June. Air New Zealand, which already serves that route, responded with an immediate fare cut — reducing fares from around $516 to around $328 for selected flights between early May and late August, according to CNN. Additionally, United announced plans to provide service from San Francisco to New Zealand starting in July.
"When we go on the hunt for travel hot spots, we look at a mix of factors," said Amanda Festa, editor at Cheapflights.com. "Is a place going to be especially affordable? Are new flights making it easier to get there? Are there big events coming up? Have the travel rules changed? Is there something new happening? The spots on this year's list check one or more of those boxes."
If you're thinking of hitting the road — or the skies — in 2016, don't miss out on these exciting, affordable destinations.
This article originally appeared on GoBankingRates.