The 18 Best Trader Joe's Products, According to TJ Obsessives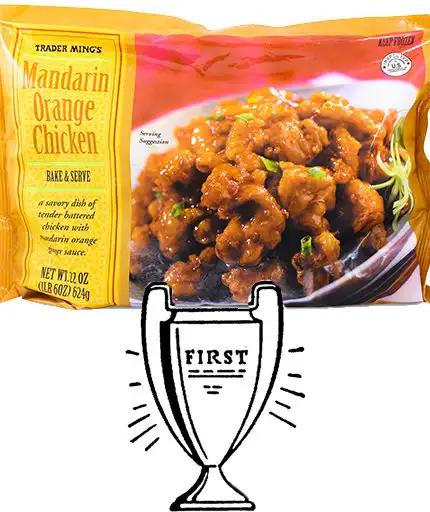 The popular grocery store just released the winners of their 9th Annual Customer Choice Awards. Did your favorites make the cut?
On January 2, Trader Joe's customers were invited to vote for their favorite products of 2017. After two weeks of voting (and eager anticipation on our part), the results are in. See below for the winning products of 2017.
This freezer staple has been a cult-favorite since 2004 (though it's seen a re-branding since its original debut). You can microwave the sauce and toss it with the chicken, but Trader Joe's recommends baking the chicken, warming the sauce in a skillet, adding the chicken, and tossing it together.
Runners Up: Everything But the Bagel Seasoning, Unexpected Cheddar, Dark Chocolate Peanut Butter Cups, Cookie Butter
Unfortunately, this flaky danish is only available during the holiday season. But when December rolls around, be sure to keep an eye on the bakery section: the 1-pound, 8-ounce ring has become tradition in many households.
Runners Up: Sliced French Brioche, Chocolate Brooklyn Babka, Sliced Sourdough Bread, Organic Baguette
Customers anxiously await the return of this cider every year (it's only available for purchase in the fall). It's made with fresh apple juice, cinnamon, allspice, and cloves, with no added sugar. Enjoy it warm or cold.
Runners Up: Brewed Ginger Beer, Wine, Sparkling Mineral Water, Triple Ginger Brew
We could have called this one from a mile away. The individually-wrapped cups are the ultimate one-bite indulgence: perfect for afternoon cravings or a late-night snack. Each tub is filled with about 36 peanut butter cups.
Runners Up: Scandinavian Swimmers, Dark Chocolate Covered Almonds, English Toffee, Dark Chocolate Covered Espresso Beans
This 7-ounce block of cheese gets its name due to its unique flavor notes. Upon first bite, it tastes just like aged cheddar, but you'll soon begin to taste hints of Parmesan. The one thing that's guaranteed is you'll be going back for seconds.
Runners Up: Double Cream Brie, Cheddar Cheese With Caramelized Onions, Smoked Gouda, Pub Cheese
Cold brew showed no signs of slowing in popularity in 2017, making TJ's concentrate a must for many caffeine-lovers. Part of its appeal is its low cost: each 32-ounce bottle is just $10, averaging $0.83 per cup of coffee. That's a lot cheaper than any coffee shop in town.
Runners Up: French Roast, Wintry Blend, Pumpkin Spice, Organic Fair Trade Sumatra
Made with zero artificial ingredients or preservatives, this ketchup is happiest on a burger alongside Organic Yellow Mustard and Organic Sweet Pickle Relish.
Runners Up: Green Dragon Hot Sauce, Sweet Chili Sauce, Everything But the Bagel Seasoning, Organic Sriracha & Roasted Garlic BBQ Sauce
Favorite Frozen Appetizer: Spanakopita
Two types of Greek cheeses and a generous amount of spinach are stuffed between layers of flaky, buttery filo dough to create this vegetarian masterpiece. It's shaped into a pie, making it easy to slice and serve.
Runners Up: Spinach & Artichoke Dip, Chicken Gyoza Potstickers, Vegetable Bird's Nests, Bacon Wrapped Scallops
Chocolate lines the inside of the cone and tops the ice cream in this mini treat, which also comes in other flavors.
Runners Up: New York Deli Style Cheesecake, Macaron Variés, Key Lime Pie, Sublime Ice Cream Sandwiches
Making a second appearance on this list, this chicken beat out TJ's famous macaroni and cheese and chicken tikka masala. That's how you know it's the real deal.
Runners Up: Joe's Diner Mac 'n Cheese, Chicken Tikka Masala, Hatch Chile Mac 'n Cheese, Kung Pao Chicken
This refreshing shampoo is made with made with organic botanicals, including tea tree oil, peppermint, eucalyptus, rosemary, and thyme. If you love it, try the body wash and conditioner, too.
Runners Up: Coconut Body Butter, Honey Mango Shave Cream, Organic Argan Oil, Jojoba Oil
Trader Joe's fans go crazy for their seasonal holiday offerings, making this a stacked category. But TJ's take on candy cane Oreo's came out on top, thanks to the irresistible combination of peppermint and chocolate.
Runners Up: Mini Dark Chocolate Mint Stars, Dark Chocolate Covered Peppermint Joe-Joe's, Jingle Jangle, Panettone
Favorite Home: Flowers
TJ's has a surprisingly versatile selection of flowers, from fresh cut blooms to succulents.
Runners Up: Lavender Dryer Bags, Liquid Laundry Detergent, Pop Up Sponges, Bath Tissue
There's nothing fancy about these microwavable burritos, and that's exactly why we love them. But don't be shy with the toppings. Pile on the salsa, sour cream, and guacamole.
Runners Up: Cubano Seasoned Wrap, Tofu Spring Rolls, Joe's Diner Mac 'n Cheese, Southwest Salad
Favorite Meat/Meatless: Soy Chorizo
Made by a company that specializes in chorizo, this meat-alternative tastes as close to authentic as they come. Try it in scrambled eggs, on a breakfast taco, or alongside crispy potatoes.
Runners Up: Meatless Meatballs, Spatchocked Lemon Rosemary Chicken, Carne Asada, Uncured Applewood Smoked Bacon
Favorite Produce: Bananas
How can bananas beat Teeny Tiny Avocados as favorite produce? By being priced at $0.19 each, that's how. Eat them as a snack, slice 'em up, and put them on peanut butter toast, or freeze them for smoothies.
Runners Up: Avocados, Teeny Tiny Avocados, Riced Cauliflower, Brussels Sprouts
Loved by customers and employees alike (the Trader Joe's crew consistently ranks them in their ten favorite products), these nuggets are the ultimate salty (and creamy, and crunchy) snack.
Runners Up: Organic Corn Chip Dippers, Roasted Plantain Chips, Cornbread Crisps, World's Puffiest White Cheddar
This is purely pumpkin in a can. Great for pumpkin bread and muffins, of course, but also soups and stews.
Runners Up: Pumpkin Butter, Pumpkin Bread & Muffin Mix, Pumpkin Pancake Mix, Pumpkin Ice Cream