Police All Over the U.S. Are Issuing Fewer Traffic Tickets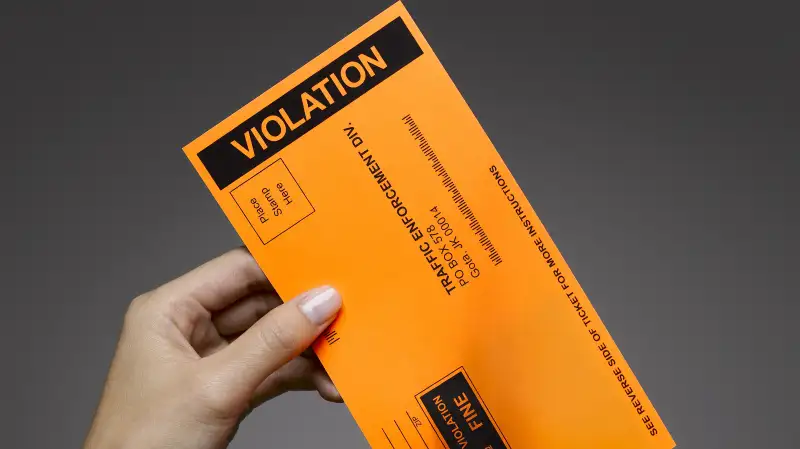 Jeffrey Coolidge—Getty Images
The Nevada Supreme Court says it could be completely broke by May 1. The primary reason the court won't have enough cash to operate? Not enough people are breaking the law. Or rather, not enough people are being caught breaking the law.
The Las Vegas Review-Journal recently reported that the number of traffic and parking citations has plummeted in Nevada, from 615,267 in 2010 to 484,913 last year. That's a dip of more than 21% over five years. The state court system's budget relies on millions of dollars in funding from such citations, so when significantly fewer tickets are issued, it can wreak havoc on the court's ability to do its job, and even just keep the lights on.
In mid-March, Nevada Chief Justice James Hardesty raised the problem to a group of state lawmakers, asking the legislature to provide emergency funding to make up for the shortfall in citation revenues. The court's budget is currently running $700,000 short. As for why the number of tickets issued by police has steadily declined, Hardesty doesn't think it's simply because a broad swath of drivers has suddenly seen the error of their ways and stopped speeding.
"With all due respect to the citizens of Nevada, I don't think anyone is driving better," Hardesty said to lawmakers. "I think the truth is that we're seeing less traffic violations because law enforcement's priorities have changed and it has changed dramatically."
What, then, are the new priorities? The Review-Journal noted that police have put new "emphasis on violations that could cause crashes," with citations up for drunk driving and cellphone use behind the wheel. Understaffing may be a factor as well.
In any event, the decrease in traffic citations is hardly limited to Nevada. Speeding tickets are down sharply in Wisconsin, from 294,000 convictions in 2004 to 156,000 in 2013. In Washington, D.C., police officers issued 76,832 traffic tickets last year, down from 81,161 in 2012 and 116,509 in 2010. Citations issued on interstates in Ohio are down as well, especially on busy I-70, where the monthly number of tickets is down 25%. Over in Pennsylvania, the number of tickets issued by state police was down 22% in September 2014 and 11% in October compared with the same months the year before.
Speed Limits Up, Revenue Down
What's to explain the decline in tickets? In some cases, it's a matter of not having the funds to keep police out on patrol looking for violators. Police in Wisconsin, for instance, say that federal grant money that used to support anti-speeding campaigns has dried up.
What's interesting—or perhaps sad, in a which-came-first, dog-chasing-its-own-tail sorta way—is that budget tightening is often blamed for why ticket issuance is down, at the same time a decline in citations is pointed to as a prime reason for budget shortfalls in the first place. Understaffing due to budgetary constraints has been blamed for the sudden and dramatic decline in ticket revenues in Illinois, Massachusetts, and New York as well in recent years.
Higher speed limits that are more in line with how people actually drive also appear to have handcuffed the need to issue speeding tickets. When Ohio upped its speed limit to 70 mph in 2013, it became the 37th state to OK speeds of 70 or above. In light of that, it's no coincidence that speeding tickets have dropped 7% on Ohio's 70 mph stretches, and they're down 25% on rural areas of I-70 where the limit is 70 mph.
In some cases, especially in D.C., there are indications that police are writing fewer traffic tickets because automated red-light camera systems are doing the job for them. In Pennsylvania, meanwhile, traffic tickets were supposedly down steeply last fall partly because police were occupied in a seven-week manhunt for alleged cop killer Eric Frein. What many drivers might find alarming is that even as citations were down during this period, ticket revenues were up significantly compared with the year before. How could this be? The average traffic fine simply got more expensive, hitting $125 in 2014, up from $114 the year before.
The cynics among us may think that police are writing fewer tickets mainly because they have little incentive to write more tickets. This certainly seems to be the case in parts of Illinois, where police issue traffic tickets at a tiny fraction of the rate their citation-happy brethren in law enforcement do across the border in Missouri. The most infamous example of this is Ferguson, Mo., where the killing of an unarmed Michael Brown by police inspired months of protests, and where police are known to write more and more tickets to fund local budgets. Nearly 12,000 traffic tickets were issued in Ferguson (population: 21,111) last year. Across the border in Illinois, where municipalities see very little of the money taken in from traffic fines, police in cities of similar size like Alton (population: 27,690) and Edwardsville (population: 24,663) handed out only 6,653 and 3,128 tickets, respectively, in 2013.
"None of us want an officer to have a financial incentive to write citations," Edwardsville Police Chief Jay Keevan said to the St. Louis Post-Dispatch.
For that matter, traffic tickets aren't supposed to be about money, right? They're supposed to exist in order to incentivize drivers into behaving better behind the wheel and keep roads safer. The purpose of lower speed limits is supposed to be to save lives as well. With that in mind, one might assume that since speed limits have risen, and since police seem to have grown lax in their approach to writing tickets, roads would become more dangerous. But the statistics don't bear this out.
According to the Insurance Institute for Highway Safety, there were 30,057 car crashes in which someone died on American roads in 2013, the most recent year for which data is available. That's the second-lowest fatal car crash total ever (2011 had slightly fewer), and it marked an all-time low for the death rate per 100,000 vehicle occupants.
In other words, roads today are safer, not more dangerous, and it's hard to argue that writing more tickets is going to make anyone safer.