Why a Trip to the Super Bowl May Not Be Worth the Staggering Cost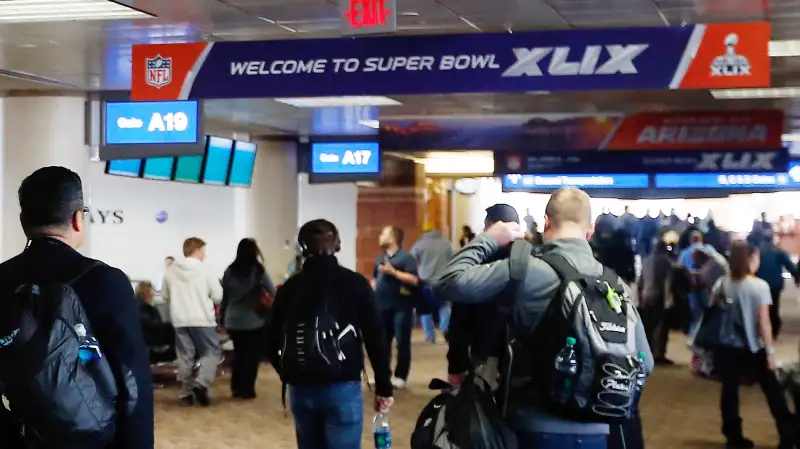 Christian Petersen—Getty Images
How much is it worth to watch the Super Bowl in person?
That is the question thousands of American football fans have been wrestling with the last few weeks. Do you take a once-in-a-lifetime plunge and spend perhaps tens of thousands of dollars to get yourself to Glendale, Arizona, to watch the Seattle Seahawks take on the New England Patriots?
Or do you kibosh such a massive expense, and earmark that sum for more sober purposes, like saving for retirement, paying down debt, or getting ready for April's tax bill?
Ron Yeh, who was keen to see his beloved Seahawks win a second straight title, decided go this year after weighing the pros and cons.
The 40-year-old gastroenterologist from the Seattle area and a friend found a package from warehouse club Costco Wholesale Corp that included tickets, lodging, shuttles and tailgate parties—$8,000 for two.
"I've been following the Seahawks ever since the fourth grade, when my family moved here from Taiwan," Yeh says. "But this is my first time going to the Super Bowl. It's going to be exciting."
Obviously, a Super Bowl memory does not come cheap. The average resold ticket has been going for $3,046, according to data provided last week by StubHub.com. That is up from $2,527 last year, when the game took place in New Jersey's MetLife stadium.
Ticket sales on StubHub.com have ranged from $937 to $11,500. Those prices do not include ancillary costs—flights, hotels, food and drink, and memorabilia.
Besides his $4,000 package, for instance, Ron Yeh spent another $950 on a round-trip flight from Seattle.
Arizona's tourism authority is betting that Super Bowl attendees will spend roughly double that of a normal conventioneer, upwards of $600 a day during their stay. Last year attendees spent an average of $141.75 each on food, drink and merchandise just at the game itself, according to SportsBusiness Journal.
At the top end, the cost can be staggering. Take a look at this package recently offered by private jet charter company Magellan Jets: prime tickets, round-trip flight, access to celebrity parties on Super Bowl weekend, and more. The eye-popping tab: $35,000 for two.
"It's clearly not an event for a regular middle-class family," says Victor Matheson, a professor and sports economist at College of the Holy Cross in Worcester, Massachusetts.
But the Super Bowl is a rare and special event, and missing out can haunt people. Take financial planner H. Jude Boudreaux, who was ready to see his New Orleans Saints take on the Indianapolis Colts back in 2010, but sold his tickets to a friend at the last minute.
"I do regret it every year when this time of year rolls around," he says.
Of course, the cost does not have to be exorbitant. Scout for tickets in the nosebleed section, rather than on the 50-yard line. Bunk with friends in the area instead of paying insane hotel markups. Take redeye flights with connections.
Also, do not expect too much. You can forget about seeing every replay from 10 different angles, to be debated by panel of ex-pros in a luxury booth.
Instead you're going to be outside, probably a long way from the action, without your trusty flatscreen and no fridge full of snacks.
That is what financial adviser Keith Singer of Boca Raton, Florida, found when he saw the Philadelphia Eagles at the Super Bowl 10 years ago.
"It was really hard to see the game from where I was, and I missed all the pregame shows because I was at the stadium," he says. "I probably wouldn't go to another Super Bowl again. There's no better view than in front of your giant TV, with all the refreshments and food you could want right at your fingertips."
But even folks watching at home are preparing to fork out for the big day. The National Retail Federation's Super Bowl Spending survey estimates that 184 million viewers will be spending a combined $14.3 billion—an average of $77.88—on food, gameday gear, decorations and TVs.