Can Trump Make Coal Great Again?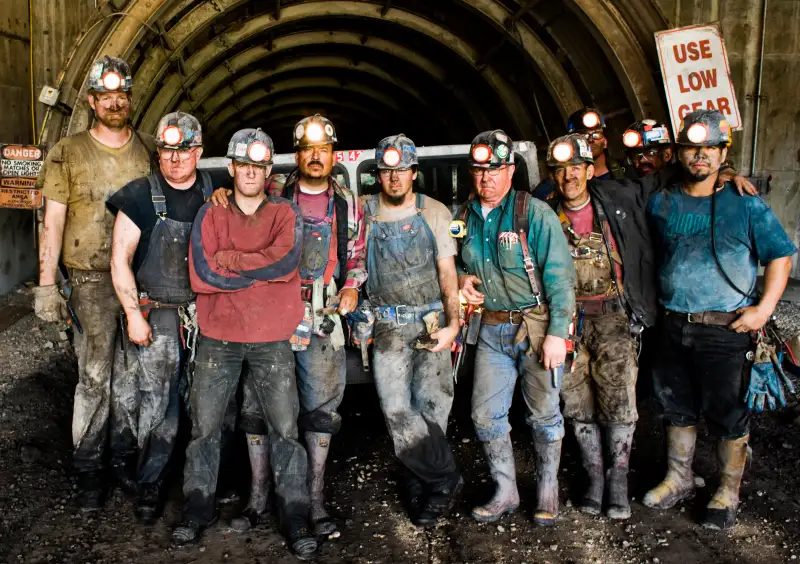 Tyler Stableford—Getty Images
Most of the U.S. coal industry doubts Donald Trump can fulfill his promise to make the ailing industry great again in a country awash in dirt-cheap natural gas, a competing fuel.
But a small sub-section of the coal sector that mines metallurgical coal - a variety used by steel makers instead of power plants - is gearing up for a Trump-inspired boom.
That's because the Republican president-elect has promised a spending surge for roads, bridges and tunnels after he takes office on Jan. 20, a push to upgrade America's infrastructure with the support of leading Democrats that could jolt demand for metallurgical coal from American steel mills. Prices for met coal, as it is called, have already risen in recent months on lower supply from China.
"This is the best news that Appalachia as a whole has had in about 10 years," said Jason Bostic, a vice president at the West Virginia Coal Association, referring to Trump's infrastructure agenda. "Suddenly there's a little bit of hope here."
Corsa Coal Corp, a producer of met coal based in Pennsylvania, was already encouraged by the China-driven price spike before Trump's victory. Now it believes U.S. politics are going its way too.
"The thing that has got me the most excited is the potential for infrastructure spending," said George Dethlefsen, Corsa's chief executive. "All those things are very energy- and steel-intensive, and that's good for our business."
The company plans to boost its production of met coal by 70 percent in 2017 to around 1.2 million short tons. In the meantime, it is putting mines on a six-day-a-week schedule, up from four days, and it is looking at loading coal on its midnight shift, which it normally reserves for maintenance.
Arch Coal Inc, which produces both met and steam coal used in power plants, said it was also optimistic about Trump, particularly his promise to roll back regulations. But other representatives of the steam coal industry have said regulation reversals may not overcome their main problem: plentiful and cheap natural gas following a decade-long hydraulic fracturing drilling boom.
National production figures for met coal are unavailable, since the government does not break the data out. But total U.S. coal production has fallen to its lowest level since 1986, costing the industry thousands of jobs, as low natural gas prices and President Barack Obama's emissions and water regulations took their toll.
Met coal prices, however, reflect the coal sector's only major sign of life this year. They have risen to above $270 a metric ton this month from lows of $70 a ton in February, driven in part by China reducing its output.
Corsa and Arch are among a very small number of U.S. met coal producers that are publicly traded, with most of the others small and privately owned. Alpha Natural Resources, which emerged from bankruptcy in July, declined to comment.
INFRASTRUCTURE BANK
Trump's transition team is weighing an "infrastructure bank" to make investments in projects as part of an economic focus that also includes revamping taxes and regulation, a Trump adviser said this week.
Democrats, including Senate Democratic leader Chuck Schumer and House Minority leader Nancy Pelosi, have indicated they hope to work quickly with Trump on infrastructure. But whether they will succeed is far from certain, as many Republicans oppose spending bills.
Ramaco, a private company, announced in September it will open two met coal mines in West Virginia and Virginia next year, thanks to $90 million in private equity investments that came in as global met coal prices swung upward.
Randy Atkins, the chairman and chief executive of Ramaco, said adding new mines was possible if Trump's U.S. infrastructure push succeeds but would depend on whether additional investors flock in to fund them.
Banks and financial institutions are sensitive to recent bankruptcies of major coal companies - including Arch and Peabody Energy Corp - and the weak financial conditions of others, Atkins said.
Jim Truman, the director of global metallurgical coal markets at research group Wood Mackenzie, said the specialized workers that would be required, such as underground electricians, could also be hard to find given coal's downturn since 2008.
Phil Smith, a spokesman for the United Mine Workers of America, said the other key to the U.S. met coal industry's outlook is whether new infrastructure relies on American-made steel and coal as Trump has promised.
"If we are importing the coal or importing steel made with foreign coal, then it won't make any difference for American miners," Smith said.
Additional reporting by Nicole Mordant in Vancouver and Swetha Gopinath in Bengaluru