Trump Says the U.S. Economy Is the 'Greatest' Ever. It's Not
Money is not a client of any investment adviser featured on this page. The information provided on this page is for educational purposes only and is not intended as investment advice. Money does not offer advisory services.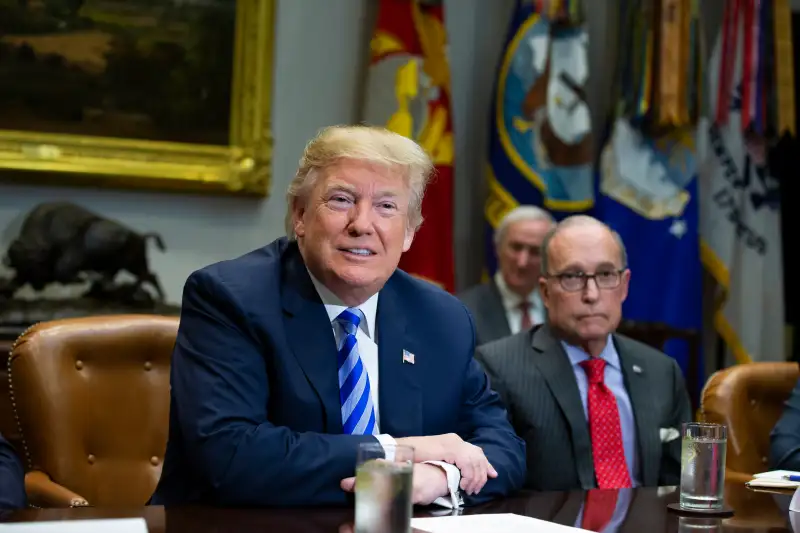 President Donald Trump has plenty of room to brag about the American economy. Calling it the "greatest" on record may be a stretch.
"In many ways this is the greatest economy in the HISTORY of America and the best time EVER to look for a job!" he tweeted Monday afternoon. Speaking in the White House Rose Garden on Wednesday, he repeated that this is the "strongest economy we've ever had."
Indeed, the economy has made major progress since the Great Recession ended in 2009, and that improvement has continued -- and even strengthened by some metrics -- during Trump's 16 months in office. Jobless rates among minorities are at or near record lows, openings are at an all-time high and there are more positions available than there are unemployed.
Yet wage growth is moderate, productivity remains tepid and expansion has averaged 2.4 percent on a year-over-year basis since Trump took office, well below the 4.4 percent of the 1950s and 1960s.
"If you want to go back to the golden years, I suggest you go back to a year like 1955," said Robert Gordon, a Northwestern University economist and author of the book "The Rise and Fall of American Growth." Dwight D. Eisenhower was president that year. The post-World War II period, up until 1972, "brought sustained increases in the standard of living that are completely different from what we have today."
Greatest Growth
For starters, labeling a single economic era as the greatest in history is subjective because there's no agreed-upon metric.
Judging solely by gross domestic product, perhaps the simplest way to gauge a nation's progress, the decades that followed World War II were the hottest in American history. Pent-up consumer demand, a housing boom and a vibrant manufacturing sector all melded into the economy's Golden Age. By the GDP yardstick, the current pace of the expansion pales in comparison.
That said, Trump seems to be focusing on the labor market, which continues to flex its muscle. There are more job openings than unemployed workers for the first time ever, though that figure comes from data that only stretches back to 2000. A longer-run estimate suggests that the ratio of jobless to opportunities is at its lowest in almost five decades.
Unemployment rates are also at or near the lowest on record for black, Asian and Hispanic workers -- a fact Trump has highlighted.
Still, the overall jobless rate -- 3.8 percent in May -- has been lower in the past, dipping below 3 percent during the 1950s. The time it takes unemployed people to find work also remains elevated. And while wage growth has slowly picked up, past expansions have seen much bigger gains. That's true even after accounting for today's modest inflation.
"If you're a new data scientist, or Ph.D. economist, yeah, it's a great time to look for a job," Lawrence Katz, a Harvard University economics professor who served as the Labor Department chief economist during the Clinton administration, said when asked if this is the best time to look for work. "If you're a janitor, a construction worker in some places -- No."
Katz noted that in the late 1960s and late 1990s, wage growth was booming for such everyday employees. And in the 1960s, jobs put workers on a path toward benefits and economic security in the longer run -- more of a rarity today, in a world where unions and pension plans are few and far between.
Michael Bordo, an economics professor at Rutgers University and an authority on monetary history, agrees with Katz on that timing. The best economic period judging by unemployment was the 1960s, he said. In terms of economic growth, it was the 1960s and the 1990s.
As for the Golden Age, "we're not going to get that back," Bordo said. While new technologies could help to boost growth higher, the postwar boom's special conditions are impossible to replicate. It's more realistic, he said, to shoot for growth that mirrors the 1980s and 1990s.
Northwestern's Gordon is also doubtful that a return to the "greatest" economy is within reach.
Comparing Eras
"In terms of everyday life, a smartphone doesn't compare with the liberation of women that was made possible by the invention of home appliances," he said.
Therein lies the trouble with declaring that today's economy is -- or isn't -- the "greatest" ever. Economic progress depends on long-running, hard-to-change trends like labor force size and growth, so making comparisons across time is like judging pancakes against crepes. With different quantities of the key ingredients, results will vary.
In the U.S., where an aging population has been holding down the labor participation rate and birth rates have waned, demographics alone make the GDP figures seen in prior decades tough to match.
The White House economic team appears to be cognizant of America's tempered prospects -- and optimistic within those more-limited parameters.
"Virtually every economist" said 3 percent growth couldn't be achieved, and "we are now moving into 3 percent zone -- that is a huge achievement," Larry Kudlow, Trump's top economic adviser, told reporters Wednesday when challenged on the president's assertion that the economy is the best ever. Progress on boosting growth "in my judgment, is only just beginning," he said.