Get in Formation: The Working Girl's Guide to Joining the Trump Resistance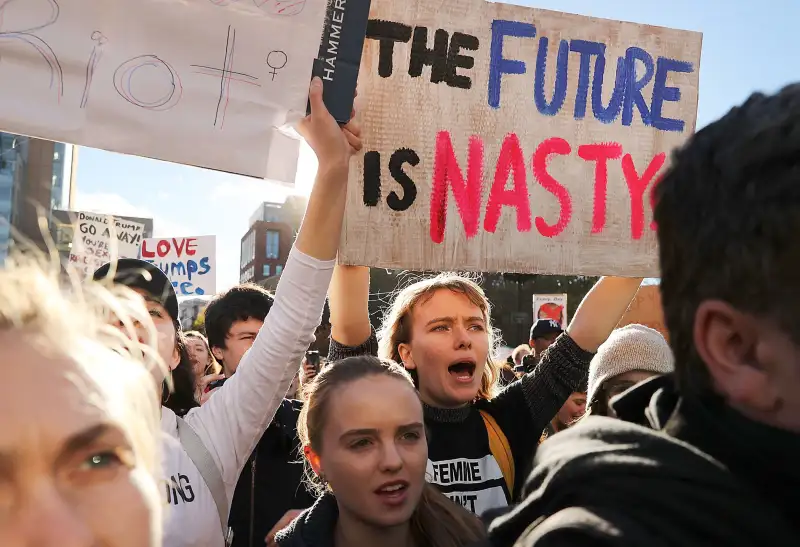 Spencer Platt/Getty Images
The movement that has been dubbed the "Trump resistance" is still taking shape. But in the run-up to the Women's March on Washington, some of the most ambitious, high-profile efforts have come from a powerful, and perhaps surprising, political contingent: career women with a bone to pick.
It's a curious thing. Corporate America has a long-held tradition of tempering political leanings — employees tend to keep mum on party allegiances, lest they butt heads with a co-worker or superior on the opposite end of the spectrum. But for a growing band of professional women, united against derogatory rhetoric and thrust into action by social media, that all went out the window on November 8.
"We're at a cultural crossroads," says Shannon Coulter, a marketing executive and cofounder of #GrabYourWallet, a campaign that calls on consumers to boycott the companies that stock Trump products. "I couldn't sit back and be quiet anymore."
Coulter's campaign began even before the election, after the leak of the Access Hollywood recording of Trump bragging about forcibly groping women. In response, Coulter and #GrabYourWallet co-founder Sue Atencio created a running database of every Trump-linked product on the market. In the run up to the inauguration, it's taken on a new life: As of mid January, the hashtag was getting tweeted an average of 500 to 2,000 times a day.
As CEO of her company, Coulter's alignment with the Trump opposition is less risky than it is for some, she admits. But she does have clients to appease, and not all of them were happy about her involvement with the movement. "When the media coverage started to pick up, I had to weigh whether or not I would continue," Coulter says. "I felt a responsibility to the people participating."
For Jayna Zweimann, joining the resistance means putting to good use the tools she's honed over the course of her career as an architect. On Thanksgiving weekend, Zweimann and screenwriter Krista Suh launched the Pussyhat Project — a nationwide knitting initiative designed to outfit every participant in the march on Washington with a pink, cat-shaped hat.
The idea, Zweimann says, is to create a visual, unified front for protestors, and to bring together groups of women who can't attend the march to knit in solidarity. "Architects have a way of mobilizing people — we create spaces, and connections," she says. "I think it's important that we use our skills to influence positive change. The results of the election catalyzed that."
Zweimann isn't concerned about career repercussions. "That's a risk I have to take," she says. After all, she explains: If a prospective employer deems her unfit for a job because of her involvement in the march — which is broadly in support of gender equality, women's health, LGBTQ issues, and other progressive issues — she probably wouldn't want to work for that firm anyway.
Yet for Jess, an account director at a New York-based PR agency who asked to be referred to only by her first name, the stakes are higher. During the day, Jess works with high-end spirits and hospitality clients in an industry largely dictated by appearances — so she's chosen to stay mostly private about her political beliefs, she says. Outside the office, she's a tenacious fundraiser for women's rights.
After the election, Jess says, two personal and professional friends reached out to her separately on social media with variations of the same "we need to do something" message. The three linked up, and planned a cocktail fundraiser for Planned Parenthood NYC in early December.
The event raised more than $4,000, and the trio currently have another fundraiser in the works. "We're still learning how to do this," Jess says. "But we've realized what we're good at, and what we can easily do to help."
In the weeks leading up to the inauguration, dozens of other Planned Parenthood fundraisers have cropped up across the country. The "Nasty Women" Art show, which wrapped this weekend in Queens, New York, raised more than $50,000 for the organization.
But workers can face serious career risks for speaking out. Back in July, a couple was fired from their day jobs after launching a Kickstarter campaign for a satirical picture book, "D is for Dump Trump" — something their employer said was at odds with its position of political neutrality. Days after the election, a Rutgers University professor was placed on administrative leave for posting a series of anti-Trump tweets, and on December 14, Politico severed ties with Julia Ioffe, one of the its best-known writers, after she posted a crude tweet about Trump's relationship to his daughter.
If you're weighing a more active political stance, understand that there are few legal protections for American workers who engage in political activity. A handful of states (including California and New York) prohibit workplace discrimination based either on politics or "lawful conduct outside of work" — but the vast majority of at-will employees (which is to say, most private-sector workers) can be fired for any behavior not connected to certain protected classes like gender, race, and religion, says Jon Hyman, a Cleveland-based employment attorney. That includes comments made on social media.
When it comes to a job search, Trump detractors face an even bigger threat. If you're arrested at a protest — for trespassing, say, or disturbing the peace — you could wind up with a black mark on your criminal record. And even more benign offenses, like a photo of an anti-Trump sign on a candidate's Facebook page, can hinder the hiring process, says recruiting expert Alysse Metzler. In her 2013 book The Recruiting Snitch, Metzler surveyed over 100 U.S. recruiters — 70% of whom said they "sometimes" or "always" looking candidates up on social media. "If their online presence is filled with their political views, it will raise a red flag," Metzler says.
Protesters in conservative industries like banking and construction would be wise to go black on social media — refrain from posting photos of rallies, and ask friends to hold off on tagging you in their own pictures.
If you've been approved for a vacation day and you're planning on using the time to protest, there's no reason to tell your boss what you'll be up to, Hyman says. But if you're worried about how your employer may view your involvement, he adds, it's probably a good idea to refrain from carrying signs with inflammatory rhetoric. "If you're protesting on a Saturday afternoon, and your boss goes out to their driveway and sees a picture of you with an Anti-Trump sign on the front page of the newspaper, you're taking a big risk," he says.
That said, most employers give workers "a pretty long leash" when it comes to political activity outside the office, Hyman says. And for some workers, the office has even offered a place of post-election solace. Kim Truong, director of marketing at a San Francisco-based startup and a member of the advocacy organization Sister District, says the current political climate has unified her office, and that co0workers are comfortable sharing "actionable things" they can do after hours — like identifying local representatives and calling government officials as a way to protest. "This election has made me a lot more aware, active, and loud in both my personal and work life," she says.
For Truong and other dogged professionals getting their sea legs in organizing, fundraising, and protesting, there's strength in numbers. Over 250,000 people have RSVP'd so far to the Women's March on Washington, with more than 600 global "solidarity" marches planned for the same day.
The events follow months of smaller protests in communities across the country. At one of those earlier protests, a December event in New York that fell squarely during the work week, NYU student Isabella Gutierrez led hundreds of protesters through the streets of Manhattan, ending at Trump Tower on Fifth Avenue. In planning the event, Gutierrez says, she expected the turnout to be mostly college students and other women her age. Instead, the streets were packed with women who walked straight out of the office and into the protest line. "The majority of the people were professional women," she says. "Working women who want things to change."