Trump's Escalating Trade War Has Already Cost $1 Trillion. Here's How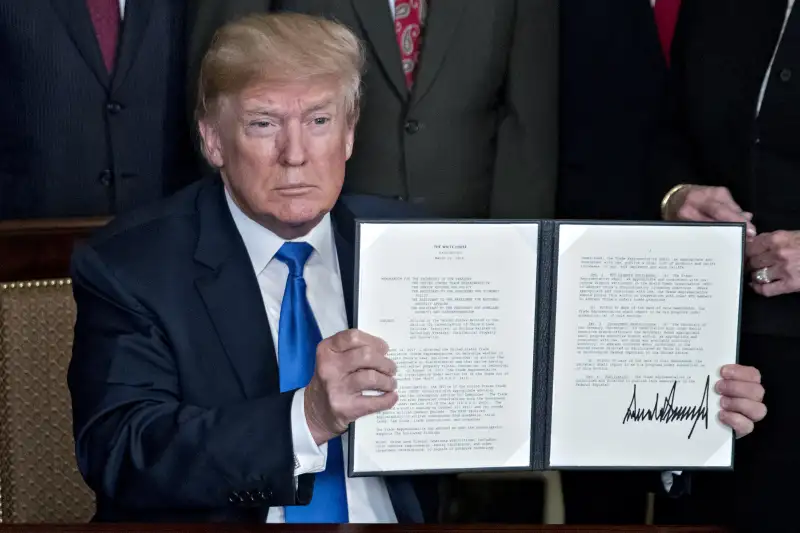 Andrew Harrer/Bloomberg—Bloomberg via Getty Images
The Dow Jones industrial average fell more than 572 points on Friday after President Trump said the U.S. Trade Representative was considering slapping tariffs on an additional $100 billion of imported goods from China.
The move comes in response to China's threat earlier this week to levy a 25% tariff on 106 U.S. exports, including soybeans, corn, tobacco, and frozen orange juice.
That came after the Trump administration unveiled its own tariffs on 1,300 Chinese products, including aircraft parts, medical devices, and flat-screen TVs.
That followed China's decision to impose tariffs on 128 U.S. products that included pork and wine.
And that came after President Trump first threatened to impose tariffs on imported steel and aluminum on March 1.
Follow all that?
Many economists say investors shouldn't assume that this tit-for-tat is the start of a prolonged and destructive trade fight between the world's two biggest economic superpowers.
"We don't expect a trade war," Edward Yardeni, president and chief investment strategist at Yardeni Research told his clients in a note earlier this week. "We believe that countries have become too interdependent to resort to widespread prohibitive protective barriers."
But even if this does not lead to a full-blown trade war (for instance, if this is simply a negotiating tactic) it's already had a major economic impact — by virtue of all the wealth that has been lost in the stock market.
Since Trump lobbed the first volley in this war of words and tariffs on March 1, the S&P 500 index of U.S. stocks has fallen around 4%. That may not sound like much (as a full-blown bear market requires a 20% drop), but based on the market value of all domestic equities, that works out to around $1.2 trillion in stock market wealth that could have been deployed into the economy.
To put this in context, $1.2 trillion is more than the gross domestic product of countries like Spain, Mexico, Switzerland, and Saudi Arabia.
It's also more than the $200 billion or so of imports that Trump has threatened tariffs on.