TSA Workers Are Now Quitting Because of the Government Shutdown, Union Says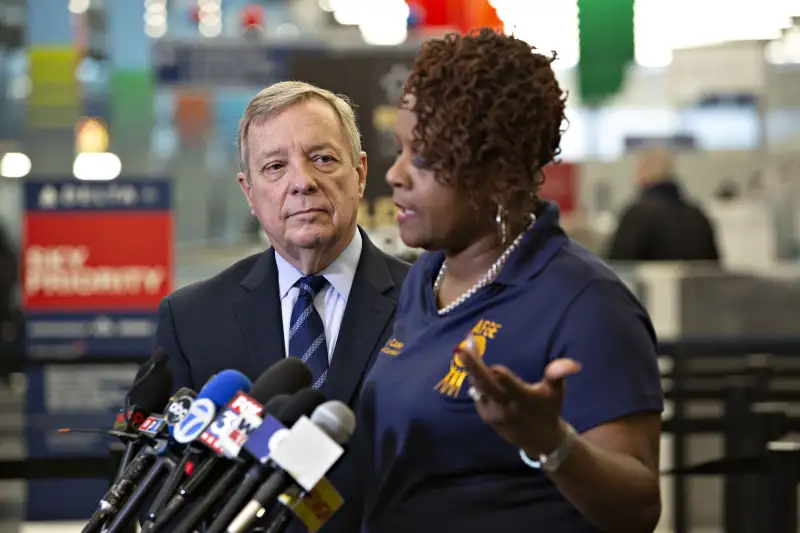 Daniel Acker—Bloomberg/Getty Images
Some Transportation Security Administration employees are quitting their jobs as the partial government shutdown continues through its third week, leaving more than 800,000 federal employees without a paycheck.
The American Federation of Government Employees, the largest union of federal employees, representing about 44,000 TSA workers, says some TSA employees have resigned, and others are considering quitting after working one of the busiest air travel periods of the year without pay.
"Every day I'm getting calls from my members about their extreme financial hardship and need for a paycheck," said Hydrick Thomas, the union's TSA Council president, in a statement. "Some of them have already quit and many are considering quitting the federal workforce because of the shutdown."
It's unclear exactly how many TSA employees have left their jobs since the partial shutdown began on Dec. 22. But a number of workers have described the financial burden the shutdown has thrust upon them as many depend on each paycheck to make ends meet. TSA employees are some of the lowest paid federal workers, and, in interviews with Money last week, current employees said they are delaying car and insurance payments, and worried about paying rent and childcare during this shutdown. Employees also said morale among co-workers has hit a new low.
"As far as we're concerned, a lot of us still live paycheck to paycheck," Victor Payes, a TSA officer based in Los Angeles who represents his colleagues in the union, told Money last week. "It's hard to plan a budget for these types of crises for any extended period of time."
TSA employees have also been reportedly calling out sick — a trend dubbed the "blue flu," regarding the color of their uniforms — to find other ways to make cash to better manage their bills, as CNN first reported Friday.
Michael Bilello, a representative with TSA, said in a tweet Wednesday morning that the agency's data "does not indicate a 'spike' in resignations for its officers." There was also a 5% rate of unscheduled absences Tuesday — a slight bump from a 3.9% rate on January 8, 2018, when there was no shutdown.
The union has argued the shutdown and loss in TSA officers could "create a massive security risk" for travelers in U.S. airports. Bilello said in a tweet Wednesday that "security standards will not and have not been compromised."
Representatives from the TSA and the AFGE did not respond immediately to requests for comment.
The partial government shutdown began Dec. 22 after the Senate did not pass a spending bill that included $5 billion in funding for President Donald Trump's proposed wall along the U.S.-Mexico border. The president has said the government shutdown could continue for "months or even years."
The shutdown has impacted nine federal departments and dozens of agencies and federal programs. Around 420,000 federal employees have been working without a paycheck since the shutdown began, and another 380,000 have been on furlough. If the shutdown continues past Jan. 12, it will become the longest government shutdown in U.S. history.
There is no law that guarantees these federal employees receive back pay when the shutdown ends — though, historically, Congress and the White House have passed measures to provide them with it. But, for employees who work paycheck to paycheck, this back pay can't come soon enough.
"It is completely unacceptable that the women and men who risk their lives safeguarding our airports are still required to report for work without knowing when they'll be paid again," AFGE National President J. David Cox Sr. said in a statement. "Working for weeks on end without being compensated — while already being short-staffed — only makes their situation worse."
Have your finances or daily life been affected by the government shutdown? We want to hear your story. Email us at money_letters@moneymail.com or tell us how in the comments below.