Uber Just Admitted That Its Pay Policy Will Make Drivers Even More Unhappy. Here's How That Could Affect Your Future Rides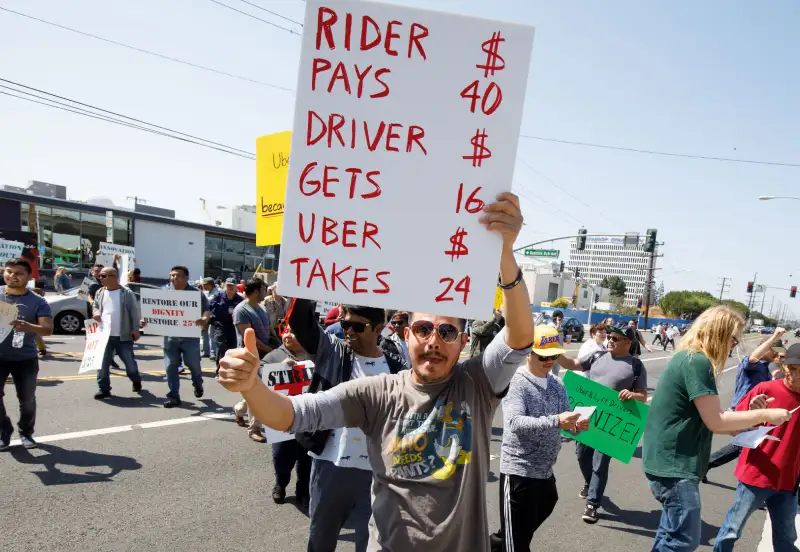 Eugene Garcia—EPA-EFE/REX/Shutterstock
Uber's initial public offering stands to make a lot of people very rich. Its drivers aren't among them.
With an expected $100 billion valuation, Uber made a splash last week when the company filed to go public. But the company's S-1 filing gave a glimpse into Uber's operations, displaying how significant the company's controversial approach to paying drivers is to its current business model.
Uber says it plans to cut back on driver incentives — bonuses to complete extra trips during a week or during peak hours — to save money. It will also continue to withhold employment protections like minimum wage, Social Security contributions, and other benefits from its hundreds of thousands of drivers worldwide. As a result, Uber acknowledges that drivers will grow less happy in their roles.
"In particular, as we aim to reduce driver incentives to improve our financial performance, we expect driver dissatisfaction will generally increase," the company said in its filing last week. Uber did not respond to multiple requests for comment from Money.
Growing dissatisfaction amongst drivers could have an impact on passengers, too. High turnover could lead to growing wait times for passengers and a less experienced Uber workforce on the road, economists tell Money.
To be sure, Uber plans to dole out one-time cash rewards to drivers who have completed a certain number of trips, amounting to $300 million in rewards to more than 1.1 million drivers. And the company is reserving a number of shares for drivers who have completed more than 2,500 trips, too. These bonuses are even more than those Lyft gave drivers when the company made its IPO last month.
But "none of the drivers are going to get rich on bonuses," says Lawrence Mishel, a distinguished fellow at the Economic Policy Institute, a left-leaning think tank.
Independent contractors, not employees
A basic part of Uber's business model, the company explains in its S-1 filing, is how it classifies its drivers as independent contractors rather than employees. That means drivers aren't protected by basic employment laws like minimum wage, overtime pay, required rest periods, and retirement benefits, among other protections and perks.
This classification isn't specific to Uber. Lyft drivers are considered independent contractors, too. This method from both ridesharing giants has long been criticized by activists and some drivers. Uber says lawsuits regarding this issue — specifically with cases in California's Supreme Court, the United Kingdom, and France — could eventually require them to classify drivers as employees. If drivers become employees, the company "would incur significant additional expenses for compensating drivers."
"Any such reclassification would require us to fundamentally change our business model, and consequently have an adverse effect on our business and financial condition," the company says in its filing.
And now, Uber plans to cut back on driver incentives like cash rewards for completing a certain number of trips in a week. Getting rid of extra bonuses, along with avoiding basic employment benefits for protections for drivers, could lead to higher turnover rates, experts say.
"They can cut back on incentives, but it may make it harder for them to attract drivers they need. More drivers could quit," says Mishel, of the Economic Policy Institute. "It should exacerbate their turnover problem, which will make it harder for them to expand and harder for them to make a profit."
Growing dissatisfaction amongst Uber drivers could also lead to fatigue, says Nicole Moore, a Lyft driver and organizer with the Los Angeles-based labor rights group Ridesharing Drivers United. She says some Uber drivers she works with through Ridesharing Drivers United have been putting in 60 to 70 hours a week already to make ends meet and continuing a practice like this could only exacerbate the issue.
"It may hurt [Uber and Lyft's] profits," Moore says, "but at what extent are we just concerned about profits and not concerned about the people who are carrying out the essential business of the company?"
"We need a different model," she adds. "I think this IPO brings that terrible quality into light."
Michael Reich, an economics professor and chair for the Center on Wage Employment Dynamics at the University of California, Berkeley, agrees. Reich co-authored a 2018 report that led to regulations on Uber in New York City, requiring the company to pay drivers a minimum wage and limit the number of drivers in the city, among other changes.
"It's one of the most established facts in economics that higher wages mean lower turnover," Reich says. "When employers say they can't find enough workers, any economist always says, 'Well, did you try raising your pay rates?'"
How these changes could impact you
Experts say higher turnover and driver dissatisfaction could have some impacts on passengers' experiences. That could mean longer wait times if there are fewer drivers or a lower quality of service with less experienced Uber drivers on the road instead of the more experienced ones who may have left.
Moore, with Ridesharing Drivers United, worries about how working under these conditions can further stress out drivers and require them to work longer hours. Without standardized wages, she says, drivers may struggle to afford car payments, cleaning, and vehicle check-ups.
"We all know you're going to have a friendly, happier driver when you're working 40 hours a week and being able to put food on the table," says Moore, the Lyft driver and ridesharing organizer. "Right now, that's not the situation we're in."