U.S. Airlines Launch First Commercial Flights to Havana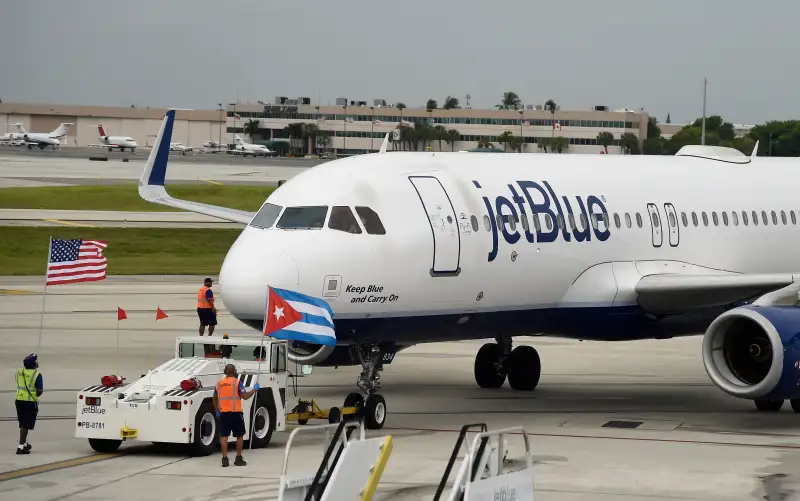 RHONA WISE—AFP/Getty Images
As Cuba begins funeral services for former leader Fidel Castro, U.S. airlines are launching their first direct flights to the capital city of Havana.
At 7:30 a.m. ET Monday morning, an American Airlines flight took off from Miami for an hour-long trip to Havana—the first scheduled commercial route to the city, the Miami Herald reported. It was followed by a JetBlue flight that left for Havana from JFK Airport in New York City at 8:58 a.m.
In the coming weeks, United, Delta, Sprit, Frontier, Alaska and Southwest all plan to offer regular flights to and from Cuba from different U.S. airports, according to USA Today. Here's the complete list:
United will offer direct flights from Houston and Newark, N.J.
Delta will operate direct flights from Atlanta, JFK and Miami.
Spirit will fly direct from Fort Lauderdale, Fla.
Frontier plans to offer direct flights from Miami and one-stop flights from Denver and Las Vegas.
Alaska will run direct flights from Los Angeles and one-stop flights from Seattle.
JetBlue will fly direct from JFK, Fort Lauderdale and Orlando.
Southwest will operate direct flights from Fort Lauderdale and Tampa.
The price of flights to Cuba's capital—which had been off-limits to U.S. tourists for more than five decades— vary greatly, depending on your point of origin and dates of travel. For instance, as of Monday morning, the lowest round-trip fare on Delta's website for round-trip flights from Miami to Havana cost a whopping $1,188. However, a search for flights on United's website found that you could score round-trip tickets for as low as $284 in the coming weeks.
These aren't the first commercial flights offered between the U.S. and Cuba: This summer, JetBlue launched the first commercial flight between the two nations, from Fort Lauderdale to Santa Clara. Havana had been off limits to U.S. airlines, since aviation officials hoped to test the routes on smaller cities before opening up travel to Cuba's busiest destination.
The round-trip service to Havana comes as the country grapples with the death last week of its former leader, Fidel Castro. Diplomatic relations between the two nations ceased after Castro's communist regime took power in 1959. In the final decade of his life, however, Castro watched as Cuba's current leader, his younger brother Raul, struck a deal with the Obama administration to resume normal relations between the U.S. and Cuba, thus opening up travel between the two nations.
If you have a hankering to see Havana, you might want to strike before President-elect Donald Trump takes office in January.
Trump tweeted Monday morning that his administration might reconsider the agreement made between President Obama and Raul Castro in 2014.