'We Need to be Brave Enough to Stand Up': 3 U.S. Women's Hockey Players on Their Fight for Equal Pay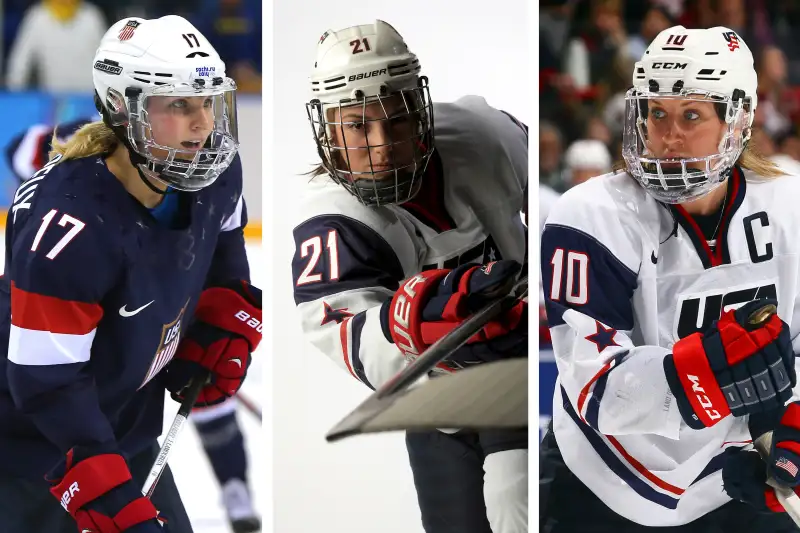 It's a development players say will forever change women's participation in international sporting competitions.
Last night, the U.S. Women's Hockey Team won an agreement with U.S.A. Hockey, the sport's national governing body, to obtain equitable compensation for their participation on the team.
According to the New York Times, the four-year agreement calls for female players to receive travel and insurance provisions equal to what their counterparts on the men's national team receive. The women will also receive a pool of prize money to be split each year and each player will be guaranteed a $2,000 training stipend per month from the United States Olympic Committee. The players will also receive larger performance bonuses for winning medals.
The deal comes after more than a year of negotiations, and more recently, a planned boycott of the upcoming World Hockey Championship, leading to widespread calls for U.S.A. Hockey to recognize the women's right to equal pay. The story made national news and even had the backing of U.S. senators, who urged U.S.A. Hockey to come to a fair agreement.
Money spoke with three players this morning about the boycott, enacting change, and what the agreement means to them.
Name: Meghan Duggan
Age: 29
Position: Forward
If a new contract didn't get resolved, would you have been comfortable walking away? Certainly that was a possibility from the beginning, and that was why we had to get to the point where we put the World Championship on the line. We were prepared to do so—but we were able to come to an agreement late last night and jump on a plane this morning.
In what ways will the new contract change your life? The biggest piece for me was creating a mindset and culture change within U.S.A. Hockey on how they value and treat the women. I'm 100% confident it's a long-term change. We started something that will only get better from here on out. In addition to that, we went over a lot of terms, everything from travel and meals and per diems, and injury protection and pregnancy and child care—those were a lot of the things we fought for.
What would you tell women in similar circumstances? If you stick to your guns and stick to what you believe in, and communicate with each other, you can do big things. I truly believe the unsung hero in this story is the unity of our team, and making decisions unanimously—that was the reason we were able to be so successful. I hope what we did shows young girls, shows anyone, is to stick together, stay strong, and fight for what you believe in.
Name: Jocelyne Lamoureux
Age: 27
Position: Forward
How difficult was it to play for the team under the pay conditions for the last several years? As we've gotten older, you realize this isn't how it should be. Since we were 22, out of college in this post-grad life, you don't really know what's going on, that's why it's taken this long to get things moving. I have my Masters degree in kinesiology, and am a strength and conditioning coach. I work full-time because hockey doesn't foot the bill, and so it's definitely going to change how I approach my hockey career as far as having a family and continuing to play. Now we have the support to do that. As you get older it becomes a decision for some [players] based on [how much money you're earning.]
What would you tell women in similar circumstances? Don't be afraid to stand up for yourself. What's right is right, and a lot of times women feel they just need to be grateful for what they have. But it's not enough. We need to be brave enough to stand up and voice our opinions when appropriate. Be the change. We don't want the next generation coming up to have to deal with these same things.
Doug Pensinger—Getty Images
Name: Hilary Knight
Age: 27
Position: Forward
How would you describe your emotions when the deal was reached? It was relieving. It was a victory for women's hockey — both parties came to the table to find an equitable solution, and we set a standard for moving forward.
What was the turning point? [U.S.A. Hockey] ultimately decided they wanted the best team on the ice to be representing our country, and hopefully, they also realized they needed to be on wining side for women in sport and women in history.
What will this mean for other women? This is just the foundation. Hopefully, the next wave and next generation can build on what we established — the sky's the limit.