Apps Can Help You Organize and Use Your Gift Cards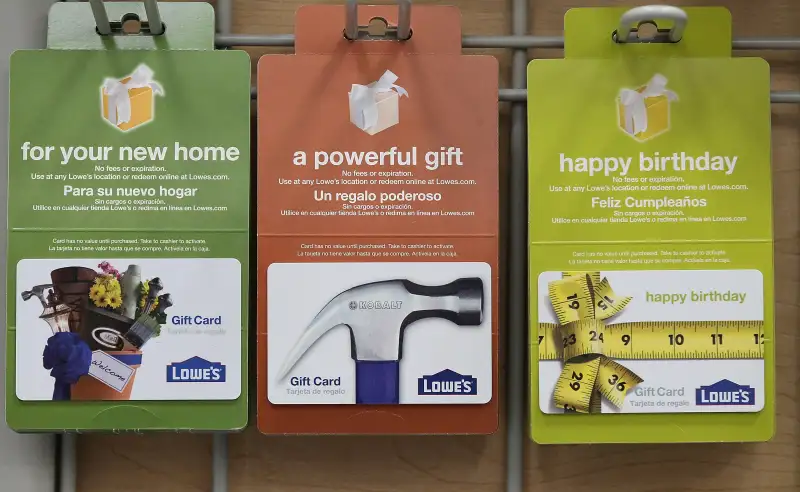 Justin Sullivan—Getty Images
Cathy Kamimura is an extreme user of gift cards. She currently has about 100 valued at more than $2,000.
Managing them all is not just unwieldy, it is also risky since gift cards are like cash and cannot be replaced if they are stolen.
Gift cards, which become more popular by the year, have long been a challenge to consumers who leave them in drawers, lose track of their value or just never get around to using them.
At least $500 million of the estimated $130 billion worth of U.S. gift cards sold this year will go unused, consulting firm CEB TowerGroup said.
Kamimura, a 53-year-old stay-at-home mother from San Gabriel, California, found an app called Slide that let her consolidate that pile of plastic into an easy-to-use tool for her smartphone.
"It has made my life so much easier," Kamimura says. "My gift card carrier was so big, and I feel much safer."
Gift card organizing apps make things simpler by consolidating cards to single place that displays their value and allow them to be spent. The apps generate a bar code for cashiers to scan and draw down the value of the card.
The apps, which are free, make their money by taking a percentage of the gift cards they sell. They allow users to enter their cards manually, by scanning or a combination of the two.
The biggest player in this market is Gyft, while others like Slide, GoWallet and eGifter are expanding offerings.
The bulk of the overall gift card market is dominated by physical, plastic gift cards, says Gyft co-founder CJ MacDonald. By contrast, e-gifting (when you email a gift card from a retailer like Amazon.com ) has only about a 5.5% share.
The biggest problem with organizing these gift cards electronically is the lack of a standard numbering scheme.
"Everybody has different format," MacDonald said. "They're not like credit cards."
While the apps do a better job of tracking the gift cards they sell, they will also capture those from local businesses.
If Slide does not automatically pull in the card's balance, its staff will get the information for users, Chief Executive Officer Michael Morris said.
To help consumers spend down their balances as quickly as possible, Slide maps the closest retailers that match the cards in a user's collection.
While spillage, or the amount of wasted gift card balances, has been halved from $1 billion two years ago, it remains of some concern to consumer advocates.
"The biggest problem is givers' basing gift card purchases on their own preferences rather than the recipient's," said Providence College marketing professor Dan Horne. "Gift cards tend to be purchased when the giver has 'low knowledge' of the recipient's wants and needs, so this problem occurs fairly regularly."
That is why Horne still sees an upside to gift card apps.
"The apps can deal with organizing and reminding, which are good things," he said. "They might partially eliminate the problem with the remainders when a gift card has too little value, at the particular merchant, to make it worthwhile to carry the card."
Retiree Wendy Benedict, 65, of Novato, California found Gyft after she lost two Nordstrom gift cards. The simplicity of the app and knowing she has the cards with her at all times make it worthwhile, she said.
"All I do is pull out my phone," she said, "and voila."