The 8 Worst Valentine's Day Ripoffs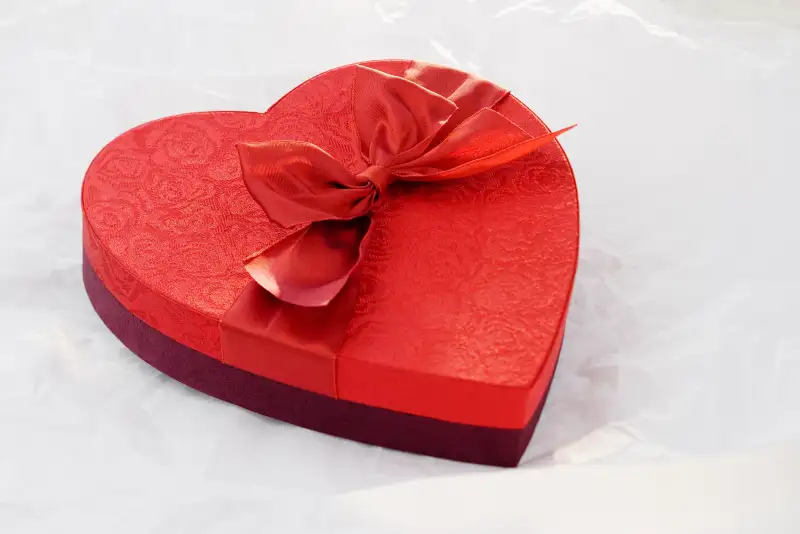 Tetra Images—Getty Images
February 14 is approaching, and you know what that means; panic. People everywhere are trying to figure out the perfect gift, the ideal date, or the romantic verse they will write in a card. A day for couples is nice, but let's be honest… it's just another way to get us all to spend money. And as someone once told me, you shouldn't need a special day to make the one you love feel special. So, if you've been thinking about giving the day a miss this year, here are eight costly reasons that will tip the scales.
1. Roses Are Way Overpriced
At any other time in the year, a bouquet of a dozen roses will set you back anywhere from $10–$50, depending on where you buy them. On Valentine's Day, you get "surge pricing." In other words, because roses are in demand, you have to pay way more for them. As Reuters points out, the wholesale cost of roses peaks dramatically around this holiday, and those increases are passed on to customers.
In New York, you can expect to pay between $5–$8 per rose, and if you're getting them delivered, tack on another $20–$30 for that. It's not unusual to pay $99 or more for a dozen roses on Valentine's Day. And for what? They'll be dead in a few weeks, if not sooner.
Read More: 6 Ways to Resist a Splurge
2. Restaurants Take Advantage
Don't be surprised to see the restaurants in your area charging hefty prices for "romantic dinners." Zagat states that a dinner for two jumps from $70 on a normal day, to over $146 on Valentine's Day. The restaurants know all too well that dinner is usually a big part of your planning, and you'll also have to book weeks in advance if you want any chance of getting a table. Unless, of course, you decide to go to McDonald's or Taco Bell. Plus, expect the service to be slow. The servers are going to be inundated, and the chefs will never get a break.
3. Greeting Card Prices Are Bonkers
Americans buy over 180 million Valentine's Day cards every year. Seriously, who feels the need to buy someone a card for $6–$7 that contains a cheesy verse? A card that will, in most cases, go in the trash in a week or two. The price of a piece of cardboard is less than a dollar at most craft stores. You can fold that in half, write something that comes from your heart, and glue something fun or sweet on the front. Maybe one of those sweetheart candies?
Read More: 11 Silent Budget Killers You Don't Notice
4. Boxes of Chocolates Are Marked Up
It's the usual combo of flowers and chocolates that most men select as gifts on Valentine's Day. And to mark the occasion, the candy companies make heart-shaped boxes, or big, romantic packages. But it's the same old candies inside them. You're just paying extra for the presentation. By the way, those same chocolates will be at least 50% off the day after Valentine's Day. If you have a cool partner, suggest having Valentine's Day one day later, and you could save a bundle.
5. You Could Set a Costly Expectation
Imagine that you are in a new relationship, and Valentine's Day is just around the corner. You want to impress your potential boyfriend or girlfriend. You may pull out all the stops, with fine wine, a horse-drawn carriage ride, and perhaps a night in an incredible hotel. Just remember, this is a first impression that could set the standards for the whole relationship. A good friend of mine told me one of the biggest mistakes he ever made was creating a lavish Valentine's Day getaway for his third date. She was absolutely blown away, but he spent the next few years trying to live up to that. She always compared everything to that night. Save the grand occasion for an important anniversary, not a date with someone you have yet to really know.
Read More: 13 Ways to Make Money From Valentine's Day
6. Hotel Rooms Are Expensive
If you plan on making a night of it, a romantic package at a hotel seems like a good idea. But, a lot of other people have the same idea, too. Hotels know that Valentine's Day is a big draw, so room rates will increase significantly on that night. The cheapest rooms will go very quickly. That means if you don't book well in advance, you may be left with the King Suite as your only option. And that can be a very costly night out, especially after dinner and a movie.
7. Lingerie Can Be a Pricey Mistake
Let's be honest, men buy lingerie as a gift to themselves. They know their partner will look sexy in it, and that's their treat. But the difference between what looks good, and what feels good and fits well, is huge. I did a quick poll at work asking who had bought lingerie for their wives and girlfriends in the past, on Valentine's Day. And then I asked how many times they saw their partner wearing it. It seems as though men will shell out a lot of money on something that will either get used once, to be polite, or will go straight back to the store the next day. Hopefully, for a full refund, but some stores have strict return policies on intimates.
8. Specific Delivery Dates Cost More
If you're looking for flowers, chocolates, lingerie, pajamas, jewelry, or anything else to be delivered on Valentine's Day, you will pay a hefty surcharge for that privilege. Some stores will tack on $10 or $20 extra to ensure the gift is delivered into the hands of your loved one on that specific day. However, this year you may be out of luck even getting that delivery date. Valentine's Day 2016 falls on a Sunday.