Do You Cry Every Time You Chop Onions? Check Out This Internet-Famous Veggie Chopper That's $15 Off!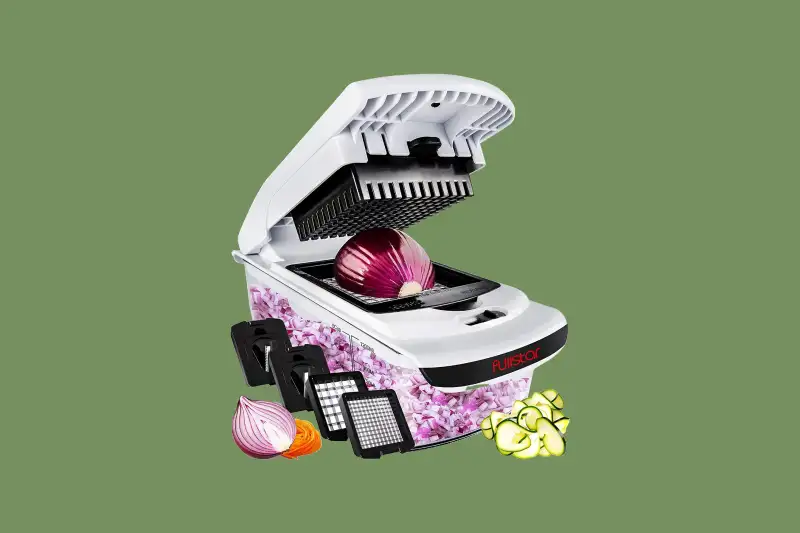 Do you dread chopping onions, only to find yourself in tears minutes later? If so, you're not alone. Onions are one of the most common ingredients, yet they can be a real nuisance to chop. Fortunately, there's a handy kitchen gadget that can help.
The Fullstar vegetable chopper is an internet-famous device that chops onions and other vegetables quickly and effortlessly. It's a kitchen must-have for anyone who loves to cook and wants to save time and effort — and it's $15 off right now. So if you're looking for an easier way to chop onions and other vegetables, don't miss out on this deal.
Slice, dice, spiralize and chop for less
The Fullstar vegetable chopper is the perfect kitchen tool for those who are looking for an efficient and easy way to prepare meals. With four interchangeable blades, this chopper can quickly and easily slice, dice, spiralize and chop vegetables, onions, and other ingredients. Its sharp, stainless steel blades make it easy to cut through foods, while its ergonomic handle gives you a comfortable grip and is easy to maneuver. The chopper also comes with an attached container, which allows you to store chopped ingredients while you work.
The chopper is designed to be ultra-durable and built to last. The blades are crafted from high-grade stainless steel, and the body is constructed from a BPA-free, food-grade plastic. This ensures that it won't rust or corrode over time and will remain safe for use in the kitchen. The chopper is also incredibly easy to clean, and its parts are all dishwasher-safe, so you can quickly and easily clean it after each use.
A great kitchen tool at a great price
The Fullstar vegetable chopper is a great kitchen tool to have on hand, whether you're a home cook or a professional chef. It will help you quickly and easily prep ingredients, so you can spend less time prepping and more time enjoying your meals. Plus, its compact design makes it easy to store in any kitchen drawer.
Right now, you can get an amazing 38% discount on this product with the checkout coupon, so don't miss out on this great deal! Get the Fullstar vegetable chopper today and make meal preparation simpler and more enjoyable.