Should You Use Venmo, Zelle or Cash App? Everything You Need to Know About the Hottest Mobile Payment Apps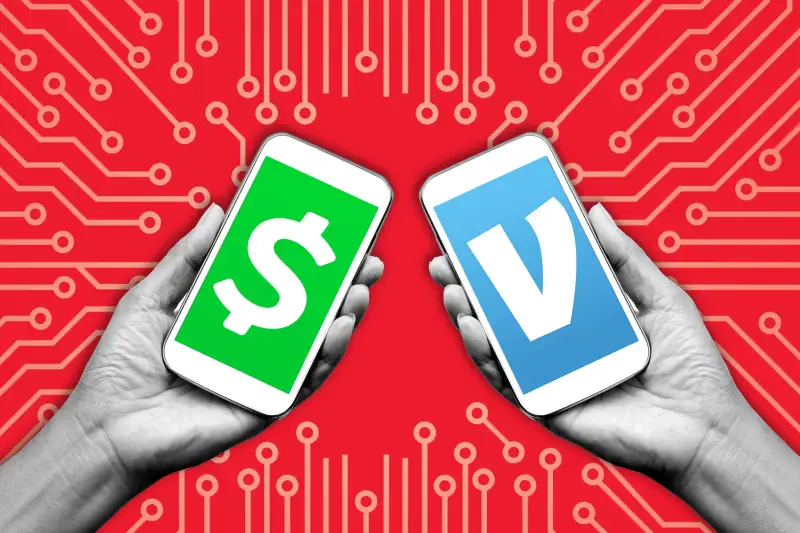 Courtesy of Cash App; Courtesy of Venmo; Getty Images (2)
When Zach Murman-Freer grabs a beer with his friends in Chicago, he doesn't fumble for his wallet over a sticky countertop. One person picks up the group's bar tab, and the 24-year-old copywriter coughs up for his Oberon Ales later.
"Out socially, it's like, 'Hey, I'll cover this bill for drinks. It was 60 bucks, and I'll send you guys a request,'" he tells Money.
That "request" is no IRL IOU — in 2018, it's a given that Murman-Freer will pay his pal back digitally. Instead, the question is which mobile payment app he'll need to do it.
Gone are the days when Venmo was the only, and therefore obvious, option for people moving money between peers. Alternative services Zelle and Cash App have become so popular market analysts say they're both poised to overtake the PayPal-owned app. Though the three services may all seem the same, every smartphone user has a distinct preference, leaving people like Murman-Freer trying to navigate a suddenly crowded field of choices.
Here are the pros and cons of each.
The Origin of Payment Apps
Venmo was arguably first to the mobile payment party. Founded in 2009 as way to buy MP3s via email, the company was sold to Braintree in 2012 for $26.2 million and became part of PayPal a year later.
Fast forward, and now the app is everywhere. Between April 2017 and April 2018, Venmo processed $40 billion from its rumored 10 million monthly users. The brand name is part of the collective vernacular — "Just Venmo me" is the new "I need a Band-Aid." The app even gets name-checked in song lyrics.
In the background, however, competitors have cropped up. Square, the Jack Dorsey-founded-startup you likely know for its little white boxes at cafe counters, launched Cash App in 2013. Last summer, the decades-old consumer reporting agency Early Warning Services — owned by institutions like Bank of America, Capital One and Wells Fargo — formally debuted Zelle in an attempt to keep up.
Both have taken off quickly. In its first year, Zelle saw 320 million transactions and more than $94 billion moved, leading research firm eMarketer to predict in June that it would pass Venmo by the end of 2018. Cash App did just that in July, reaching 33.5 million cumulative downloads over Venmo's 32.9 million, according to one analyst. (Venmo says it can't comment on those numbers, but "as the world's leading open digital payments platform, we welcome any developments that help people move away from the awkwardness of cash.")
Murman-Freer, who prefers the Cash App for its easy-to-use interface, has anecdotal evidence to back up the trend.
"A lot of my friends use Venmo still, but I've been slowly converting them to Cash," he says. "'I'll Venmo you' — my girlfriend says that, but she pretty much only uses Cash."
How They Stack Up
The apps are all similar in that they allow a person to link up their bank account, type in a dollar amount and send the sum quickly. But the intricacies of the services vary.
The biggest difference is probably the social aspect: Venmo's feed is famous for allowing users to not-so-secretly watch other people's transactions. According to a Venmo spokeswoman, the average user checks the app two to three times a week — "not just for payments, but to see what their friends and family are doing." Sure, there's a setting that will keep activity private, but generally, you can see all the drug deals and affairs you want. More often, people use Venmo to pay for pizza — it's the most-used emoji in transactions — as well as rent, Grubhub orders, Forever21 clothes and more, according to the spokeswoman.
Cash App, on the other hand, doesn't have a social feed. Neither does Zelle.
"As millennials move from one life event to another — graduating college, getting their first jobs, we begin to see social dimensions critical in early stages become less important," Ravi Loganathan, Early Warning's head of digital strategy and operations, tells Money. "They're looking for a more private, more secure way of money movement."
In that vein, Zelle is setting itself apart by courting a slightly older user base. Because it's already built into several mobile banking services, it's appealing across generations and tech skill levels. People only need the standalone app if their bank or credit union isn't a Zelle partner, which theoretically makes it effortless for, say, your grandma to give you a few bucks for your birthday.
Zelle also puts that book or birthday money in your account instantly, unlike Venmo and Cash App. In those services, you carry a balance until you're ready to cash out, which is a process that takes a few days unless you pay a fee. In Cash App, instant deposits cost 1.5% of the total amount. In Venmo, they're 25 cents and only available if you have a Visa or Mastercard debit card.
Breaking Down the Security
Alexandra Carmen, a 25-year-old who lives in Atlanta, has had her money stolen before: A thief recently accessed her Wells Fargo account and stole about a third of her savings.
Carmen luckily recovered the cash when the bank got involved, but the experience made her even more financially cautious. To this day, she's afraid to stray far from her bank lest she encounter another bad situation. That's why she uses Zelle to pay for Ubers, meals and her esthetician appointments.
"Online transactions do have some risk, but having the security of an established bank makes me feel a little bit better," she tells Money.
Zelle's whole marketing campaign revolves around safety, but it is vulnerable to scams, as the New York Times pointed out in an April article packed with horror stories. Loganathan didn't want to go into detail about Zelle's security system, but he points out that Early Warning's background is in risk management, so it's well-equipped to handle issues. He says Zelle has protocols in its system that verify and validate users as soon as they set up their accounts and is constantly working to educate people on what they can and can't expect from the app.
That leads to an important, and little-known, policy: Zelle and its partners don't "offer a protection program for any purchase or sale conducted using Zelle," as it explains on its website. If you accidentally send money to the wrong person or use it for a high-risk situation, like buying concert tickets from someone off of Craigslist, the company doesn't cover you if you get burned.
Venmo is no stranger to these issues, either. Back in 2016, the Better Business Bureau warned of a scam in which a person arranges to buy something, sends the payment through Venmo and cancels right before the money hits the seller's account. One such ripoff took place last July, when a man going by the name "Andy Mai" stole $25,000 of camera equipment from people in California.
"It's important that consumers take precaution before sending money — much as they would if sending cash or mailing a check," says Jeremiah Glodoveza, the vice president of marketing and communications at Early Warning.
Cash App's press team did not answer emailed questions from Money. But on its website, Cash App boasts that it offers encryption, fraud protection and account notifications. It also recommends users take advantage of PIN numbers, Touch ID or Face ID to lock their accounts and avoid opening sketchy emails, "no matter how innocuous, legitimate looking, or tempting" they might be.
Next Up: Better Laws and a Consensus, Hopefully
Consumer Reports recently rated Zelle, Venmo, Cash App, Facebook Messenger Payments and Apple Pay all secure enough to use. But Christina Tetreault, a senior staff attorney for Consumers Union — the advocacy group behind the magazine — tells Money she's pushing for the government to increase its protections so they get even safer.
"The way money moves is changing, and consumers have a lot of confidence in these services, and justifiably, because they do transactions really well," she says. "The legal protections haven't kept up with the way scammers are exploiting that ease."
In particular, Tetreault says that the Consumer Finance Protection Bureau should extend error resolution rights to victims who get tricked into sending money to scammers, like in the ticket scenario, as well as enforce the existing right for people who accidentally misdirect payments to get help from the provider in getting it back. She says those providers, or apps, are in a better position to know who's for real and who's not.
"It's not enough to tell consumers to treat these transactions like cash," she says. "We'd like to see the law catch up with reality."
Until then, the roughly 76 million people who use peer-to-peer payment apps will have to keep arguing about which service is best. For Sean Hodgdon, a 24-year-old marketing manager who lives near Los Angeles, the answer to that debate is Cash App — and sometimes Venmo, because it's what the majority of his friends use to split the bill on Taco Tuesdays.