Why You Can — And Should — Buy a Vintage Porsche for Less Than $10,000
Money is not a client of any investment adviser featured on this page. The information provided on this page is for educational purposes only and is not intended as investment advice. Money does not offer advisory services.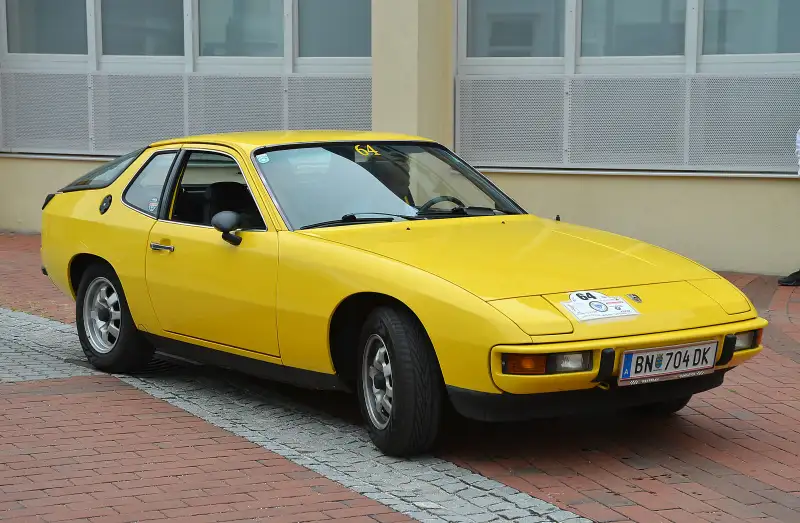 Manfred Schmid—Getty Images
Love those Porsche 911 Turbos and air-cooled 993s that crowd Instagram—and Mulholland Drive—like sea gulls around a french fry?
You've probably missed your chance to own one at a good price. And with RM Sotheby's sales topping $300,000, and boutique shops such as Manhattan Motorcars asking at least $150,000 on the low end, even if you can afford one, it's a few years too late to expect a big return on your investment.
But there are plenty of other vintage German sports cars you could buy that are just as cool as those and, at this point, that are still pleasantly under the radar. Case in point: the 924 coupe Porsche made from 1976 to 1988. This is a car that will earn you street cred as someone who doesn't blindly follow trends. Rather, it will turn admiring heads when you park it at your next car gathering.
It's easy to see why. With its long, flat hood, Saab-like side body, and bulbous hatchback rear end—not to mention the factory-spec Pasha upholstery in some—the two-door, 2+2 looks unlike any other Porsche on the market before or since.
The 924 is special for more than just its unconventional looks. For one thing, it was the first Porsche offered with a fully automatic transmission. It used the same brakes, transaxle, and 2.0-liter inline-four engine made by Volkswagen for some later-canceled projects with Audi. And while the water-cooled, front-engine 928 Gran Turismo was designed first, the 924 was the first road-going Porsche to have a front-engine, rear-wheel-drive configuration. (All of these things, of course, plus the whole "water-cooled" thing, were reasons why purists hated this car at the time of its birth. And they're exactly why the car is unique and under-recognized now.)
"If you were to ask me for a list of great entry-level collector cars, this would be on it," says Jonathan Klinger, spokesman for Hagerty, which insures classic and collectible cars. "They turn heads out on the road, but yet they can be driven in modern traffic. The brakes are good, they have plenty of power. They're good cars."
Plenty to Go Around, But Still Largely Unseen
Better yet, they're prevalent.
Although at the time of its inception the 924 was criticized by enthusiasts for its less-than-911-level driving capability (the 95 horsepower in its debut model was decidedly low, though later models added more power), and the oblong body style with the loud black-and-white-checkered seats was met with sheer disregard by enthusiasts, Porsche sold 150,000 of them globally over the course of production, including a high-powered 924 Turbo version that premiered as a 1980 model year. They were the entry-level, affordable Porsches of the late 1970s and early '80s. The first of them cost less than $10,000 new.
All of this means the 924 is easier to find and less expensive to buy today than the traditionally recognized Porsches.
Exhibit A: The world-record price paid for one is $98,000, for a 924 Carrera GT at the RM Sotheby's sale in Paris last year. This is far less than the high price for, say, a 993 GT2, which is $2.4 million. Autotrader lists 924s for as little as $6,250, $10,000, and $11,450.
"If anything, the value is going to go up," Klinger says. "For $7,000 to $9,000, you can get an awful lot of car for that amount of money."
If you can handle one in need of heavier repairs, they're out there for less than $1,000. A whole lot of great ones of all prices are lined up like candy on a countertop on Bring a Trailer. (If you look before you're in a position to make a purchase, make sure you lock your wallet away while you browse—the temptation to scoop up something for next to nothing will be excruciating.)
In fact, the vintage 924 is the most affordable Porsche vehicle currently listed on the Hagerty price guide, with one in good condition commanding an average value of $7,200, up 22 percent from January 2017. The only Porsche model with a higher rate of increase over the same period is the 911 made from 1974 to 1977, with average values of $22,000, $44,000, and up, depending on the year.
What's more, the 924 has the highest ratio (3 to 2) of millennial-to-baby boomer quote requests for any Porsche vehicle on Hagerty. That means more young people are asking about them than retirees—an indication they'll be in demand for the long term.
So what are they like to drive? Spacious from the driver's seat, with Porsche's standard five-gauge dashboard and a short, sporty shifter. They're better-balanced than 911s (credit that front-placed engine) and, in the case of the fully automatic-transmission models, infinitely easier to drive. They're also more rewarding to steer around canyon roads for those who feel comfortable engaging their considerable momentum and turbo boost at speed, especially with the manual versions.
And repairs shouldn't be a hassle. Their analog nature is the saving grace—no anti-lock brakes to break, no power steering to fail. The major expense to most will be the labor and time required rather than the actual repair: the typical 10-hours-of-work-to-replace-a-$10-part deal.
Klinger agrees. "They can be very reliable, as long as they have been taken care of," he says.
One thing to keep in mind: Buy the 924 with higher miles and a solid service history instead of the one with lower miles and a spotty or nonexistent maintenance record. Why? Vehicles like the 924 that are initially inexpensive to buy as new often suffer deferred maintenance, which means their mechanics are allowed to degrade over time into expensive-to-repair territory. It's likely the more you pay upfront, the less you'll pay later at the auto shop. And the more time you'll have for showing up all the 911 drivers down at the car meet.