Meet the Bros Behind /r/WallStreetBets, Who Lose Hundreds of Thousands of Dollars in a Day—And Brag About It
Money is not a client of any investment adviser featured on this page. The information provided on this page is for educational purposes only and is not intended as investment advice. Money does not offer advisory services.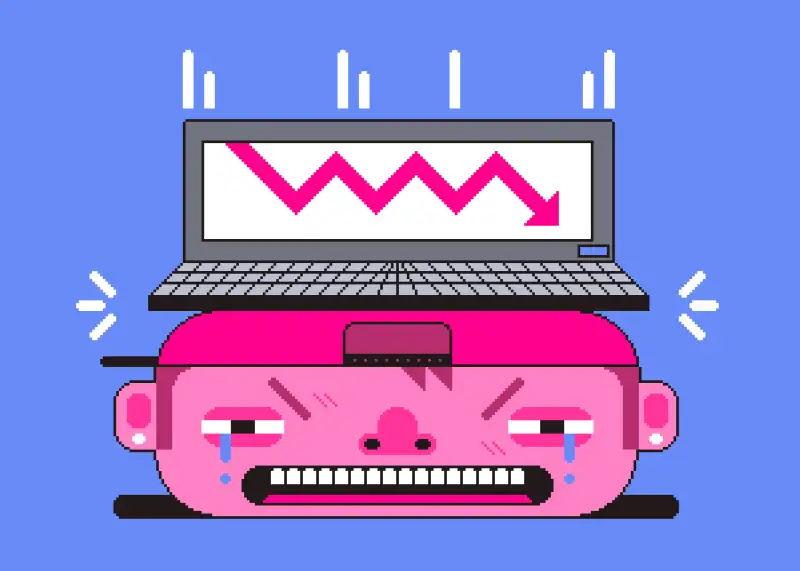 ILLUSTRATION BY NICHOLAS LITTLE
This summer, Dennis Cao logged on to Reddit with some big news to share: He had just lost more than $180,000.
A few days before, the 24-year-old software engineer had gone onto a popular section of the site known as /r/wallstreetbets to claim he had just placed an enormous wager on several technology stocks, shortly before they would release their quarterly earnings.
"Facebook/Amazon/Twitter hit it out of the park and I am mega rich," he had bragged, hoping to impress fellow traders and the many rubberneckers who flock to the site for just this kind of all-or-nothing gamble.
Cao's boast, which he backed up with what looked like screenshots of his account—to boost his credibility and also the drama of the moment—had succeeded in attracting attention. "THIS is why I sub[scribe] to /r/wallstreetbets," wrote one user. "Yeah I'm sick of the 'I just lost half of my $133 Robinhood account'" posts, wrote another. "Glad to see some actual plays."
Now that Cao's bets had indeed gone bad—quickly burning through what the average U.S. worker earns in about three years—he had to give the crowd the spectacle it came for. He uploaded a new screenshot displaying his losses.
"Post[s] results like a man," responded one. "Mad respect," added another.
"I would have preferred to have not lost ∼$185k in a day," Cao admitted.
Believe it or not (and maybe you shouldn't, at least not all of it), this is just your typical day on the Internet's craziest finance forum. Wallstreetbets, a message board, or subreddit, on the popular news and social site Reddit, has become a home for investors who want to make extremely risky bets on the stock market.
There are now roughly as many Wallstreetbets members as there are Bloomberg terminal subscribers—over 300,000. But "WSB," as the forum is known to its members, is more than just a place for traders to swap tips. It is a fusion of memes, bragging, bullying, hoodwinking, and the exuberant overconfidence of (mostly) young men.
Revenge of the day traders
Of course, investing isn't supposed to be like this, at least not anymore. To anyone old enough to remember, what happens at Wallstreetbets might sound a lot like day trading, particularly the feverish churning in tech stocks that became a fad in the waning days of the late-1990s bull market.
It all ended badly in the dotcom bust. Since then investors have seemed to get a lot savvier. Index funds, once a niche product favored by financial professionals, have steadily gained popularity over the past two decades, enabling individuals to own a broad swath of the market. Meanwhile, the spread of the Internet meant that detailed investment advice, once available only in the pages of the Wall Street Journal or the office of a financial advisor, was everywhere and free.
In the past few years, this kind of investing advice has seemed ascendant. Wall Street firms once synonymous with trading or picking stocks tout their index funds. So-called robo-advisors, which promise to manage money for a small fraction of what a human professional costs, have attracted billions. Last year, Richard Thaler, who helped design set-it-and-forget-it 401(k) options that improved retirement accounts for millions, won the Nobel Prize.
So how does Wallstreetbets fit in? The answer may simply be that American investors have an id, and that id needs to find an outlet. The forum was founded in 2012 by Jaime Rogozinski, an entrepreneur living in Mexico, who wanted a place where sophisticated investors could swap tips about high-risk, high-reward short-term trading strategies. "All the talk was about long-term investing and index funds," Rogozinski tells Money. "Whenever I would go on Reddit and post a comment or question, I would get berated for not being a good investor."
Rogozinski, who is "not a huge fan of the memes," insists that he created Wallstreetbets as a serious forum for learning. But whatever his intention, the site soon attracted an unruly mix of trolls and pranksters, including, notoriously, Martin Shkreli. The former hedge fund manager, who is now serving a seven-year prison sentence for securities fraud, once hosted a question-and-answer session on the subreddit and was made a WSB moderator.
Shkreli continues to be one of the site's favorite topics, along with Tesla founder Elon Musk, known as "Papa Elon." The pair are regularly mocked (or celebrated, the line isn't always clear) with memes and other jokes.
But WSB is best known as a place where users announce their bets on the market, which are often centered on so-called meme stocks—like Tesla—securities that have transcended their role as financial instruments to become a sort of economic inside joke. The biggest and boldest of these bets—like Cao's—are known as "YOLO bets." Winners brag of spending their newly acquired fortunes on yachts and "tendies"—that's chicken tenders—seen in jest as making up the ultimate luxury lifestyle. Losers are mocked, often in language that's crude and offensive, but also with a certain sense of camaraderie. After all, losers are the ones providing the most entertainment.
The id of investing

The mix of braggadocio and nihilism that pervades Wallstreetbets makes it difficult to tell how much money is really at stake. One of the best-known incidents to take place on the site involved a Canadian user who went by the username fscomeau. He shared a video in which he gambled away his million-dollar inheritance. The video is now believed by the WSB community to be an elaborate fake.
Cao's story is also remarkable. He began visiting Wallstreetbets because "literally every other Internet forum put me to sleep" and soon began posting about his own trades. He claims to have started investing with just $700, which he turned into $8,000 betting on election outcomes on an online gambling site. He says he then increased his winnings with cryptocurrency trades before turning to stock options. Even after his Facebook losses, he claims to have more than $300,000 left.
Cao freely admits all this may be hard to believe. Money reviewed images of Cao's brokerage accounts, including ones not previously posted online, and interviewed him several times regarding the details of his trades. However, in the age of Photoshop, his claims are impossible to truly verify.
While it's hard to know which Wallstreetbets trades are genuine, the dozens of posts showing pedestrian losses of a few hundred or a few thousand dollars suggest a good deal of them are, in fact, real.
"The majority [of users] are seriously unsophisticated," says one of the site's moderators who goes by the name "Chainsaw Vasectomy" when reached via Reddit direct message. "I think some brokers need to be more careful about how their clients are 'investing.'"
At least one academic study of day trading suggests that about eight in 10 investors end up losing money within six months. Those losses only stand to be worse when investors use instruments like options to magnify returns, as many on WSB do.
For his part, Rogozinski disclaims responsibility for what he sees as investors' bad judgment. "If you have money, you're probably old enough to understand the consequences and live up to them," he says.
In Cao's case, the giant losses he posted about seem to have clarified the consequences of the Wallstreetbets investing style. In the post announcing his losses, he admitted he wouldn't take the same risks in the future. "Will still stick around but play with a significantly smaller portion of the pie," Cao wrote. "Basically quitting while I'm ahead."
Corrected: An earlier version of this story misstated Dennis Cao's name.