The 25 Best Deals at Walmart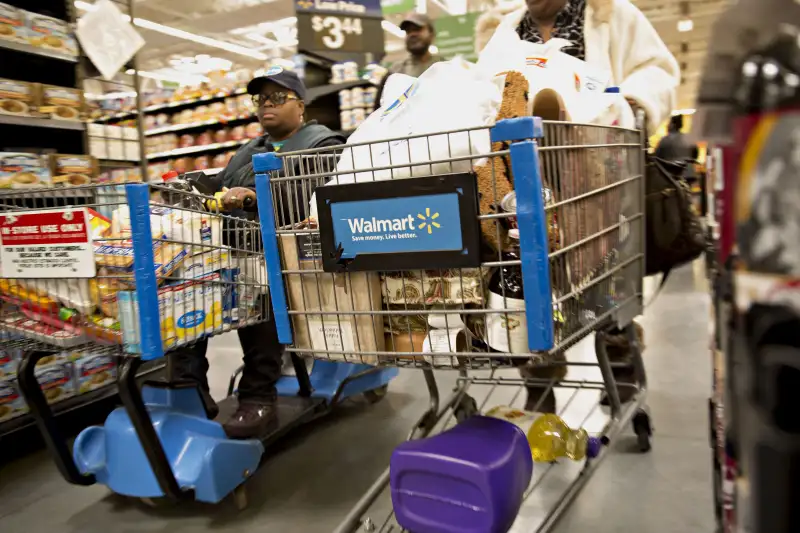 Bloomberg via Getty Images
Walmart is known for offering rock-bottom prices on a wide array of products for the home.
"A lot of shoppers know Walmart is a great place to save money on everyday necessities like groceries," said Mark Mazza, CEO and co-founder of PromoCodeWatch.com. "But there are many more deals to be gotten at Walmart than just [those on] everyday items."
Mazza went on to highlight some of the top items on which shoppers can save money, including furniture, televisions, toys and electronics.
In an effort to help you score the best deals at Walmart, GoBankingRates reached out to some of the best and brightest shopping minds in the business, as well as a Walmart insider. Click through to find out what they said.
1. Simple Furniture
Walmart's in-house brand of furniture, Simple Furniture, offers a line of quality home furnishings at prices that are hard to beat.
"In most cases, Walmart is consistently cheaper, with similar quality to IKEA, on desks, bookcases, entertainment centers and the like," said Kyle James, founder of Rather-Be-Shopping.com.
2. Mainstays Futons
Good for a college dorm or even a home office, Walmart futons are both comfortable and affordable.
According to Jennifer Kron, media relations director for Golin and Walmart's public relations contact, customers can score Mainstays futons online or in the stores for just $98 each. Research reveals that most of the chain's competitors charge more than $100 for the same models.
3. Televisions
If you're looking to score an HDTV without blowing your budget, Walmart could have the solution.
"Over the last year, about 20 percent of our Editors' Choice deals from Walmart were for TVs," said Benjamin Glaser, features editor with DealNews. "Of those deals, Walmart really slashes prices on off-brand HDTVs, like VIZIO, Sceptre and Element, which are often hundreds of dollars cheaper than name-brand equivalents."
Glaser added that customers seeking higher-quality brands can still save money, as Walmart offers regular deals on Panasonic, Samsung and LG TVs.
4. Legos
When it comes to toy purchases, Walmart has a habit of besting its competition. Both James of Rather-Be-Shopping and Howard Schaffer of Offers.com noted that Lego sets at Walmart are generally cheaper than those available from competing toy retailers, such as Toys "R" Us, Target and Amazon.
"This is especially true when you get into your more expensive Lego sets, like Minecraft, Ghostbusters and Marvel Super Heroes," said James.
5. Sewing and Craft Supplies
If you're looking for a hobby that keeps you or the kids off the computer, you might want to stop by your local Walmart.
"Sewing supplies, fabric, ribbon, yarn and craft supplies are far cheaper at Walmart than at a craft or fabric store like Beverly's," said Teri Gault, a shopping expert and author of "Shop Smart, Save More." "Plus, Walmart has an ample selection to choose from."
6. LED Desk Lamps
Let there be light for a lesser price.
Walmart sells Mainstays LED desk lamps for as low as $5.87, according to Kron. Considering that comparable lamps tend to cost $20 at other retailers, Kron singled out this deal as one of the best the chain store has to offer.
7. Brand-Name Laundry Detergent
Multiple shopping experts agree that brand-name laundry detergent is consistently one of the best Walmart deals.
"125-ounce Tide Original Scent Liquid Laundry detergent from Target is 12.9 cents per ounce, compared to 10.8 cents per ounce from Walmart," said Kendal Perez of Coupon Sherpa.
Alicia DeMartini of BeFrugal echoed the sentiment, adding that other brick-and-mortar and online retailers usually can't beat Walmart's prices.
8. Starbucks Coffee
Even products by brand names as big as Starbucks can be found for cheaper prices at Walmart.
"Coffee is a steal from Walmart," said Perez. "A 20-ounce bag of Starbucks Dark Caffè Verona Ground Coffee is priced at $11.98 (60 cents per ounce), compared to $8.19 for a 12-ounce bag from Target (68 cents per ounce) or $12.95 for a 16-ounce bag from Starbucks (81 cents per ounce)."
Related: 5 Best and Worst Deals at Starbucks
9. Wines
There are plenty of generic brands that can save you money, and Walmart's store-brand wine gives the competition a run for its money.
"Everyone knows about Trader Joe's two buck chuck, which is now $3. Walmart's Oak Leaf is comparable to TJ's [but available] for less," said Gault.
Prices vary from store to store, but Walmart Oak Leaf wine usually goes for $2.29 per bottle, and wine experts have given it the thumbs up for its quality.
10. Organic Foods
Recently, Walmart made its first foray into the organic food market, and the customer reception has been positive. James and Perez have both observed that Walmart offers competitive prices on organic food products, even compared to organic supply staples like Sprouts Farmers Market.
"For example, a 12-ounce jar of Justin's Almond Butter is priced at $8.97 at Walmart, compared to over $11 from Sprouts," said Perez.
Walmart deals on organic foods also beat out more direct competitors, such as Target.
"Crisco Pure Organic Coconut Oil is priced at $6.99 at Walmart, compared to Target's non-organic Crisco Coconut Oil for the sale price of $6.93," Perez said.
11. Organic Kids Foods
Walmart's organic food savings extend to snacks and treats for the kids.
"Ella's Kitchen Organic Nibbly Fingers baby food is priced at $3.98 from Walmart, compared to $4.09 from Target," said Perez. "Honest Kids Super Fruit Punch Organic Juice is priced at $2.98 from Walmart, compared to $3.14 from Target. Horizon Organic Low-Fat Chocolate Milk is $7.59 from Target, compared to $6.42 from Walmart."
12. Photos
For people who still prefer to print out their photos, Walmart offers great low rates that beat out the competition.
"You can get 4-inch-by-6-inch photos for 9 cents apiece at Walmart," said James, who went on to note that Shutterfly charges 15 cents, Walgreens charges 12 cents and Target charges 15 cents on average.
13. Beauty Products
Want to pay less for your favorite beauty products? Perez said Walmart deals on beauty products, such as makeup, nail polish and personal care items, are tough for competitors to beat.
"For example, a CoverGirl LashBlast Super Sizer Mascara is currently priced at $7.49 from Walgreens, compared to $5.94 from my local Walmart," she said.
Perez also singled out shampoo and eye shadow as top Walmart deals. Cosmetics chain Ulta has Pssssst! Dry Shampoo currently on sale for $5.99, while Walmart regularly charges just $5.47 for the same item.
"I buy Almay eye shadow from Walmart, too," said Perez. "The Almay Intense I-Color Everyday Neutrals is priced at $4.97 from Walmart, compared to $6.39 from Target and $8.49 from Walgreens."
Read More: The Best and Worst States for Families to Live a Richer Life
14. Cleaning Products
Walmart offers affordable prices on both name-brand and house-brand cleaning products.
"I buy Mule Team Borax from Walmart, priced at $3.97 for 4 pounds. That's compared to $4.09 from Target or $8.99 from Walgreens," said Perez, adding that Walmart's Great Value bleach beat Target's price for its equivalent up & up brand bleach.
Perez also prefers Walmart for brand-name cleaners. "Clorox All Purpose Cleaner with Bleach Spray (32 ounces) is priced at $2.88 from my local Walmart, compared to $2.94 from Target and $4.49 from Walgreens," she said.
15. Kitchen Appliances
Both Glaser and James reported that Walmart often posts incredible deals on kitchen items, from simple cookware to heavier equipment like mixers and waffle makers.
"I was really surprised to find that Walmart sold the KitchenAid 4.5-Quart Stand Mixer for $35 less than Bed Bath & Beyond," said James. "At first, I thought it might be an inferior model but, after some investigative work, it turned out to be the same product."
16. DVDs and Blu-rays
Walmart makes keeping up with the latest movies and TV shows a little easier on your pocketbook.
"One of the most popular deals posted in the FatWallet Hot Deals forum is for Walmart Blu-rays or DVDs," said Brent Shelton of FatWallet. "Walmart has some of the best pricing, if not the best, on current and popular movies and TV series."
Walmart DVDs and Blu-rays often include exclusives, such as extra footage and behind-the-scenes features, said Shelton. Additionally, Walmart offers InstaWatch on select items, allowing purchasers to watch content within 24 hours on any device they choose.
17. School Supplies
If the kids are heading back to school, you might want to consider hitting up Walmart's office supplies department. Kron said that Walmart offers some of the best deals on school supplies, such as folders, spiral and composition notebooks and even Crayola Crayons.
While Walmart does go big with its back-to-school sales, customers should keep a sharp eye on the price tags.
"Look for the cardboard seasonal displays that are full of loss leaders on school supplies, like binders, pencils, composition books, crayons, markers and backpacks," said James. "They're so cheap, they are clearly losing money on them, hoping you'll buy stuff at full price, too. Don't fall for the trick…only shop the screaming deals and ignore the rest."
18. Laptops and Tablets
Whether you're shopping for your college student or seeking a new computer for yourself, Walmart has laptops and tablets to fit your taste and wallet.
According to Kron, Walmart has slashed prices on multiple computer products. The Acer Chromebook currently costs $179, down from $199; the HP Manhattan Gold laptop costs $539, down from $599; the iPad Mini 2 costs $229, down from $269; and an iPad Pro 9.7-inch 32GB is presently priced at $584.
19. Back-to-School Apparel
Walmart is also the perfect place to buy your back-to-school clothing.
Apparel favorites such as School Uniform Polos, Girls' Faded Glory Leggings and Boys' Fruit of the Loom short-sleeve basic tees all cost less than $5 each at Walmart. And school uniform pants are under $10, said Kron.
Read More: 35 Best Deals at Costco

20. Baby and Toddler Clothing
Children grow out of their clothes quickly, a fact that can put a serious burden on your budget. Fortunately, Walmart offers some of the cheapest apparel around for fast-growing babies and toddlers.
Said Shelton, "This makes sense for the family budget when buying back-to-school apparel for pre-school and elementary kids who often go through clothing quickly, whether they wear them out or grow out of them. And the young are often not concerned with sporting popular brands, which can cost hundreds of dollars more when shopping for school."
21. Brand-Name Toiletries
Walmart once again comes to the rescue with affordable, brand-name grooming products.
"My husband uses Arm & Hammer AdvanceWhite toothpaste, and we can purchase a two-pack from Walmart for $5.98, or $1 per ounce. That's compared to $3.49 per tube from Target," said Perez.
Additionally, customers can score sweet-smelling deals on deodorant.
"A twin pack of Secret Invisible Solid Antiperspirant is available for $3.97 from Walmart, compared to $3.49 for a single deodorant from Walgreens or $6.88 for the same twin pack on Amazon," she said. "Even Walgreens' promotion of 'buy one, get one half off' on this product doesn't compete with Walmart's regular price for two products."
22. Disposable Razors
James knows first-hand how convenient the savings are that Walmart offers on disposable razors.
"I've been buying my Schick disposable razors at Walmart for years and pay 20 percent to 30 percent less than at Target or Amazon," he said.
Schaffer echoed this claim, noting that razors at Walmart can be up to 50 percent off what they are in drugstores.
23. Sunscreen
Walmart protects your bank account and your skin. Both name-brand sunscreens and Walmart's own brand, Equate, can be found at the chain for cheaper prices than competitors offer, said DeMartini.
24. Office Supplies and Stationery
Office supplies and stationery are great buys at Walmart, especially for those purchasing custom wedding invitations through Walmart Stationery.
"[Walmart Stationery] is, perhaps, the easiest and fastest way to create your own invites for weddings for under 99 cents per piece," said Shelton.
The FatWallet pro added that Walmart serves up passport photos, greeting cards and baby announcements from 28 cents each.
25. Women's Active Wear
It might come as a surprise to clothing aficionados, but Walmart offers great deals on women's active wear.
Kron singled out Avia and Danskin brands as some of the top bargains available at Walmart. From sports bras to vintage-style hoodies, V-neck shirts to leggings, Walmart stocks quality women's athletic apparel for around $15 per item.

This article originally appeared on GoBankingRates.