The 16 Best Deals at Walmart for Memorial Day Weekend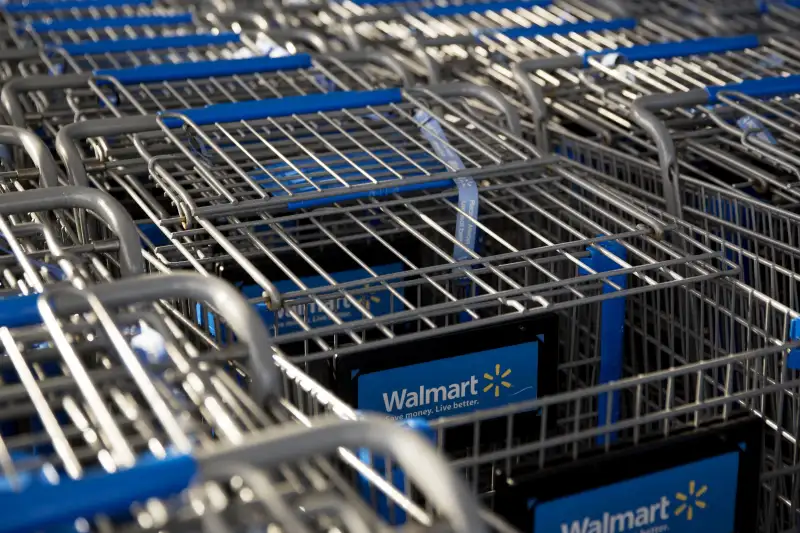 Bloomberg via Getty Images
Like other big-box retailers, Walmart offers plenty of Memorial Day deals to ring in summer 2016. The retailer offers its famous rollback prices on a number of Walmart deals on products in-store, but it also offers specials for shopping online.
"For big-ticket purchases, consider the free pick-up option, as shipping surcharges on mattresses and appliances often cancel out or greatly reduce rollback savings," said Kendal Perez of CouponSherpa.com, a coupon and deals site that also features Walmart coupons.
Alicia DeMartini of BeFrugal.com said an important feature of Walmart deals over Memorial Day weekend are the store's Memorial Day featured categories. Plus, you can get free shipping on orders of $50 or more. With this advice in mind, click through to see the best things to buy at Walmart during Memorial Day 2016.
Memorial Day Sales on Everyday Items
From food to clothing items, Walmart is offering great Memorial Day deals on tons of appliances, groceries, clothing and more. Here are some of the best discounts and sales you can expect this year.
Kitchen Appliances
Memorial Day sales at Walmart include rollback prices on kitchen appliances, where you can take up to 65 percent off, said Perez. For example, you can save 50 percent on a Presto electric griddle.
Air Conditioners
Walmart's deals on appliances don't end in the kitchen. Brent Shelton of FatWallet.com said Memorial Day weekend is a great time to time to buy air conditioners, too. You can save money on various types of air conditioners, such as $76 off a Frigidaire window air conditioner or $70 off an LG portable air conditioner.
Read More: 9 Secret Ways to Save Money at Walmart
Mattresses
Buying new bedding might be the last thing on your mind this Memorial Day weekend, but Walmart's deals on mattresses might change your mind. Last year, Walmart sold mattresses for as low as $99, according to Kerry Sherin of Offers.com, a website that combines many coupons, including coupons for Walmart.
For Memorial Day 2016, Walmart's mattress deals continue. The store is offering its Super Mattress Savings as part of its Memorial Day sales, with some mattresses as low as $79, like the Signature Sleep Gold Inspire 6-inch memory foam mattress. Or, you can save nearly $700 on the Linenspa 10-inch gel memory foam mattress, which is only around $300.
Groceries
Just in time for your Memorial Day barbecue, take advantage of Walmart's deals on food, including $10 off your first online grocery order worth $50 or more using the coupon code REALEASY, according to Slickdeals.net, which shares, rates and reviews deals and coupons. This offer is valid through Nov. 1, and it's only available at participating Walmart stores.
Clothing and Apparel
You might want to wait until August to buy summer items at the cheapest, but Memorial Day weekend is still a great time to stock up on clothing and accessories at Walmart, said Amy Chang of Slickdeals. Clearance apparel starts as low as $2.
Memorial Day Sales on Outdoor Products
Walmart can help you prepare for your summer activities this Memorial Day weekend, offering deals and rollback prices on a number of outdoor equipment and products. Here are some of the best Memorial Day deals.
Read More: 17 Signs Your Adult Child Is Better With Their Money Than You Are
Gardening Supplies and Equipment
Walmart offers plenty of savings on gardening products such as flower pots, planters and fountains. But, Walmart also has excellent deals on heavier gardening equipment, like up to $80 off select lawn mowers.
Pools
Memorial Day signals the unofficial start of summer. You can get ready for the heat by taking advantage of one of Walmart's many Memorial Day deals on pools. For example, you can save about $250 on a Coleman above-ground swimming pool set.
Bikes
Walmart's deals on outdoor fun continue with sales on bikes. You can potentially save more than $100 off bicycles, depending on the bike and brand.
Read More: 10 Affordable Cruises for Summer 2016
Swing Sets
Along with bikes and swimming pools, Walmart's Memorial Day sales include money-saving rollbacks on swing sets. Walmart offers a variety of swing sets with savings on certain models. For example, the IronKids Inspiration 250 Fitness Playground Metal Swing Set is a little under $200, compared to its regular listing price of $399.
Sporting Goods and Outdoor Gear
If you plan on camping, exploring the outdoors or getting in shape this summer, check out Walmart's Memorial Day deals on sporting goods and outdoor equipment, including air mattresses, sleeping bags, treadmills, coolers and other gear. The Ozark Trail six-person instant cabin tent, for example, is available for only $99 — it was previously $130.
Grills
Planning to throw a barbecue this summer? If so, be on the watch for Memorial Day sales on grills and outdoor cooking appliances. Backyard Grill's dual gas and charcoal grill is available for less than $200, a savings of $101. And, the Char-Broil Performance TRU-Infrared three-burner gas grill is around $350, saving you $50.
Patio Furniture
Patio furniture is key for Memorial Day weekend barbecues and for the summer, in general. Walmart's rollback prices mean that you can save on a variety of outdoor furniture sets and pieces, including $675 off a $1,400, six-piece outdoor furniture set.
Memorial Day Deals on Electronics
Walmart offers plenty of Memorial Day deals on electronics, said DeMartini of BeFrugal.com. Whether you're looking to buy a new television or a computer, Walmart offers some pretty impressive deals this Memorial Day.
Televisions
Walmart boasts some of the best Memorial Day sales on televisions from brands like Vizio, Sony, Samsung and more. For example, you can save $230 on a 42-inch LED HDTV from RCA.
Computers and Laptops
Computers are another electronics deal you can score at Walmart during Memorial Day weekend. Walmart rolled back prices on brands like HP, Dell and even Apple, among others. One deal that stands out is the Dell Inspiron 3459 all-in-one desktop computer; you can save $150 off the $849 regular listing price.
iPad Air
Walmart deals continue on Apple products. For example, save $100 on a 32 gigabyte Apple iPad Air with WiFi connection — and get free shipping.
Prepaid Smartphones
One of the best things to buy at Walmart this Memorial Day weekend is a prepaid smartphone. You can save anywhere between a few dollars to more than $200 on prepaid smartphones from brands such as Samsung, Verizon, Apple and more.
This article originally appeared on GoBankingRates.