Why Walmart's Plunging Stock Price Is a Good Sign for Walmart Shoppers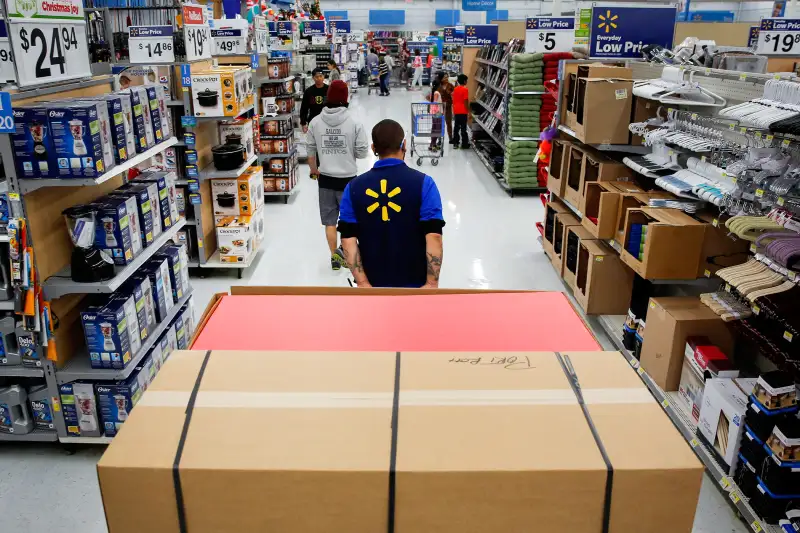 Patrick T. Fallon—Bloomberg via Getty Images
On Wednesday, shares of Walmart dropped 10%, the biggest drop in the company's stock price in 15 years. The reason cited for the huge selloff was the company's announcement that it expected revenues to be flat in the current fiscal year—and perhaps even decline the following year. And the reason given for why revenues are taking a hit is that after years of underinvestment Walmart is finally spending big money in key areas such as worker wages and its e-commerce operations.
Investors may not be happy with the company in the short term, but the moves are aimed at making Walmart a better place to shop—which should serve consumers and investors alike in the long run.
Essentially, Walmart is owning up to the fact that the shopping experience it's been offering in recent years has been severely lacking. Throughout 2013 in particular, reports surfaced regularly about Walmart shelves being empty, mainly because stores had cut worker hours as cost-saving measures.
What's more, despite being America's most popular retailer for buying groceries in terms of overall sales, Walmart has consistently come under fire as the least loved supermarket in the nation, with particularly low consumer rankings in categories like food quality and customer service. Traditionally, Walmart has been able to fall back on low prices as its trump card, but the emergence of low-cost supermarkets like Aldi and WinCo and dollar stores have undercut Walmart's ability to claim it's always the cheapest place to shop.
Improving the situation for its understaffed, underpaid, unmotivated workforce should help Walmart address many of these issues. That's the idea anyway. When workers are paid better—and when there are just plain enough of them to deal with the tasks at hand—they'll do a better job of restocking shelves, handling customer needs, and keeping stores clean and inviting. Higher wages should help scale back worker turnover too, and Walmart would eliminate some business costs if it had a more stable roster of employees.
Walmart knows it has problems in terms of food quality and pricing too. This past spring, Walmart U.S. CEO Greg Foran said stores would improve the in-store experience with a special focus on low prices and fresh food, including the addition of delis and bakeries at all of its smaller Neighborhood Markets locations.
Like every other brick-and-mortar-based retailer, Walmart also knows that it must do everything in its power to compete with Amazon, which has become the go-to destination for online shoppers. So it's understandable—necessary, even—that Walmart plans on spending roughly $1 billion in each of the next two years ramping up e-commerce operations. Among the changes shoppers can notice already is Walmart's online grocery expansion, in which customers load up virtual carts online and then pick them up at a reserved parking space outside the store.
Above all, the story behind Walmart's lagging revenue projections and plunging stock price is that Walmart is admitting that it has to do better by employees and customers alike. For the most part, analysts approve of Walmart's approach for the long haul, no matter the current selloff of shares. "We take a longer-term view here. We think this is a good idea going forward as you try to turn the battleship," Moody's analyst Charles O'Shea told CNBC. "They have to invest in their employees. They have to invest in price. And they have to invest in e-commerce."
Read next: Here's How Much Money You'd Save Shopping at Jet.com Vs. Amazon