15 Things to Expect from Warren Buffett's Annual "Woodstock for Capitalists"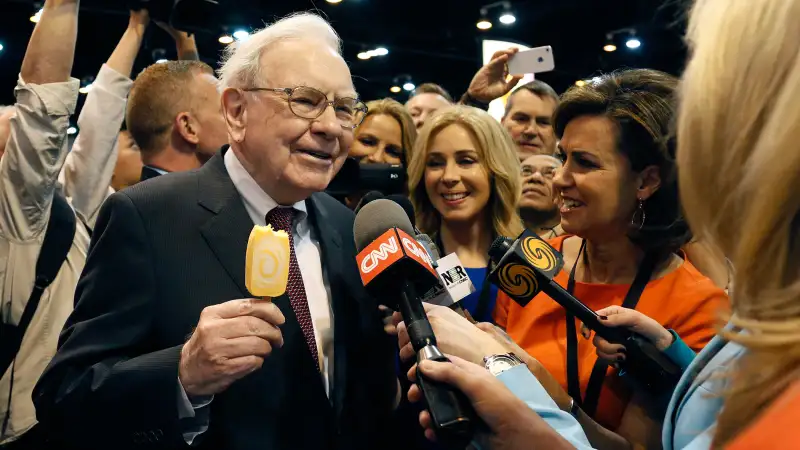 Saturday is the day. That is, Saturday is the day.
That's right, I'm talking about the Berkshire Hathaway annual meeting, which brings tens of thousands of investors to Omaha to hear what CEO Warren Buffett and his brilliant co-pilot Charlie Munger have to say about Berkshire, the economy, the stock market, and... well, just about anything else under the sun.
There are certain things that Buffett-watchers can expect every year from the meeting, but every year's meeting is a bit different. And this year promises to be particularly memorable, as it marks the 50-year anniversary of Buffett and Munger at the helm of Berkshire.
So what exactly should we expect from this year's edition of the Woodstock for Capitalists? Let's see...
1. What do you think about the stock market?
I'm guessing the question won't come in quite that form, but there will be some question during the hours-long Q&A session with Buffett and Munger that gets to their views on the current state of the stock market. We can expect the response to be a combination of their traditional wisdom that emphasizes how investors are buying a piece of a business (not a piece of paper), that long-term ownership is the way to go, and that low-cost index funds are the best bet for many investors.
But this ain't the normal mealy mouth corporate-speak annual meeting, so don't be surprised if Buffett and Munger offer direct views on the state of the market. After all, in Berkshire's annual letter in 1999, Buffett was very clear about his view that valuations were inflated:
And then, in the 2008 letter, he was equally clear about the bargains that he and Charlie were seeing:
2. What's up with that new number?
Buffett and Munger's benchmark of choice for many years has been the change in Berkshire's per-share book value versus the one-year change in the S&P 500 index. This year, a new number appeared on the first page of Berkshire's letter: the one-year price change in Berkshire's stock.
On the one hand, this shouldn't be all that surprising. For years now, both Buffett and Munger (more so Munger), have explained that the changing nature of Berkshire's business – that is, away from an insurance-heavy operation to a more diversified conglomerate – make the per-share book value calculus less meaningful.
In this year's letter, Buffett noted that:
At the same time, going by the "classic" benchmark, Berkshire has underperformed in five of the past six years. I'd be surprised if somebody didn't try to call out the duo on the apparent convenient timing of the new performance gauge.
3. You bought what at Berkshire?
One thing that Berkshire investors that attend the meeting can expect every year is a cornucopia of Berkshire-subsidiary products on offer, from Dairy Queen Dilly Bars to NetJets private-jet leases. Seriously, Berkshire investors get their shop on. Here's what Buffett had to say about last year's Berkshire rendition of Supermarket Sweep:
My personal goal is to buy something that will make my wife say..."You bought what at Berkshire?"
4. Kraft...
Buffett likes his "elephant hunting" and he did some for Berkshire in late March. Pairing up once again with Brazilian private equity firm 3G Capital, Berkshire agreed to buy Kraft Foods for around $50 billion. The Economist was none too impressed with the deal, writing:
The article continues to clarify that while Kraft's business is easy enough to comprehend, its recent performance hasn't been terribly tasty.
My fellow Fool Alex Dumortier wasn't as pessimistic, noting the incredible success that 3G has already had with the last team-up acquisition, H.J. Heinz. To be fair, The Economist did note that 3G "is the closest thing the consumer-goods industry has to a miracle-worker."
The bottom line, though, is that the price tag for Kraft wasn't especially cheap and the business isn't thriving, so a "what's up with that" question is bound to come.
5. "I have nothing to add."
Charlie Munger is famous for curtly quipping "I have nothing to add" during the meeting when... well, when he has nothing further to add. On our live chat we will be sure to let you know every time Munger delivers his well-known line.
And for a fun Berkshire-inspired game that even the kids can enjoy: Eat a See's Candy (or two) for every "I have nothing to add."
6. ...but then, there's plenty to add.
Though Munger's "I have nothing to add" is well known, it's likewise known that when he does have an opinion on something he's not afraid to share it. We can certainly expect that there will be plenty of this during the meeting as well.
Charlie on ethanol (2008): "The policy of turning American corn into motor fuel is one of the dumbest ideas in the history of the world."
Charlie on gold (in a 2012 CNBC interview): "Gold is a great thing to sew into your garments if you're a Jewish family in Vienna in 1939, but I think civilized people don't buy gold, they invest in productive businesses."
7. So, um, what up with Clayton Homes?
When you're as large as Berkshire, you're bound to find yourself in the crosshairs of controversy. That's doubly so when you're run by a CEO who says things like "we can afford to lose money -- even a lot of money. But we can't afford to lose reputation -- even a shred of reputation."
In the past, Berkshire has come under fire in the annual meetings for the disruption of salmon spawning by a dam owned by Berkshire subsidiary Mid-American Energy, as well as its ownership of PetroChina stock, which a shareholder proposal described as "the dominant international player in Sudan's oil sector."
This year, the heat will likely come from concerns over Berkshire's manufactured-housing company, Clayton Homes. In early April, The Seattle Times published an article titled "The mobile-home trap: How a Warren Buffett empire preys on the poor." The article alleges that while Buffett rails against shady mortgage practices, the company that he owns – and praised in this year's shareholder letter – is "trapping many buyers in loans they can't afford and in homes that are almost impossible to sell or refinance."
8. The Berkshire movie
Every year, the meeting begins with a movie. That's right, a movie. Well, it's really sort of half-movie and half-advertisement for Berkshire brands and holdings (Coca-Cola and Geico always seems to have prominent placement). What the movie lacks in plot and clear structure, it makes up for in cheap laughs and cameos.
Who will pop up in this year's iteration? I've got my fingers crossed for Left Shark.
9. Tell us more about this car thing
Could it be that Jay Leno now has an Omaha billionaire that he can talk cars with?
In early March, Berkshire closed on the acquisition of Van Tuyl Group -- one of the U.S.'s largest auto dealerships -- and promptly renamed the group Berkshire Hathaway Automotive. Prior to the acquisition, Van Tuyl reportedly had $9 billion in annual sales, but Buffett wants to see the new subsidiary grow further. In late March he went on CNBC and said:
Berkshire also purchased $560 million in Axalta stock from Carlyle Group. While Axalta is a diversified coatings business -- which fits in with Berkshire's vast industrial holdings -- its primary market is transportation. Axalta holds the No .1 worldwide position in supplying coatings for auto-repair shops and is No.2 when it comes to manufacturers of cars and light trucks.
And lest we forget, it was just in 2011 that Berkshire coughed up $9 billion to buy Lubrizol.
What's next for Buffett's burgeoning auto-empire? I'd certainly be interested to hear what the Oracle sees ahead for the industry.
10. Zombies in Omaha
The crowd at the CenturyLink Center in Omaha is expected to top 40,000 this year for the 50thAnniversary meeting. Any shareholder can attend the meeting, but none can purchase preferred seating. What does that mean? The same as every year: Investors will line up bright (technically, it will still be dark) and early to try to secure the best seats and the best views of Buffett and Munger.
This means that if you happen to be in Omaha on the weekend of May 2, but aren't part of the Berkshire hoopla, don't fret, those aren't actually zombies wandering around Farnam Street and Dodge, they're just exhausted Berkshire investors.
11. Entschuldigung Herr Buffett, aber was ist nächste für Sie in Deutschland?
As the Geschäftsführer for The Fool's German-language website (Fool.de), I have a special interest in this one.
On February 20 of this year, Berkshire announced that it was acquiring German motorcycle-gear business Detlev Louis Motorrad. Buffett called the deal a "door opener" and crowed that "I like the fact that we have cracked the code in Germany." Wie cool.
Buffett followed up with an interview with Handelsblatt, Germany's answer to The Wall Street Journal. In the interview, Buffett said:
I wholeheartedly agree and would be very interested to hear: Also dann, was jetzt Herr Buffett?(So then, what now Mr. Buffett?)
12. Just give us a hint
Every calendar quarter, large investors like Berkshire are required to deliver a so-called 13F filing to the Securities and Exchange Commission that shows their stock holdings. Berkshire last filed in mid-February, and we'll likely see the next filing in mid-May – conveniently after the annual meeting.
In the last 13F filing, we found out that Berkshire had shed all of its holdings in ExxonMobil – Buffett later explained to CNBC, "We thought we might have other uses for the money."
Will there be any big moves this quarter? I doubt we'll find out at the annual meeting, but that doesn't mean that the question won't be asked.
13. Run like the wind
If you're a runner, you may be familiar with the Brooks running-shoe brand. If you're a Berkshire shareholder you may know that Berkshire owns Brooks. But did you know that for the past couple of years Berkshire and Brooks have put on a 5k race the day after the Berkshire meeting?
The runners that come out for the "Invest in Yourself 5k" are no joke -- last year's male winner finished in a blazing 15:52. For the rest of us, it's a matter of just trying to shake off a sleep deficit and an over-indulgence in See's Candy. But, then again, what better way to burn of a few of those candy calories than by running a few miles?
Better still: Runners get a Berkshire-ized Brooks t-shirt and a finisher's medal with Buffett's smiling mug on it.
14. Want another question that won't be answered?
Buffett's successor: Who will it be? We won't find out at the meeting, but it's another "not to be answered" question that I expect to hear.
15. Oh right, the Berkshire business meeting
Believe it or not, sandwiched into all of the Buffett and Munger-y goodness of the Berkshire meeting and weekend is an actual business meeting. According to Berkshire's annual meeting info, the business meeting will be held from 3:45 to 4:15 on the day of the meeting. In the years that I've attended the meeting, I can't recall the business meeting lasting more than 10 minutes.
Then again, my perception of time by that point in the day has usually been compromised by the peanut brittle.
Matt Koppenheffer owns shares of Berkshire Hathaway. The Motley Fool has a disclosure policy.
Related Links