How to Watch the NBA All-Star Game for Free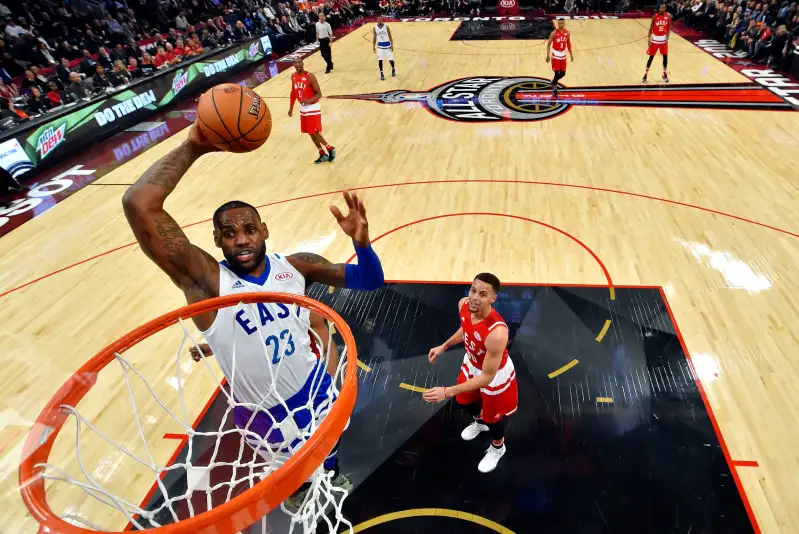 As part of teams filled with basketball's best and most popular players, LeBron James and Steph Curry will face off once again at the NBA All-Star Game at the Staples Center in Los Angeles, California on Sunday.
James, of the Cleveland Cavaliers, and Curry, of the Golden State Warriors, are both captains of teams comprised of players from the Eastern and Western conferences. For the first time, the two players drafted their teams for the 67th annual NBA All-Star Game in late January.
However, both teams — particularly James's — suffered from injuries between the drafting period and the game. Kevin Love of the Cleveland Cavaliers, John Wall of the Washington Wizards and Kristaps Prozingis of the New York Knicks are unable to play for James's team and DeMarcus Cousins of the New Orleans Pelicans is unable to play for Curry's team due to injuries. Other players from the NBA will fill their roles on the court Sunday night.
Each year, the NBA All-Star Game serves as an opportunity for players to flex their skills at a widely attended match-up. The game comes at the end of NBA All-Star weekend, which also included the highly anticipated dunk contest and celebrity game.
NBA fans looking to watch one of the most fun games of the year are in luck. Here's how to watch the game online, for free and on TV.
How to watch on TV
If you have a cable or satellite subscription, you can watch the NBA All-Star Game on TNT starting at 8 p.m. EST on Sunday.
You can also watch the game with a TNT subscription on devices like Sling TV, YouTube TV, DirecTV Now, Playstation Vue and Hulu with Live TV, among other options. These choices often require a cable log-in, but you can access them for free through different trials to these services. Sling TV, for example, has a seven-day free trial that includes a subscription to TNT, among other channels.
Additionally, Roku, another television service, notes that the game will be available to watch for free for customers on the NBA channel. Services like Sling TV, Apple TV and others have the NBA channel available as well.
How to watch online
Fans without a television can still catch the game. TNT will have a livestream of the game available online, but after the first 10 minutes, you will have to log in to your cable provider to keep watching.
YouTube TV and Hulu with Live TV are also available online, but, similarly, require subscriptions. You can get around that by signing up for a free trial for them. Both YouTube TV and Hulu with Live TV offer a 30-day free trial for new customers.
If all else fails...
Head to your local sports bar or call up that friend of yours who has cable.