Newlyweds Want Dolphins Not Dishes as Wedding Gifts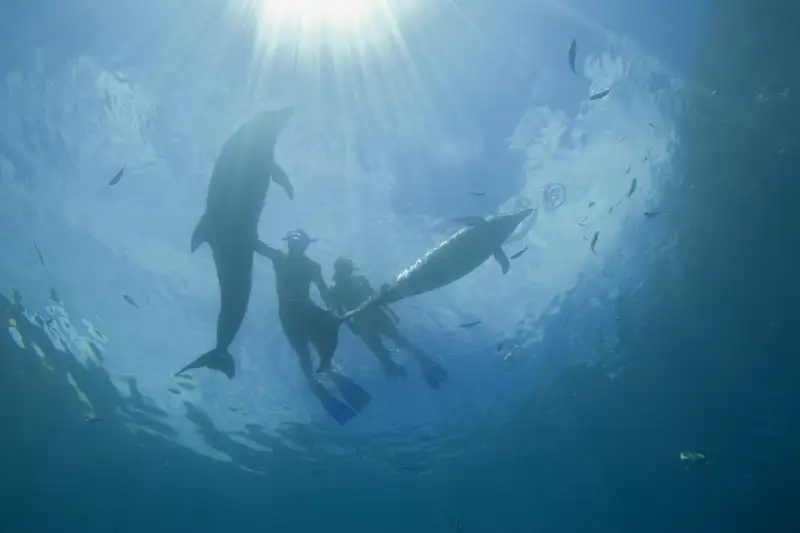 Dave Fleetham—Getty Images/Perspectives
When Ryan Frailich and Stephanie Hinton were getting married last year, the last thing in the world they wanted were gifts of butter dishes or cutlery sets.
So the New Orleans couple asked guests instead to sponsor elements of their dream honeymoon trip to New Zealand. Invitees could buy things such as bike rentals for cruising around the country's picturesque south island, or dinner for two by the stunning Milford Sound.
When they took their trip last November, they took pictures at each location to send personalized thank you notes when they returned. "It gave us a chance to remember our loved ones," says Frailich, a 31-year-old human resources consultant.
The number of couples setting up honeymoon registries like Frailich and Hinton's in 2015 was up to 22 percent - double that of five years ago - according to wedding site The Knot's most recent Bridal Registry Study.
The site Traveler's Joy has hosted more than 328,000 couples since 2004 and provides a flurry of destination guides and sample registries to get you started. Another popular site, Honeyfund, boasts that its couples have collectively received a total of $415 million toward honeymoon costs.
"Couples are getting married later in life these days, and so they usually already have all the typical household stuff," says Lauren Kay, senior style editor at The Knot. "So we are seeing an uptick in couples, particularly millennials, registering for non-traditional things."
Modern understanding of happiness is also feeding into it: Many studies demonstrate that experiences bring people more enduring happiness than things, according to the research of Cornell University psychology professor Thomas Gilovich.
Riding this trend are so-called "universal" registries, which allow couples to add a wide variety of gifts from around the Web to their wish list instead of just gifts from a single retailer. Twenty-two percent of marrying couples now set up universal registries - a number that has more than quadrupled since 2010. MyRegistry has racked up more than 145 million gifts for its couples, and faces competition from sites including Zola and the ubiquitous Amazon.
Read: The Ultimate Wedding Gift-Giving Guide
For those guests used to more traditional registries, the trend can be a hard thing to wrap their minds around. Some tips to get everyone on board:
Frame it as a positive
Avoid presenting the experience option in negative terms, which can seem spoiled or ungrateful - "we don't want household items because we already have everything."
Instead, lay out the plea in a positive light. "Say something like, 'This is what we are really excited about, and we would love it if you could support us,'" suggests Frailich. "That tends to get people excited, because after all, they want to do something that makes you happy."
Offer a traditional option, too
Some older guests might find an experiential registry unfamiliar and odd, and that is perfectly OK. So make sure to offer a more traditional registry concurrently; it does not have to be exclusively one or the other. "I always say couples should have one or two traditional registries as well," says The Knot's Kay.
Think beyond honeymoons
While honeymoons are a popular type of experiential registry, couples have to come back to daily life eventually. So think about registering for experiences in your hometown as well, advises Kay.
Museum memberships, or wine tastings, or romantic dinners, all will help add a dose of spice to the first years of marriage.
Read: How to Be In Your Friend's Wedding and Not Go Broke
Take advantage of the moment
Experiential registries are still a relatively new phenomenon, so at first it might seem greedy or grasping to ask for over-the-top dream experiences. But bride-to-be Kayla Muller has some advice for you: "Get over it."
"This is the one time in life where you can ask for any gift, and people are happy to spend money on you," says Muller, a New York City resident who is getting married next April, and whose honeymoon registry at Jamaica's Sandals resort includes experiences such as horseback riding on the beach, couples massages and swimming with dolphins.
"These days you are not stuck with boring things on your registry - so don't be afraid to ask for something fun and non-traditional," she adds.