The Frugal Guest's Guide to Not Going Broke During Wedding Season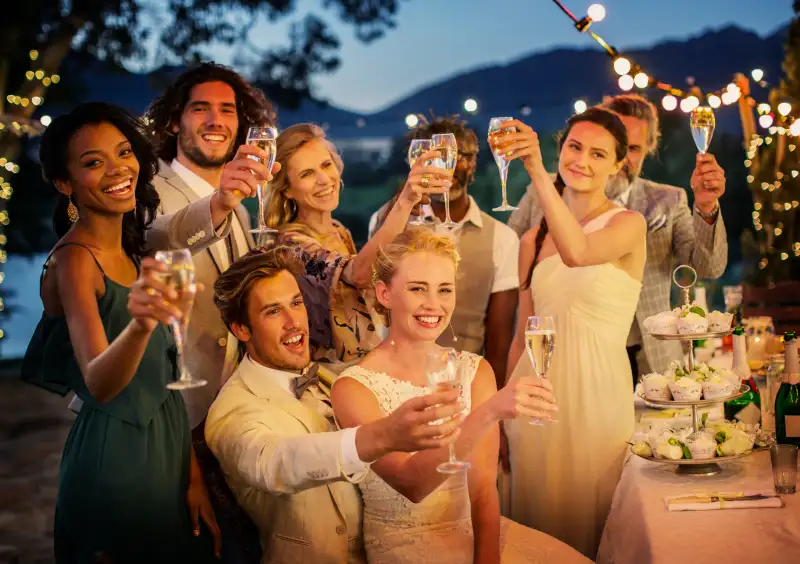 Caiaimage/Tom Merton—Getty Images
So you're invited to a ton of weddings this summer. Yay for you — you're popular! But before you let your friends drag you onto the dance floor and do the Electric Slide as atonement, consider these tips on how to make it through wedding season without spending it in the poor house.
1. Redeem Credit Card Rewards Thoughtfully
If you've racked up credit card rewards over the past year, or even since the holidays, now's the time to cash them in for travel if it's a destination wedding, lodging, or even gifts for the betrothed.
"Prepare ahead for travel expenses by stockpiling airline miles and credit card rewards which you can redeem toward a flight or hotel stay," suggests money-saving expert Andrea Woroch. "You can even gift accrued miles to the couple for their honeymoon. Otherwise, you can redeem rewards toward gift cards for the bridal shower and wedding gift."
While I don't always advise opening a credit card just to take advantage of the sign-up perks, depending on how many weddings you're attending, and how far you're traveling, opening a new account may work in your favor — so long as you plan to pay off the balance right away and it won't adversely affect your credit score.
Read More: 7 Surprising Ways Summer Will Cost You
2. Compare Lodging Rates Before Booking
Most of the weddings I've attended have suggested lodging for guests, either where the bride and groom are staying or other nearby establishments if the home base has reached capacity. But these aren't your only options. If you find the suggested lodging options out of your budget, search for better deals. Check the hotel's website for exclusive discounts, or even daily deal sites like LivingSocial or Groupon. Even if you have to stay 10 miles away from the venue, saving that extra $25 or $50 per night may be worth the short drive to you. (See also: How to Stay in a 5-Star Hotel for Less Than the Cost of a Motel)
3. Rent a Private Home With a Group
Some people enjoy the privacy of hotel rooms, but personally I'd rather go in with friends on a home rental via Airbnb or another short-term rental site if several of us are invited to the same wedding. Not only will you typically save a substantial amount of money over a hotel by reserving private lodging, but you can split the total cost between the group, which could make the trip a real steal. You'll save even more money on meals if the place is equipped with a kitchen you can use to make food during your stay.
4. Offer a Service in Lieu of a Tangible Gift
Can't afford a gift from the bride and groom's registry? Put your thinking cap on and come up with creative ways you can honor their marriage by offering a service.
"Most couples financing their wedding welcome free or a discounted service in lieu of a gift," says Woroch. "Some of the most common services provided by friends and family include photography, videography, day-of makeup and hair prep, and decorating help. You can even offer to bake the wedding treat or officiate the ceremony, if the couple hasn't made other arrangements."
Read More: Flashback Friday: 143 Fun and Frugal Ways to Spend Your Weekend
5. Purchase Discount Gift Cards to Buy Gifts
Buying discount gift cards online is a smart tactic to save on gift purchases for any occasion. Use your saving savvy to stack deals, and you'll likely come in way under budget with plenty of cash to spare for the other wedding expenses.
Personal finance expert Kevin Gallegos offers a smart tip with regards to wedding gifts: shop early!
"If invited to a wedding, find out where the couple has registered as soon as you can," he says. "Go online or to the brick-and-mortar store and select a gift immediately. Shopping early assures the best selection — and one that fits your budget."
Wait too long and all that will be left are the crystal candelabras and $60-a-piece Kate Spade dinner plates.
6. Opt Out of Rental Car Insurance
I have never purchased insurance for a rental car. Why? Because it's a fool's game. My own personal insurance will cover me if I'm in an accident, so why do I need extra? I don't, and you don't either if you have similar coverage. Check with your provider, of course, to make sure you're covered.
Travel expert Katelyn O'Shaughnessy, founder of TripScope, suggests another way of getting around the insurance car rental joints try to scare you into buying.
"Before you opt for the overpriced car insurance that rental companies offer, call your credit card company and see if car insurance is included. In my case, three of my credit card companies offer this little perk, which saved me $200," she says.
7. Avoid Mobile Data Charges By Planning Ahead
Recently I traveled to Canada and I turned off my mobile data two minutes too late and racked up $20 in extra charges by using navigation. O'Shaughnessy says you can nip that in the bud by using Google Maps offline by typing "OK Maps," and the map will save for future, offline access.
Read More: 6 Money Myths About Stay-At-Home Moms
8. Dress Plainly
Men have it easy when it comes to dressing for a wedding. Just throw on that one suit you own, swap out different ties for different events, and you're all set. Nobody will ever notice. Women, however, have it rough when dressing for a wedding. For starters, you can't show up the bride or the bridesmaid in a stunning ensemble or you'll be shunned. Secondly, if you show up in a memorable dress, you likely won't want to wear it to another wedding if it's attended by any of the same people. Frequent wedding guest Emily Taffel has a solution to that problem: Be boring. (See also: How to Attend a Wedding for Cheap (Without Actually Looking Cheap))
"Never buy a printed dress to wear to a wedding; prints are remembered. Dresses aren't if they are boring enough," she says. "I say that dearly, but every woman knows a navy shift dress in a perfect fit will take you everywhere. Accessories make all the difference — scarves, hats, the right handbag, shoes, and jewelry. That navy dress works day and night and saves you having to buy multiple outfits.
9. Work the System to Avoid Hotel Cancellation Fees
If you can't make the wedding for some reason, and your plans have changed less than 72 hours in advance, there's a way around forfeiting the deposit you put on the hotel, even if it is a bit shady.
"Just reschedule for a future date — usually there's no monetary penalty for that — then call the hotel back, get a different rep and cancel free of charge," O'Shaughnessy advises.
My new hero.
10. Don't Overcommit Yourself
Listen, if you can't afford to attend all the weddings to which you're invited, it's okay to say no. I've already declined one wedding invitation for this summer in San Francisco because I recently came back from a three-week stay in California, and the timing wasn't right for my budget. If the bride and groom are reasonable, they'll understand. If not, well, it'll be two less jerks you'll have to worry about in the future, because you'll be dead to them from here or out.
As an alternative, perhaps you can make it to one or more of the events leading up to the wedding to show your support.