8 Cost-Cutting Wedding Hacks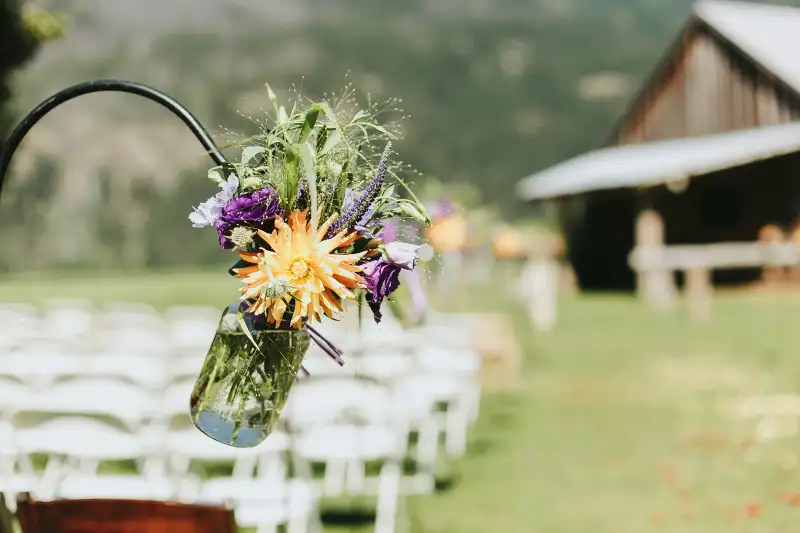 With the average cost of a wedding soaring to $31,213 in 2015, couples need to get creative to save … without compromising too much on their vision.
But just how do you cut corners and still throw a fun and fabulous affair?
Well, the couples in this story pulled it off, and then some, from finding gorgeous invites that cost less than the postage it took to mail them to creating a dessert table that was flat-out free—and the talk of the party.
See how they did it—and which tips you might want to steal when it's your turn to walk down the aisle.
My Ultimate Wedding Venue Hack
"We chose a city-owned historical site—the Newland Barn in Huntington Beach, Calif.—as our wedding venue.
Since these types of locations are considered nonprofits, they're not able to hike up rental prices due to popularity and demand. We saved at least $10,000 by getting married there."
—Danielle Estrada, 27, La Verne, Calif.
My Ultimate Wedding Flowers Hack
"We bought our flowers wholesale from a site called FiftyFlowers, spending around $150 to $200. That bought us 2,000 stems, including carnations, daisies and baby's breath. We had over 250 guests—and still had flowers left over.
I recruited eight of my bridesmaids, and using floral tape, pins and ribbon, we made all of the bouquets and centerpieces ourselves. It was so much fun, and I had multiple people tell me how much they loved the flowers."
—Michelle Schroeder-Gardner, 26, St. Louis
My Ultimate Wedding Invitations Hack
"My husband and I had a traditional wedding for under $20,000, which is unheard of in New York City. One big way we saved was by Groupon-ing our invitations and save-the-dates.
Groupon often has ads for Vistaprint—even if the deals aren't public, you can search for a coupon code. Our invites and save-the-dates were completely personalized and great quality—and we ended up spending a whopping $35 on both. The postage to send them cost more!"
—Kimberly Miller, 31, Long Island, New York

My Ultimate Wedding Planner Hack
"I priced out having a day-of coordinator, which would have cost me between $1,000 and $3,000. To save money, I asked my friend Jackie, who works in event planning, to do it instead—and she gave it to us as our wedding gift.
Not only did she save me money, but she was a total pro! She even set up a mimosa bar for all of my bridesmaids while we were getting ready."
—Katie Schafer, 35, Birmingham, Mich.
My Ultimate Wedding Linens Hack
"We got married on the beach in Florida, and I ordered all of my linens right off Amazon. It was so much cheaper than renting them!"
—Kristen Liddicoat Vanselow, 40, Fort Myers Beach, Fla.
My Ultimate Wedding Budget Hack
"Instead of creating a traditional registry, we asked to receive money as a gift through a site called Honeyfund. With the money we received, we were able to pay off the wedding expenses and our honeymoon!"
—Kai Yaniz, 31, Tampa Bay, Fla.
My Ultimate Wedding Dessert Hack
"We got married at a campground outside of San Francisco, and did a lot of things ourselves. We asked friends and family to bake their favorite cookies, and set that up as a dessert table, instead of spending a ton of money on a traditional cake.
It really brought our guests together, and people were asking for the recipes. I had one friend ask, 'Who is James because I just ate all of his peanut butter cookies?!'"
—Jenna Megalizzi, 37, San Francisco
More From LearnVest: