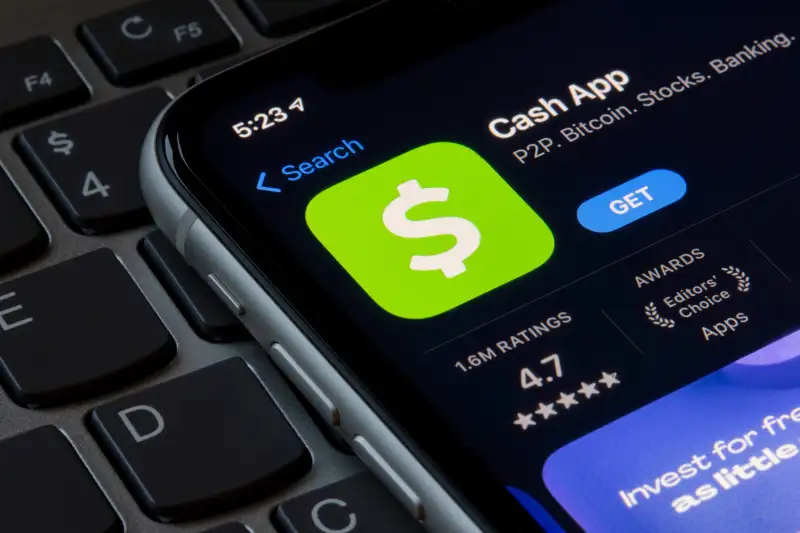 Cash App is one of the newest digital payment options that enable quick money transfers. With convenient features beyond just sending and receiving money — including investing in stocks and bitcoin, a physical debit card and a rewards system called Boosts — Cash App is a top choice among peer-to-peer (P2P) payment services. Read on to learn what Cash App is, what you can buy with Cash App, where it ranks among the competition and whether Cash App might be a good option for you.
What is a peer-to-peer payment service (P2P) app?
Peer-to-peer payment services (P2P) are applications that can send and receive money faster than the best online banks. Apps like Paypal, Venmo, Zelle and Cash App allow friends and family to send funds to each other through their mobile devices instantly. Some common reasons to use a P2P app include:
Paying a bill
Collecting a cash prize
Splitting an expense
Sending money as a gift
Requesting for reimbursement
Receiving a paycheck through direct deposit
Because of their convenience, P2P payment apps are increasingly common. Some newer features allow users to invest in stocks and cryptocurrency or receive direct deposit payments from employers.
How does Cash App compare to other P2P apps?
Cash App is a P2P service owned by Block, Inc. Like other popular P2P payment apps, sending and receiving money on Cash App is more convenient than taking a trip to a local financial institution, such as one of the top national banks or credit unions.
Compared with the other top P2P apps, Cash App lacks a few features. Cash App does not make payments discoverable and available for likes and comments as Venmo does. The app also requires users to download it, whereas you can send funds through Zelle without installing a new app. The most well-known P2P payment service app, PayPal, allows for international payments, creating and sending business invoices, and paying for purchases in installments. Cash App is more limited in its functions.
Depending on your needs, Cash App may be an excellent option. Read on to discover some benefits of using Cash App and why it may be a practical channel for your digital payments.
How Cash App works
Cash App's smartphone app is available for download through the App Store, Google Play and the web browsers Chrome and Safari. After downloading the app onto your mobile device, you can start by creating an account with Cash App. You must be 18 years old to register for an account and have a valid phone number or email address. Once you've created your account, Cash App will send you a one-time code to log in the first time.
With a Cash App account, you can send and receive funds or requests for cash to anyone. You can invest in, send and receive stocks and bitcoin through the app. Cash App also offers a physical Cash App card, called a Cash Card, that links to your Cash App balance.
Send and request money to anyone
Cash App is primarily used for sending money. You can transfer money to anyone who has a verified Cash App account. You can also send a request for payment to anyone who owes you. Sending a request gives the recipient 14 days to accept or decline your request, after which, the request will expire.
To send or request money, you'll need to sign up for a Cash App and activate an account using your phone number or email address. Cash App may also ask to verify your identity with your Social Security number. In your Cash App account, you'll create a $Cashtag, a unique, searchable username others can use to send you money, along with your email address or phone number. To add funds to your Cash App balance, you'll need to link your Cash App account to an active bank account, debit or credit card.
To transfer funds, type in the amount, and press Pay on the bottom right side of the screen. Cash App will prompt you to identify the recipient by typing in their email address, phone number or $Cashtag. If you have already sent money to this person, their ID may appear in a suggested contacts list. You can type a short note to your recipient, which can serve as a reminder of the reason for the payment. Then tap Pay once more to complete the transfer.
The recipient does not need to have Cash App installed to receive your transfer; you only need their email or phone number to send a payment. However, the transfer will expire and the funds will return to your balance if the recipient does not accept the transaction within 14 days.
Let anyone send money to you
Just as you can send money and requests to anyone via Cash App, anyone can send money to you. Funds sent to you are added to your balance immediately. Cash App also supports direct deposits from employers. To view the details of payments you have received, tap on the Activity icon in the bottom right corner of the home screen. You can scroll through a list of transactions and review your received payments.
If you receive a payment by mistake, you can refund the money to the sender. Senders who transfer money in error can also send a request to get their money back — however, there is no guarantee the accidental recipient will return their funds. Senders cannot cancel a transaction once it's made, even if they contact Cash App customer service.
To avoid making mistakes, Cash App users should double-check the recipient's email address, phone number or $Cashtag and the dollar amount before pressing Pay. Having a complete Cash App profile can help other users easily verify your identity.
Link to bank accounts
In order to withdraw or deposit funds via Cash App, you'll need to link at least one bank account.
Even though Cash App offers traditional banking services, there is one significant difference. Most banks are insured by the Federal Deposit Insurance Corporation (FDIC). When an FDIC-insured financial institution goes bankrupt, your balance is federally insured up to $250,000.
However, the FDIC does not insure Cash App. If Cash App goes under, you are not guaranteed any funds you have withdrawn from your bank and deposited into your Cash App balance.
Add money to your Cash App balance
Once you've linked your bank account, adding money to your Cash App balance is easy. Open Cash App and tap on the house-shaped My Cash icon in the screen's bottom left corner. On the next screen, tap on Add Cash. You will see a pop-up screen with increments of dollar amounts ranging from $10 to $200 and a final option allowing custom amounts. After you've added money to your Cash App balance, the My Cash tab will show the dollar amount of your balance.
There are other ways to add money besides a direct bank transfer. You can add money to your Cash App balance from a prepaid card, but note that Cash App cannot transfer money from your Cash App balance to a prepaid card. It's also possible to send money through Cash App with a linked credit card. Be aware that Cash App charges a 3% transaction fee with linked credit cards.
It's also important to know that some credit card issuers categorize credit card transactions through Cash App as cash advances. A credit card transaction deemed a cash advance incurs a higher interest rate that will begin compounding on the day of the transaction.
Transfer funds to your checking or savings
Transferring money back into your bank's checking or savings account is similar to adding funds. To deposit money into a linked bank account, tap on your Cash App balance in the lower left corner of the home screen. Then tap Cash Out to send money to your bank.
Sending funds to your bank via a standard deposit is free but takes one to three business days to process. If you wish, you can transfer funds to Cash App from your bank account within seconds by choosing Instant Deposit. However, this option comes with an instant transfer fee that ranges from 0.5% to 1.75%, with a minimum charge of $0.25.
Apply for a card from Cash App
Cash App offers a Visa debit card — called Cash Card — that links to your Cash App balance. You can apply for a Cash Card once you have verified your account. You must be at least 18 years old to apply for a card, but anyone 13 years old or older can use a card with their parent's or guardian's approval.
To apply, tap on the Cash Card icon at the bottom of your Cash App home screen, then press Get Cash Card. After tapping Continue and following a few steps, your new Cash Card should arrive in the mail within 10 business days. As soon as you order a Cash Card, you'll be able to add it to Apple Pay and Google Pay.
You can use your Cash Card to make payments online and at brick-and-mortar stores or to withdraw cash from an ATM. Cash App charges a $2.50 fee for ATM withdrawals. If you receive a direct deposit paycheck of $300 or more each month, Cash App will cover the ATM fees.
Getting a Cash Card also makes you eligible for rewards called Boosts. Cash Card holders select a specific Boost in order to save money on purchases with a specific vendor. You can only activate one Boost at a time, but you can switch to a different Boost at any point.
Some Boosts include:
15% off an order of up to $50 at Starbucks with a minimum purchase of $1.50
5% off of Burger King orders with a minimum purchase of $1.50
10% off of a DoorDash order with a minimum purchase of $2.00
15% off an order at Popeyes with a minimum purchase of $1.50
Who is Cash App for?
Cash App is for anyone who wants an instant and hassle-free way of sending or receiving money digitally. It may also be a good choice for investors. Cash App allows users to invest in stocks and bitcoin as well as to send and receive them as gifts or payments.
Cash App determines the price of bitcoin by taking the average price that bitcoin is selling at across other major exchanges that day. Cash App may charge users purchasing bitcoin a service fee per transaction. This fee will appear on the trade confirmation page before you complete the transaction.
Cash App FAQ
Is Cash App safe and legitimate?
Cash App is a legitimate P2P payment service. Users receive a secure one-time use code to enter along with their login credentials. Cash App payments are encrypted, and transactions are private.
Are there any costs for money transfers?
There are no Cash App fees to send or receive money from your Cash App balance. When transferring money from Cash App to a linked bank account, standard deposits will take between one to three business days to process at no cost. For instant deposits to a linked bank account, you will be charged a fee ranging from 0.5% to 1.75%, with a minimum fee of $0.25.
Are there limits to how much can be sent or deposited?
Cash App's Terms of Service sets limits on how much money you can send or deposit at a time. You can send and receive up to $1,000 in a 30-day period through the app. The Cash App sending limit will increase after you verify your identity.
Cash Card imposes a limit of $7,000 per transaction, $10,000 per week and $15,000 per month. When withdrawing from an ATM or using a cash-back option at a store, you are allowed $1,000 per transaction and $1,000 per day, with a weekly limit of $1,000.
Get your money in a way that fits your lifestyle
Cash App is a convenient way to send, receive and request money through your mobile phone. With features that enable investing in stocks and bitcoin, receiving direct deposits from employers and obtaining a debit Cash Card, Cash App is a convenient and versatile P2P payment service.
If you are interested in making quick transfers with small amounts of money, Cash App may be a great option. If Cash App isn't right for you, consider taking a look at some of the best online checking accounts.