What Is Identity Theft, and How Does It Happen?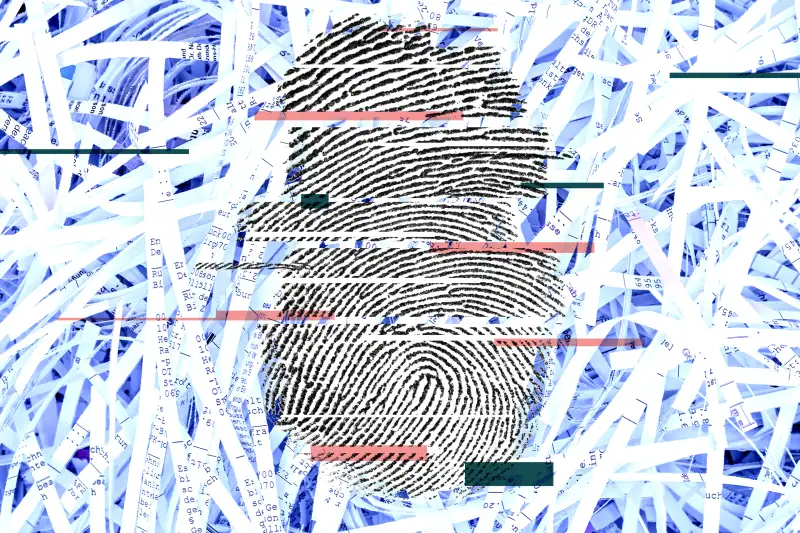 The U.S. Federal Trade Commission received over 1.1 million reports of identity theft in 2022. If that number has you worried, don't fret — there are steps you can take to protect yourself from becoming the next victim of identity fraud.
To start, you may want to familiarize yourself with what identify theft is so that you can learn how to prevent it. But this guide will also help you go further, covering how to protect yourself from identity theft so you can safeguard the wealth and credit profile you've worked hard to establish.
Keep reading to learn more.
What is identity theft?
Identity theft, as the name implies, is the act of stealing someone's identity. This typically involves taking a person's sensitive information, such as their Social Security number, birth date or bank account details.
Fraudsters often seek this information for their own monetary gain. They can use stolen identities to take out new credit cards, steal funds and even access prescription drugs in someone else's name.
How does identity theft work?
Scam artists try to steal sensitive details from people in a variety of ways.
For example, mail theft and dumpster diving are common methods used by perpetrators. These tactics involve grabbing your mail before you read it or after you throw it out in order to steal information like your name, birth date or account details.
Fraudsters may also use social engineering attacks, which involve tricking unsuspecting people into voluntarily giving up personal information. These attacks may be carried out via email, over the phone or through social media.
Once a perpetrator has stolen your sensitive information, they may attempt to pretend they are you by using it. For example, they could try opening up a credit card in your name or resetting your bank account details so they can access your accounts and withdraw funds.
The most common types of identity theft
The nature of identity fraud can vary based on the information that's been stolen and how the perpetrator decides to use it. But here are some common kinds of ID theft.
Financial identity theft
As you might expect, financial identity theft involves stealing another person's financial data in order to use their savings and credit lines. For example, it may involve:
Stealing a credit card number and using it to buy things
Obtaining bank account details and withdrawing funds from those accounts
Performing Social Security identity theft to open up new credit cards in your name
One of the best forms of financial identity theft protection is keeping a close eye on your bank account, credit card statements and credit report. The more watchful you are, the sooner you will spot transactions you didn't make (and the faster you can dispute them). If you're concerned about financial identity theft, consider looking into the best credit monitoring services, which may be able to help you spot instances of this type of identity theft faster.
Medical identity theft
Some fraudsters may try to steal your personal information in order to gain access to prescription drugs, costly medical services or pricey medical devices such as hearing aids. This act is called medical identity theft.
You can protect yourself from this type of identity theft by scrutinizing your insurance claims. If you notice a procedure or prescription drug claim that you didn't authorize, reach out to your provider as soon as possible to prevent further fraud.
Criminal identity theft
If someone steals your identity and is arrested by law enforcement, they may try pretending that they're you. This is called criminal identity theft. It occurs when scammers use stolen information to impersonate you, create fake IDs and mislead law enforcement.
Criminal identity theft can lead to the following:
Court summons issued in your name for crimes you did not commit
Arrest warrants issued against you in locations you've never visited
Background checks conducted without your authorization
Keeping yourself safe from this type of identity theft is largely about protecting your personal documents, such as your driver's license and passport. If you keep those items secure at all times, it will be more difficult for you to fall victim to this type of crime.
Synthetic identity theft
Finally, synthetic identity theft involves using a real person's identity to create a fake persona. This fake persona can then be used to commit financial crimes; for example, a person could invent a persona attached to your Social Security number and then use it to take out credit cards or loans (that could appear on your credit report).
Older adults and children are common targets of synthetic identity theft because they may not use their Social Security numbers as often as the average adult, which means they often take longer to spot signs of synthetic identity theft. You can review this guide covering child identity theft to learn more about the risk to your children.
How to report identity theft
It's worth taking some time to learn how you should respond to the theft of your identity, regardless of whether you're actually experiencing an issue right now. The specific steps you should take depend on the type of identity crime you're experiencing. For example, this guide covers what to do if your information is found on the dark web. But here's a quick look at some of the different ways you may need to report identity theft.
Notify the Federal Trade Commission (FTC)
A good first step is to notify the FTC by filing an identity theft report through its IdentityTheft.gov website. Once processed, the FTC will create a record of your claim in the Consumer Sentinel report database.
File a police report
Even if you don't anticipate the police being able to solve your identity theft crime, it's important to file a report with your local department. That's because some creditors and financial institutions will ask for a copy of a police report before closing an impacted account.
This guide covering how to report identity theft provides step-by-step instructions for submitting a report to the police. But the process typically involves bringing a copy of the identity theft affidavit you submitted to the FTC and proof of the fraud, such as printed-out bank statements showing the issue.
Contact the credit bureaus
Finally, the last step you should take is to contact one of the three major credit bureaus and place a fraud alert on your credit account. When you do this, the bureau you contact will automatically inform the other two credit bureaus, so you don't necessarily have to contact them yourself.
Here's how to get in touch with each bureau.
TransUnion
Fraud Victim Assistance Department
P.O. Box 2000 Chester, PA 19016-2000
Phone: 800-680-7289
Equifax Credit Information Services
Fraud Victim Assistance Department
Consumer Fraud Division P.O. Box 740256
Atlanta, GA 30374
Phone: 800-525-6285
Experian
National Consumer Assistance
P.O. Box 9554
Allen, TX 75013
Phone: 888-397-3742
How to prevent identity theft
A successful identity theft prevention strategy requires vigilance. You need to keep a watchful eye on your credit report, insurance claims, bank accounts and criminal record to ensure that you catch fraud quickly and limit its impact.
By thinking ahead, you can also reduce your risk of falling victim. For example, try to only carry IDs, credit cards and your Social Security card with you when you need those items. And be sure to keep them in a secure place while you're out and about.
It's also worth exploring how you dispose of documents and mail. Shredding materials with sensitive details on them is a good idea and will make it more challenging for anyone targeting you to find what they're after.
There are also various services available to help you in your efforts to prevent identity theft. Here are some options:
Identity theft insurance: These insurance plans cover the costs you incur fixing an identity theft issue, such as legal and administrative fees. Insurance won't stop identity theft from happening to you, but it can limit the impact it has on your life.
Credit monitoring services: These services watch over your credit for you so that you don't have to. They can help you spot identity theft faster so you can contain it before it seriously impacts your life.
Anti-phishing and keylogging software: You may also want to look into antivirus software with phishing and keylogging protection. These tools can help to keep you safe from identity theft scammers who may target you online.
If you're looking for more detailed guidance on preventing identity theft, these guides covering the best identity theft protection services and how to protect your credit cards from scammers may help.
How to check for identity theft
It's unfortunate, but identity theft can remain undetected for a very long time, especially if the scammer doesn't make any especially large purchases with your account details. That's why it's a good idea to learn how to check for identity theft and get into the habit of doing so regularly.
You have a variety of methods at your disposal for this, including:
Employing a credit monitoring service or watching your credit reports yourself
Keeping a close eye on your bank account for unfamiliar purchases or withdrawals
Watching out for unknown bills and unexpected credit-based rejections
Receiving strange emails describing purchases or money owed that you don't recognize
What is identity theft FAQ
How should you respond to the theft of your identity?
If your identity is stolen, you should contact your bank and credit card companies as soon as possible. Tell them what happened, and they will place restrictions on your accounts to ensure additional purchases cannot be made without your approval. After that, you should report the crime to the FTC, as well as your local police station.
Is identity theft a felony?
Identity theft can be either a misdemeanor or a felony. It depends on the state that the crime occurs in, the amount of funds stolen and the perpetrator's previous criminal history.
Do police investigate identity theft?
The police may investigate identity theft on your behalf, but it depends on the nature of the crime. If you have reason to believe the perpetrator is local to your area, the police may investigate if you give them evidence.
But if you have no way of determining who the person is or where they're located, your local police force may not have the resources to address the situation effectively. In that case, hiring a private investigator or specialty identity theft investigation firm may be an option.
What is tax identity theft?
Tax identity theft involves stealing a person's information to file a fraudulent tax return that claims a refund from the IRS. The IRS flagged over 1 million tax returns for potential identity fraud in 2023
How can child identity theft occur?
Children also have Social Security numbers. If a criminal gets access to a child's Social Security number, they may be able to use it in combination with other information (like a birth date) to open up a credit card, withdraw funds from a bank account or carry out medical fraud. Research suggests this impacts about 1 out of every 50 children in the U.S.
How often does identity theft happen?
More than 1.1 million cases of identity theft were reported to the FTC in 2022. The top type of identity theft was credit card fraud.
Summary of Money's identity theft prevention guide
Identity theft is the crime of stealing another person's personal information in order to commit fraud. People may commit identity theft by stealing your Social Security number, bank account information or other details that allow them to pretend they're you.
You can protect yourself from identity theft by closely watching your credit report and financial accounts. It may also be beneficial to take out an identity theft insurance policy or hire a credit monitoring service to give yourself peace of mind.