3 Lessons Other Sports Can Learn from the Success of Women's Tennis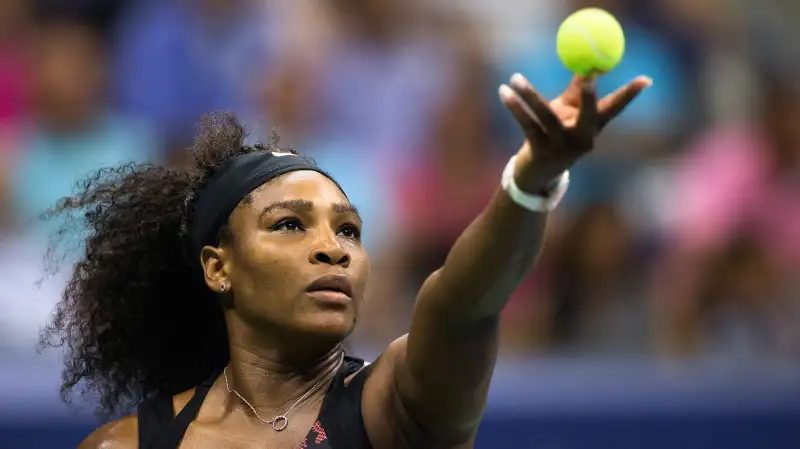 If Serena Williams powers through for her seventh U.S. Open victory, she'll take home the trophy and a cool $3.3 million—the same as the winning man.
Tennis is a unique sport in many ways. It has an unnecessarily complicated scoring system where zero is called "love," fans that are eerily silent during play, and umpires who sit in lifeguard chairs. But most notably, it has the greatest gender equality of any major sport, with both equal prize money and strong viewership for the women's game.
That distinction didn't come easy. After Billie Jean King received less prize money than her male counterpart for winning the 1972 U.S. Open, she delivered an ultimatum that she would not return to play the following year unless both winners were paid equally. Not wanting to lose their popular champion, the American major caved. The Australian Open followed suit in 1984 (though it briefly reverted from 1996 to 2000). Roland Garros and Wimbledon caught up in 2006 and 2007, respectively.
Aside from marathon running and surfing, which dole out equal prize money, most other sports are laughably unequal. At the most recent FIFA World Cups, for example, the U.S. men's soccer team walked away with $9 million for finishing 11th and the women $2 million for winning. There are 52 NBA players who make more than the entire WNBA roster combined.
While tennis isn't perfect (see Amy Schumer's sketch that skewers the sexualization and commercialization of female players), other sports can look to women's tennis for lessons on how to raise the level of play and attract more viewers, participants, and, ultimately, money.
1. Equal prize money makes for better competition.
Even if you don't see an ethical reason why the best men and the best women should earn the same amount for winning equivalent competitions, there are some important business justifications for paying women equally (besides not alienating a large portion of the population).
Read Next: The Highest Paid Men and Women in Tennis
For one thing, whether it's tennis, soccer, or cycling, paying women better means more athletes can train and compete full time. More training time raises the overall level of play, which makes for more exciting competition. More exciting competition translates to more ticket sales, increased sponsorship opportunities, and higher revenues, which can then be plowed back into the sport.
2. When men and women play in the same event, everybody wins.
In tennis, women are competing on the same platform as men: playing in the same stadiums, at the same time, televised on the same networks. That has proven to be a very effective equalizing strategy. With butts already firmly in seats and TVs tuned to a broadcast that weaves men's and women's matches together, viewership for both stays high—even if buzzy athletes like Maria Sharapova (who withdrew from this year's U.S. Open) aren't on the court.
This year, the BBC reported that Wimbledon had 4.3 million viewers for the women's final and 9.2 million for the men's. While unequal, that's a lot better than other sports, most of which don't follow the shared-platform model. The women's U.S. Open for golf, played a month later than the men's, had only a quarter of the viewers. The WNBA is even worse—18 million people watched the NBA final game last year, while only 489,000 watched the entire WNBA playoffs. (One exception: U.S. viewership for the men's and women's FIFA World Cup finals was almost tied—with the U.S. women in the finals, not the men).
3. It's a smart investment for the long term.
Tennis has done an excellent job of showcasing its female athletes. The women's final at the U.S. Open used to be sandwiched between the men's semis on "Super Saturday" but now enjoys marquee status as the main event of the day. The Open did this to provide an extra rest day for the men, but you can be sure they wouldn't have done it if they weren't confident the women could carry Saturday's ratings. (If Serena Williams is competing for a grand slam, expect TV viewership, already setting records, to spike even further.)
The more people who are exposed to a sport, the higher the levels of participation. According to a report from the Physical Activity Council, a consortium of sports including baseball, softball, and soccer, tennis has the highest long-term growth rate among young people. Grooming the next generation of fans and players, male and female, means more money spent on things like clothing and equipment; not for nothing are Serena Williams and Maria Sharapova the only two women on Forbes's list of the top 100 highest-paid athletes. People can argue about best-of-three versus best-of-five matches forever, but that doesn't make women any less effective at filling seats or hawking sportswear.
Most of all, there is little downside risk to breaking the model of unequal prize money. Despite the grumbling, nobody skipped the 1973 U.S. Open in protest (the tournament director at the time, Billy Talbert, said that if any male players complained, "I'll just tell the men to go out and sell their product better."). Neither did anyone boycott Wimbledon or Roland Garros in 2007. In 2015, would anyone stand up for inequality and invite that PR nightmare? Probably not.