One Thing Never to Buy at Best Buy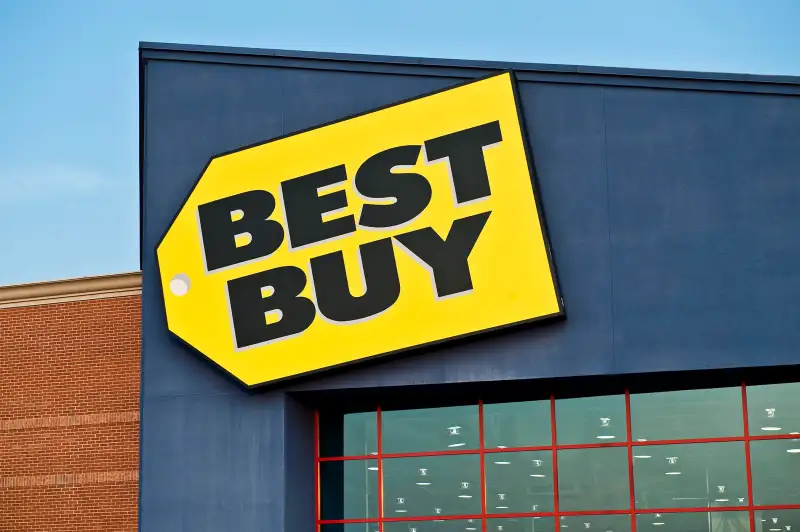 John Greim—LightRocket via Getty Images
When I was in high school, I worked as a Best Buy sales associate. The best part was getting to play with all the latest tech, but the discount wasn't so bad either. Employees would pay only an additional 5% over the wholesale cost of the products.
Unfortunately, this didn't translate to an amazing deal on cameras, big screen TVs, computers, or even calculators. Early on, I found that for a lot of the big-ticket items we sold, we actually didn't get a discount. Best Buy didn't mark-up these items, and employees had to pay the same amount as any regular customer would. So, it's still a great place to buy those larger electronics for good deals. But you're better off buying cords and cables somewhere else. Big box electronics stores tend to mark those up more. In my experience, that mark-up was nearly 80%, so you're better off buying those somewhere else.
I found this out because I created a game to entertain myself when the store was slow. I would discreetly bring a pile of merchandise to my cash register and ring up each item to see what the employee price would be. The best deal I consistently found? Cables. HDMI, AV, USB, you name it: Every cord I rang up, the employee price was at least 70% lower. While a customer would pay close to $30 for a HDMI cord for their new TV, I would pay less than $2.
Now, this doesn't just happen at Best Buy. All other big-box electronics stores structure their prices similarly. To drive traffic to their stores, they will often mark down those big-ticket items like computers or cameras–which actually means that they're losing money. They make up that money, though, by marking up accessories.
Now that I don't have my discount, I've searched around for a good deal, because once you pay $1.50 for an HDMI cord, you're not willing to pay $30 again. Offline, I've found the best place to buy cords and cables are the stores that don't need to make the bulk of their profits from tech accessories. Since Walmart and Target sell a variety of products outside of tech and don't rely on the mark-up, they usually have at least a 30% lower price than in-store at Best Buy.
You can get super cheap cords many places on the Internet, but I'd recommend Amazon's basics brand for their quality and price. At Best Buy, a silver-plated 8' HDMI cable retails for $30. At Amazon, You can get a gold-plated 10' HDMI cable (one that even supports 4K video) for only $6.50. You'll need to wait two days for your cable to be shipped, but it's worth the almost 80% in savings.
So head to Best Buy if you need a new television or computer, but go online for the smaller accessories.
This story originally appeared on Real Simple.
We've included affiliate links into this article. Click here to learn what those are.