How to Calculate Your Own Net Worth (and Eventually Increase It)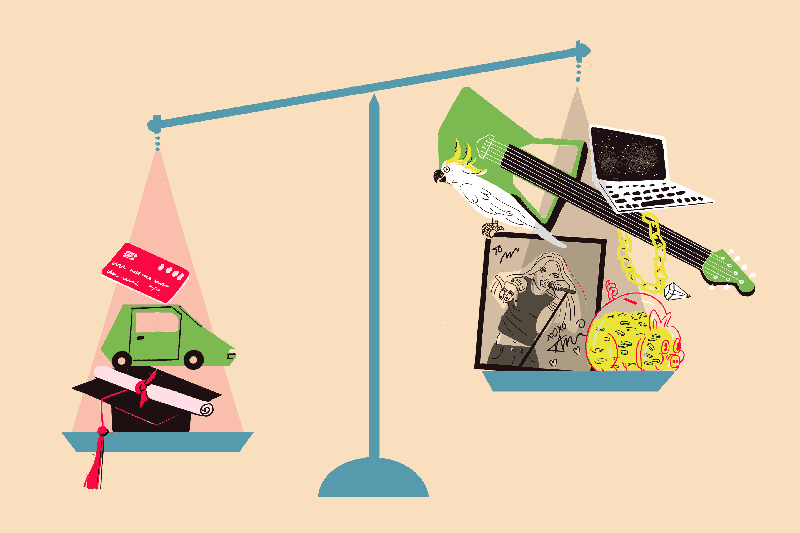 Illustration by Jade Schulz
Money recently launched Dollar Scholar, a personal finance newsletter written by a 27-year-old who's still figuring it out: me.
Every week, I'll talk to experts about a money question I have, whether that's "Are online banks sketchy? or "How many credit cards do I need?" As I learn, I'll share simple ways to improve your financial life… and post some funny memes.
This is (part of) the 13th issue. Check it out below, then subscribe to get future editions of Dollar Scholar every Wednesday.
---
Like the rest of the internet, I'm addicted to reading about the net worths of famous people. I don't have a good reason why. It's not as if knowing that Chrissy Teigen is worth precisely $26 million or that Sean Bean is the richest Game of Thrones actor is going to make me personally any wealthier — but I do it anyway. (In general, I do anything that lets me get all up in someone else's business. I am nosy.)
I have wondered, though, about what my own green-and-teal Celebrity Net Worth page would look like. I hope they'd use a cute photo of me — one where my hair looks shiny, obviously — and a gasp-worthy dollar figure. But I don't know the methodology behind it.
How do I figure out my net worth? What if it's low? Does the number even matter?
I asked Northwestern Mutual expert financial advisor Tom Canale to give me a crash course. He explained that calculating my net worth shouldn't actually be that complicated. It's basically "'what I already own' vs. 'who I still owe,'" Canale says.
The first step was to add up my assets, which according to Investopedia include investments, property, vehicles, jewelry, collectibles, et cetera. And if you're reading this thinking, "Um, does Julia even have those?" The answer is no.
My asset situation sucks, to put it lightly.
I have a MacBook I bought for $1,500 in 2016, but the screen is cracked because I stepped on it (yep). I have an iPhone 7, but the battery is shot so I always have to keep it on low power mode. I don't have any precious gems, or a car, or a house. I guess I own an Avril Lavigne autograph that could be considered a collectible, but otherwise I don't have much worth much.
The second step in calculating my net worth was to add up my liabilities and subtract them from my assets. I'm not going to bring you down by listing the specifics, but let's just say the end result was... not great.
However, Canale told me not to agonize over it. He said net worth is often a negative number for young people, because they're investing in themselves by going to college, enrolling in graduate school or starting their careers.
Statistics do show that Americans' net worth tends to grow over time. According to the Federal Reserve, the median net worth for people under 35 is $11,100. It ticks up to $59,800 for people between 35 and 44, reaches $124,200 for people between 45 and 54, and so on.
"Rather than worry about your net worth, I believe you should make conscious decisions that can positively impact it," Canale adds.
Amin Dabit, vice president of advisory service for Personal Capital, explained that the main way I can increase my net worth is by paying off my debt and examining my cash flow. Ideally, I want to be earning more money than I'm spending. A "healthy" ratio of liabilities to assets is about 30%, he says, so like $1 in (good) debt for every $3 I have. My assets should also be generating income for me.
Dabit recommended I reassess my net worth every six months or so to make sure I'm still on an upward trajectory. Personal Capital has an automatically updating net worth widget, whereas Charles Schwab has a printable worksheet I can use if pen and paper are my preference.
"It's healthy and important to know what your net worth is, but [don't] over-focus on that number," Dabit tells me. "Really think through the dynamics of what's getting you to that number … and create steps so you can change it over time."
Bottom line: I can figure out my net worth by subtracting all of my liabilities from all of my assets, and I should do so a couple of times a year. But I shouldn't freak out if the number isn't to my liking right now.
Though it does matter to lenders, "your net worth doesn't tell the entire story," as Canale says.