What You Really Need to Know About When to Buy Flights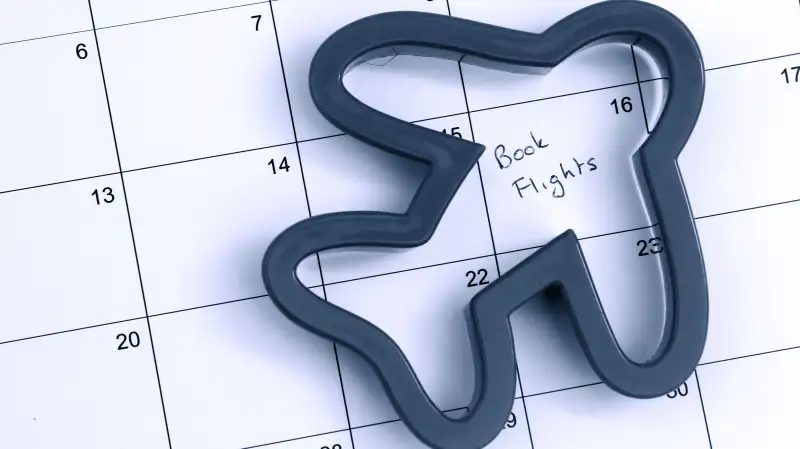 Amanda Rohde—Getty Images
This week, the Airline Reporting Corporation (ARC) released a study analyzing roughly 130 million airline tickets booked in the U.S. from January 2013 to July 2014, with the hope of shedding some light on when prices are highest and lowest. Over the years, plenty of these kinds of studies have made the rounds, but the current report differs from the pack in a couple of key ways. It shows:
1) Flight prices are cheaper when booked further in advance. In the past, ARC data has indicated that the lowest domestic flight prices were for tickets purchased 42 days before departure, while other studies have advised travelers to book 49 days in advance for the cheapest fares. The new ARC study shows that, on average, booking 57 days out yields the best prices. What's more, researchers found that average ticket prices were fairly flat during the window of time 50 to 100 days before departure. In other words, the best bet is to book 50 to 100 days beforehand: Tickets purchased during that period were $85 cheaper than the overall average for all domestic flight prices ($495.55).
2) Weekends are cheaper booking days than weekdays. This is the truly surprising takeaway from the study. According to ARC data, the average price of a domestic flight purchased on a Sunday was $432, and it was slightly higher on Saturday, at $437. For a long time, the consensus advice was that the lowest prices were to be found on flights booked on Tuesdays or Wednesdays (when airlines tend to roll out new flight sales), yet the new study shows the average paid on Tuesday was $497.
The smartest travelers seem to be those who booked flights on a Sunday 50 to 100 days before departure: They paid $110 less for their tickets compared to the average.
High Fares, Record Profits
Why is it that Saturday and Sunday seemingly have replaced Tuesday and Wednesday as the cheapest days for booking? The current mentality of the airline industry—which is less competitive and more profitable than it's been in years—offers some explanation. As Scott McCartney of the Wall Street Journal noted regarding the shift to weekends: "Airline executives come into work Monday looking to raise fares, not discount them with sales to fill seats."
Earlier this week, for instance, the country's largest domestic carriers hiked airfares, a move that would seem to be not only unnecessary but downright greedy considering that fuel prices are plummeting. Given strong demand for air travel and American travelers' apparent willingness to pay increasingly high prices for flights, airline executives are no longer worried about filling planes with passengers. They've moved on to worrying about surpassing their (already record high) profits, and they're raising fares at every opportunity, for the same reason they've relentlessly been adding fees: Because they can.
In any event, the fact that airfares are rising would seem to give travelers even more reason to take notice of studies by the likes of ARC and adopt new booking routines, right? Well, maybe, maybe not. The problem with all of these studies is that they're generalized and are based on averages from the past. The takeaways they offer may, in fact, not help you save on money your specific flight needs in the future.
Take holiday travel, for instance, when passengers are truly most in need of money-saving advice because prices tend to be so high. In the quest for cheap Thanksgiving airfare, the guidelines mentioned above don't really apply. Several booking sites point to data indicating that the lowest prices for flights over Thanksgiving weekend are likely to be found two to four weeks before departure—that is, unless you absolutely need to fly on the peak-peak days of the Wednesday before or the Sunday after Thanksgiving. Flights on those days should be purchased far in advance, ideally several months beforehand. In other words, booking a Thanksgiving weekend flight 50 to 100 days ahead of time is probably a bad strategy, no matter what day of the week you're searching for flights.
What's more, all "when to buy" advice is based on past performance, as a recent Quartz post on Thanksgiving travel advice painstakingly made clear.
The Trouble With Simple Advice
The WSJ's McCartney pointed out that airlines are more inclined lately to discount flights booked on weekends because that's when leisure travelers are likely to be casually noodling around online and may be enticed to make an impulsive flight purchase if the price is right. The vast majority of business travel, meanwhile, is booked on weekdays, and business travelers are less sensitive to pricing because the flights are deemed more essential. At the same time, however, airlines still do regularly introduce fresh flight sales on Tuesdays and Wednesdays to boost seat purchases on routes that aren't filling up.
What all of these strategies have in common is that the airlines are reacting to traveler behavior and are lowering or raising prices to maximize revenues. If and when travelers change their behavior again—say, if a critical mass of business travelers suddenly starts booking flights on Sunday rather than Monday—the airlines will tweak their pricing tactics accordingly. All of which is a roundabout way of pointing out that there are far too many complications for simple advice like "book on Sunday" or "book on Tuesday" to be valid across the board. (We're only talking domestic flights, mind you; booking advice for international flight is more complicated still.)
Probably the only solid time-tested guideline for finding inexpensive flights is this: Booking too early is generally bad, but booking too late is likely worse. The average domestic flight purchased 225 to 300 days before departure cost $500 to $550, per the ARC study, while the average for a ticket on the day of departure was around $650.
How do you find the sweet spot in the middle, when prices are lowest? It's complicated, dependent on a range of factors including the destination, season, and day of the week you're traveling; whether there's a convention or major event where you're going; and even larger forces like the state of the economy and yep, gas prices. Kayak and Hopper are among the flight search tools that use historical pricing data to try to predict whether fares on a given route will rise or fall, but again, past performance is no guarantee of future results—especially not in recent years, when airline executives have regularly rejiggered their pricing tactics, generally sending fares up, up, and up.
Despite the dizzying amount of tech at traveler's fingertips, the question of when to book remains largely unanswerable. Yes, it's wise to hunt during that window 50 to 100 days in advance, and sure, try to remember to poke around for flights especially over the weekends. But be on the lookout on Tuesdays and Wednesday too, because that's when sales pop up. Consult historical pricing data and airfare price predicting tools, just don't expect to pay the same bargain-basement fare you got a decade or even one year ago. Pay attention to airfare sale-tracking services like airfarewatchdog, but bear in mind the best deals are often for fluky routes and days and may not work for your travel needs. Perhaps wisest of all, use an airfare tracking service like that of Yapta, which will alert you if and when a flight on your route and dates has reached your desired price threshold. Just try to be realistic with the kind of fare you can expect nowadays.