Whole Foods Is Losing Its 'Whole Paycheck' Reputation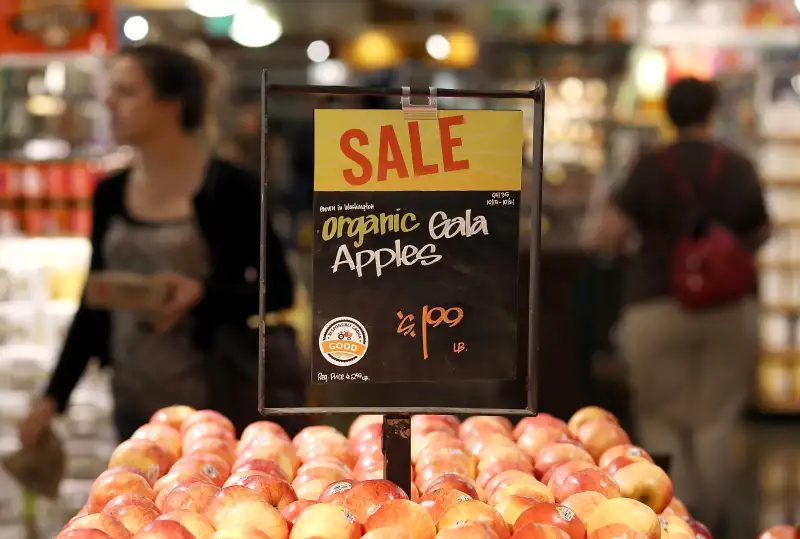 Justin Sullivan—Getty Images
In Whole Foods' fourth-quarter results released on Wednesday, investors found out that total sales increased 9% year over year, while comparable-store sales inched up 3.1%—"in line with its expectations, but marking its worst growth rate in over four years," the Wall Street Journal noted.
Nonetheless, investors were plenty pleased with the direction the company is going, sending Whole Foods shares up more than 10% early Thursday.
Investments aside, what's most interesting for everyday shoppers about the results—and about Whole Foods' plans going forward—is that the supermarket often dubbed "Whole Paycheck" for its high-end and high-priced selection is experiencing success in a broad initiative to lower prices.
Last spring, Whole Foods shares tanked after it began to look increasingly difficult for the company to dominate sales of organic foods, since Walmart and other mass retailers had widely expanded their offerings. Organic foods are incredibly important to Whole Foods, as co-chief executive officer Walter Robb explained via statement yesterday:
Yet it's not just Whole Foods' "higher standards" that have given store sales a boost. In recent weeks, the company launched its first national ad campaign featuring the slogan "Values matter." That's values plural because of the standards mentioned above, as well as the old-fashioned value of a dollar. Whole Foods has been trying to rein in prices for at least two years—after all, it's easier to attract new customers to the "natural and organic lifestyle" when it doesn't cost an arm and a leg to do so. The initiative has hurt gross margins, which fell from 35.7% to 35.4%, but it has helped Whole Foods win over new shoppers and keep loyal customers at a time when it's easier than ever to find organic foods elsewhere—at increasingly lower prices, no less.
In October, the company introduced a new "Responsibly Grown" system for rating produce at several hundred Whole Foods stores. On Wednesday, co-CEO John Mackey told analysts that he was "encouraged" by what he's seen in the new system, which rates produce and flowers as Good, Better, or Best according to various sustainability measures. The ratings are supposed to help shoppers evaluate and make an informed decision to buy, for instance, a bag of green apples that's double the price of a nearly identical one right next to it in the store. Or to help them make the informed decision to do just the opposite and choose the less expensive option.
Mackey said that going forward, Whole Foods will put special emphasis on offering more and more goods at the lower end of the pricing spectrum. "We remain committed to the highest quality standards and to expanding our value offering," he said, noting there are "opportunities to broaden our selection of products at entry-level price points, increase promotions and narrow price gaps on select known-value items."
In the future, Whole Foods hopes to expand its Good, Better, Best system to all perishables. The supermarket chain is already testing such a plan at five stores in Austin, Texas, and analysts say the initiative could pay major dividends in terms of changing the company's upscale, overpriced reputation and broadening its appeal to the masses.
"Price is still a significant barrier in the way people look at Whole Foods, and it will take a while to change the 'Whole Paycheck' perception the company has," said Kate Wendt, senior analyst with Wells Fargo Securities, according to Supermarket News. "But lowering prices in perishables — the category where people shop most frequently at Whole Foods — could help accelerate a change in that perception."
Read next: Target Is Closing Another 11 Stores