Why Walmart Express Failed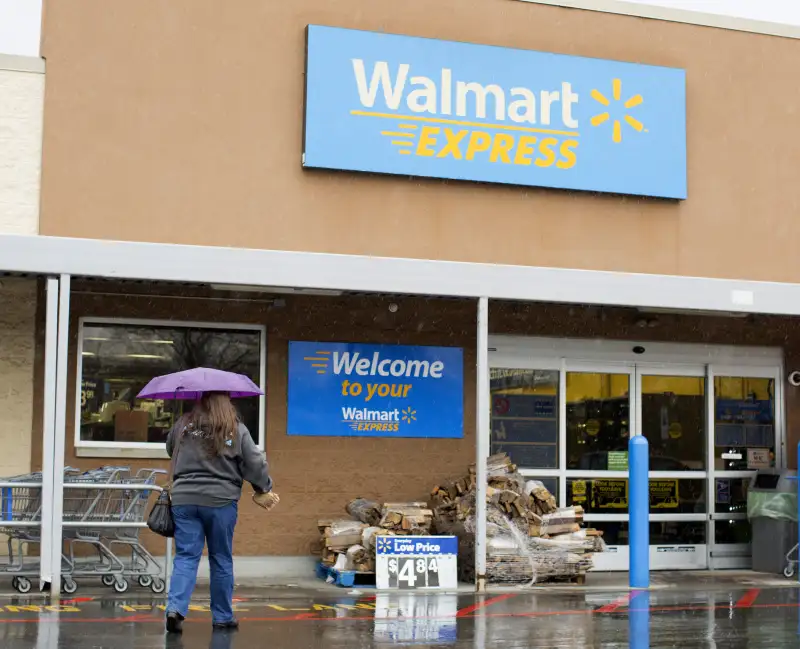 Bloomberg via Getty Images
Wal-Mart Stores watchers probably know by now that the retailer is shutting down 269 stores globally this month, including all 102 of its Wal-Mart Express stores.
With the announcement, Wal-Mart pulled the plug on one of its latest retail experiments, and while the news attracted headlines, the question of why the chain failed has been largely ignored.
Launched in 2011, the Express format bore little resemblance to the traditional Wal-Mart Supercenter. While Supercenters average 180,000 square feet and size and carry around 100,000 stock-keeping units, the Express stores were just 12,000-15,000 square feet in size, equivalent to the average Walgreen's.
The company hoped its price advantage would benefit the smaller-footprint stores, and that it would complement trips to Supercenters. However, the company overlooked two major obstacles in doing so.
Groceries are its game now
56% of the company's sales now come from groceries. Wal-Mart's Supercenters and Neighborhood Markets rely on regular traffic from food shoppers to carry over to its other retail departments, and its expansion into groceries over the last 20 years has been the primary driver of sales growth.
Its Neighborhood Markets, which are about the size of a Whole Foods Market, have been so successful because they are almost entirely grocery stores. The Express stores were too small to fill customers' food shopping needs, however, and instead carried products like toilet paper, stationery, and toys as well as some fresh foods and staples. Most also included a pharmacy.
Wal-Mart made several other mistakes on the merchandising level, seemingly shrinking its Supercenters to fit into a much smaller size instead of developing a concept around the format. It stocked multiple brands of the same item, costing space, and consumers often felt the product selection was not right. The company did not have data or experience with consumer preferences in such stores the way its competitors did, and it was eager to adapt to feedback. Finally many of the stores were simply cannibalized by Supercenters, underscoring a larger problem with the Express format.
Read More: Warren Buffett Admits This Is A "Real Threat"
Doomed from the start
Instead of targeting urban areas as its dollar-store and convenience store rivals were doing, Wal-Mart opened Express stores in the rural Southern areas it already dominated, with the majority located within 10 miles of a Supercenter.
The first Walmart Express store was opened in Gentry, Arkansas, a town of just 3,000 in the company home base in the Northwest part of the state. Wal-Mart could have used the Express format to penetrate new markets, but instead, it tethered them to Supercenters, expecting the small stores to complement weekly trips to its larger stores. That proved unprofitable, however, as customer traffic did not warrant the additional locations.
Read More: Tiny Company Powering Apple's Biggest Hits
The company has long struggled to penetrate urban markets, and its unwillingness to do so with its Express stores shows that weakness. Ironically, the convenience-store format is probably best designed for dense, traffic-filled cities where residents rely on public transportation -- just the kind of place where Wal-Mart would struggle to open a Supercenter.
While Wal-Mart is folding its Express format, Target is expanding its own. The company is quietly adding CityTarget and smaller-format Target Express locations, as it says its CityTarget stores have been among its most successful. Unlike Wal-Mart, Target's sales are driven by clothing and home goods, non-grocery items that are easier to supply since perishability is not an issue. Target has also cultivated a more urban, higher-income customer base than Wal-Mart, giving it a brand advantage in those markets.
Read More: 3 Companies Running Big Cable Out Of Business
As for Wal-Mart, cities remain its biggest opportunity, but the closure of the Express format represents another step backwards. Along with the Express store closings, the company is shutting down a number of discount stores and Neighborhood Markets in urban parts of California, and backing out of a deal to open two stores in poorer areas of Washington, DC, leaving city officials irate. The culprit there seems to be rising minimum wages as Wal-Mart has complained that its recently opened DC stores are underperforming.
Despite the closures, Wal-Mart will open enough stores this year to finish with a net addition, but its inability to penetrate urban markets is a problem. It's already saturated the rural South. Without reaching new customers, the company's turnaround will continue to be stalled.