5 Reasons Why You Won't Get Free Money for College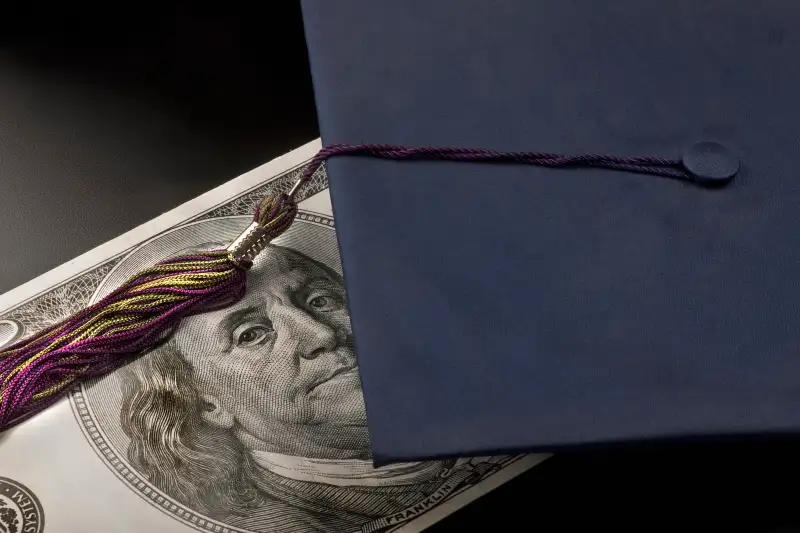 College costs are staggering yet many families are turned away from receiving free financial aid because their income is deemed too high or their home equity is considered too great.
The average cost of college at an in-state public institution for the 2015-2016 academic year averaged about $24,000, according to the College Board. A private college averaged about $48,000 a year. Depending on the school and a family's financial situation, a student could amass nearly $200,000 in loans by the time of graduation.
Leslie Tayne of Tayne Law Group offered this example: A parents' expected family contribution for a college student whose tuition is $54,470 per year would be $48,470. Consequently, the student won't qualify for more than $6,000 in financial aid. She said the expected family contribution was calculated by the Office of Federal Student Aid.
Here are 5 reasons why you won't get free money for college even though your parents might be far from rich.

1. You Have Too Many Assets
The office of Federal Student Aid provides over $150 billion in grants, loans and other funds each year to more than 13 million college students. However, more than 22 million students apply for these funds through the Free Applications for Federal Student Aid (FAFSA). The applications are assessed by the college financial aid office based on a student's financial need, the expected family contribution, the amount a family can pay based on a calculation, the school year a student is in and the tuition costs.
Sean Moore, a certified financial planner and the founder of SMART College Funding, said the family's expected contribution is based on its income and assets. If a family is considered to have too much income or too many assets, which he said was a subjective measure that varied, then receiving aid is unlikely. So families that saved diligently for their children's education may receive less financial aid due to those savings.
Tayne also pointed out that the FAFSA formula doesn't take into consideration a family's expenses, need for retirement savings or ability to save for the education of other kids in the household. "This is what makes families too rich for financial aid," she said.
Micah Fraim, a certified public accountant and personal business advisor, said that financial aid calculations take assets into consideration, including illiquid assets like home equity. "Even families with very low earnings can be denied aid due to having these assets," he said.

NEWSLETTER: COLLEGE_PLANNERSign up for COLLEGE_PLANNER and more View Sample
2. Financial Aid Distribution
Financial aid can be distributed as free aid or in the form of student loans, work-study funds, or parent loans. "While many schools claim to offer generous aid packages, if the aid is awarded as student loans," and many are, Moore said, "then they actually add to the cost of college rather than reduce it."
Reecy Aresty, a college admissions and financial aid expert and author, cited loopholes that benefit small business owners. For example, she said that a small business with fewer than 100 employees will not be assessed on business assets. She also cited special rules for families classified as separated for financial aid purposes; typically the student lives with the less affluent parent at another address.
Fraim said that parents of children who may benefit from a trust later in life are likely to receive less or no financial aid, which encourages parent not to disclose such information on applications. Even students who deem themselves financially independent of their parents can suffer under the rules for financial aid distribution. "Unless you fall into a few exclusions, your parents' income is used to determine your need if you are under 24, even if they are not supporting you financially," Fraim said.
According to the office of Federal Student Aid, students who live separately from their parents, or are not being claimed by parents on tax forms, might still be considered dependent and required to provide their parents' earnings and assets.
3. You Were Convicted of a Drug or Sex Offense
The Office of National Drug Control Policy states that a student convicted of a drug-related felony or misdemeanor while receiving federal student aid will be ineligible to receive aid for a specified period upon conviction. This period can be reduced by completing an approved drug rehabilitation program and undergoing two unannounced drug tests successfully or by having the conviction expunged or otherwise removed.
Check out Money's 2015-16 Best Colleges
4. You Are Not a U.S. Citizen
Your nationality is also a qualifying factor for financial aid. According to Tayne, you cannot receive financial aid if you are not a U.S. citizen. However, the office of Federal Student Aid states that permanent residents with a green card are eligible for financial aid.
5. Your Academic Performance Falters
Students who receive financial aid must remain eligible through the academic year. That means they must get satisfactory grades and make steady progress toward successfully completing a degree within a specified time frame. DePaul University, for example, requires that students maintain a grade point average of at least 2.0 and make cumulative progress toward a degree by completing two-thirds of all attempted credit hours in a certain period of time.
The price tag for a college education today is jaw-dropping. But there are steps you can take in an attempt to get free assistance. Check out scholarships.com for advice on how to get money for college. The best strategy is to start looking early. High school is an ideal time to start the process because funds are often distributed to those who ask first. Explore options such as tax credits, grants and scholarships before you opt for student loans.
This article originally appeared on GoBankingRates.
More From GoBankingRates: