The Winklevoss Twins Now Appear to Be Bitcoin Billionaires
Money is not a client of any investment adviser featured on this page. The information provided on this page is for educational purposes only and is not intended as investment advice. Money does not offer advisory services.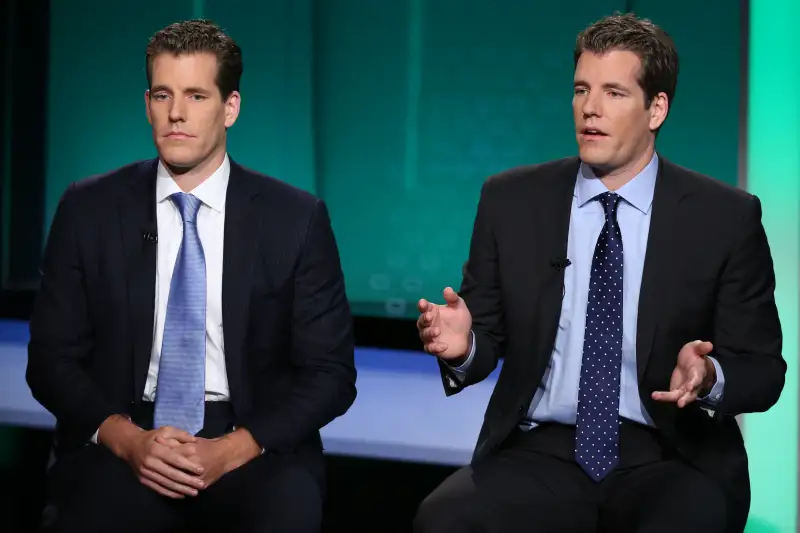 Cameron (L) and Tyler Winklevoss, discuss Gemini Trust Company, their new bitcoin exchange.
The Winklevoss twins helped turn bitcoin into a $1 billion baby — so perhaps it's fitting that they also become one of bitcoin's first billionaires.
Tyler and Cameron Winklevoss, who famously won a $65 million settlement from a lawsuit against Facebook in 2011, later used some of that money to purchase what they said was $11 million worth of bitcoin in 2013. That was about 1% of all bitcoin in circulation at the time. They later also spent almost $1 million to buy more bitcoin later in 2013, right after Silk Road, an illicit marketplace on the so-called dark web, was seized by the FBI. While some bitcoin users were afraid that Silk Road represented a significant amount of spending in the cryptocurrencies, the twins saw opportunity.
Assuming that the brothers have not sold any of those holdings, that stake in bitcoin is now worth well over $1 billion, given the cryptocurrency's price Monday of about $11,500.
Read more: The 8 Biggest Bitcoin Players Who Could Make a Fortune Off the Cryptocurrency
It was also the twins' money that was responsible for sending bitcoin's market capitalization, now over $188.7 billion, north of $1 billion for the first time in March of 2013. Noticing that bitcoin was close to hitting $1 billion in market capitalization, Camercon Winklevoss placed a small order in on the now defunct bitcoin exchange Mt. Gox to buy bitcoin for at least $91.26 — pushing bitcoin's market capitalization to 10 figures, according to Nathaniel Popper's 2015 book on bitcoin, Digital Gold.
Still, the twins themselves have noted that older Bitcoin aficionados probably have larger holdings. A likely candidate: the mysterious father of bitcoin, known as Satoshi Nakamoto, who was the first to mine bitcoin at a time when it was far easier to unlock the cryptocurrency. A recent analysis bySergio Lerner at the cryptocurrency risk firm rsk.co estimated that the person behind the Nakamoto pseudonym holds about 980,000 Bitcoin.
That would be worth over $11 billion.