How to Recover from 8 Everyday Work Screwups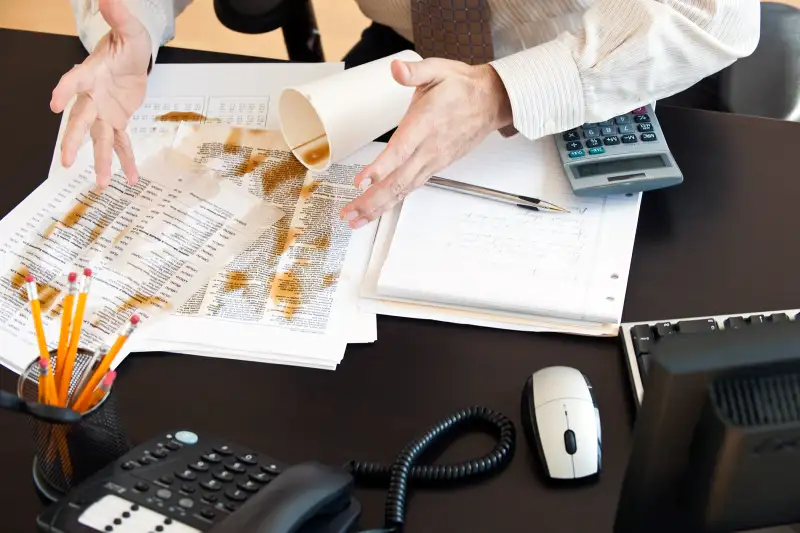 Once a year, an organization I work with holds a daylong retreat to focus on strategic planning and big-picture goals. I marked the date on my calendar: November 10 at 9am. But that morning, I pulled up to the CEO's house to find an empty driveway and dark windows. With a sinking feeling, I grabbed my phone and opened the reminder email for the meeting — that had taken place on November 9. I immediately called the CEO to apologize, and although she was very nice about it, I felt so unprofessional.
"The first thing to do when you make a mistake is to acknowledge it and apologize, then look at what went wrong so you can prevent it from happening again," says Richie Frieman,Modern Manners Guy and author of Reply All…And Other Ways to Tank Your Career.
"After that, get over it. People often harp on their errors, which holds them back from success; remind yourself that one hiccup is not going to break your career" — especially if you follow these tips for bouncing back from these common on-the-job slipups.
You Missed a Meeting
We're not gonna sugarcoat it: This is bad — but fixable. "Missing a meeting, even by accident, sends the unintended message: 'You're not important,'" says Jill Geisler, head of the leadership and management programs at The Poynter Institute and author ofWork Happy: What Great Bosses Know. "You owe every person you inconvenienced a sincere apology."
Don't make it about you, as in: "I've had a crazy week with so much work to do that I got mixed up." Instead, emphasize that, one, you realize you put people out, and, two, you'll take measures to make sure it won't be a recurring issue. Try: "I am really sorry that I missed the meeting. I left you all hanging and set back the project because I forgot to write it on my calendar. I'll make sure it doesn't happen again."
And by the way, if you're the manager, it's even more crucial to be on the ball. "Some bosses habitually miss their own appointments or arrive late," says Geisler. "It frustrates employees, causes them to take meetings less seriously and gives you a reputation for disorganization and thoughtlessness.
Your Boss Found Out You're Interviewing Elsewhere
Maybe a coworker clued her in or she overheard a telling phone conversation, but this pretty much guarantees workplace awkwardness. How to handle the situation depends on whether you've been deceptive during the process (like calling in sick in order to go to an interview or breaking a commitment to stay with the company for a certain amount of time, etc.) and whether you have a good relationship with your manager.
"If you haven't been dishonest, then your conversation is more of an explanation than an abject apology," says Geisler. "You might say, 'I'm sorry you found out before I could tell you, but I wanted to see what options exist before I talked with you about my future.' It could yield a surprisingly good outcome."
On the other hand, if you've been less than forthright, "you owe your manager a genuine apology and a discussion about how to rebuild trust," says Geisler. "Even if you end up accepting a job elsewhere, it's never wise to burn a bridge."
You Were Over-served at the Holiday Party
Your head is throbbing, your stomach is queasy and the last thing you want to do is face the music at the office. But no matter how tempted you are to spend the day in sweats watching TV, "Whatever you do, do not call in sick," says Nicole Williams, career expert for LinkedIn. Fortify yourself with a large bottle of water, an egg sandwich, an Advil and suck it up.
If you were just a little tipsy, there's no need to do major damage control. But if things got wild — dancing on tables, kissing the IT guy, spilling a drink on a colleague — schedule a meeting with your boss to apologize. "Face the issue head on, because the longer you avoid him, the more tense the situation will become," says Williams. "Let him know this is not a reflection of who you are; you simply misjudged your alcohol intake." (Or the effects it would have.) Assure him, or her, it will never happen again, and then hold up your end of the bargain by drinking minimally at office events going forward. As long as it's not a repeat performance, people will eventually forget about it. Or at least stop talking about it.
Your Outfit Wasn't Meeting-Appropriate
For a pitch meeting to a tech startup, you opted for a look that's Silicon Valley cool — skinny jeans, Frye boots and a flowy top — but when you arrive, everyone else is in a suit. Yikes. "When your outfit is out of sync, you can come across as either aloof, like you didn't care enough to dress up, or clueless — you don't realize how out of place you are," says Frieman. It's important to acknowledge your misstep so people don't get the wrong idea.
"Diffuse your fashion faux pas with a bit of humor," suggests Williams. "Let them know the last time you met with a startup, the dress code consisted of shorts and flip-flops — on the CEO." Then move past the blunder. "Chances are, whatever you put on is something you feel confident in — so own it," adds Williams. "And next time, wow them in your best sheath dress and heels."
Frieman also recommends stashing a spare blazer and scarf in your office or the trunk of your car in case you spill salad dressing on your top or want to spiff yourself up before a last-minute meeting with your boss.
You Took a "Sick Day" and Got Caught
Whether your friend scored Giants tickets or you wanted to get a head start on a romantic weekend getaway, it's important to nip this slipup in the bud. "Two of the most important attributes an employer is looking for are loyalty and integrity," says Williams. Since skipping out on work undermines both, you need to make reparations ASAP.
"Come clean to your boss before the office gossip train gets to her," says Williams. "Tell her you feel terrible about the situation and offer to work over the weekend to make up the time lost." Then commit to keeping your head down and pulling out your absolute best work over the next few weeks to prove how much you care about your performance and the company's bottom line.
You Made a Serious Error That Could Require Lots of Time and Money to Fix
As soon as you realize you messed up, brainstorm a potential plan of action to deal with the crisis, then schedule a meeting with your boss. "Ask to see her somewhere unusual. Going to a one-off location subconsciously signals to her that this is a one-off conversation and therefore a one-off error," explains Williams. So if you'd normally meet in her office, suggest getting a coffee down the street instead.
Once there, "explain everything, hide nothing and provide solutions," says Williams. Mistakes happen; what your boss wants to hear at this point is that you're taking responsibility and you've given thought to how to improve the blunder — you're not simply expecting her to pick up the pieces.
You Accidentally Hit Reply All
So, you just fired off an email to your work BFF complaining about your annoying colleague — and then a second later, as the color drains from your face and your throat closes up, you realize you sent the snarky message to the entire office listserv. How can you recover? Apologize immediately, in person, and perhaps armed with an iced latte and cronut as a peace offering. "Not only does this show that you care about how she feels," says Frieman, "But she's also more likely to forgive you if she's looking you in the face."
In terms of what to say, focus on how terrible you feel to (hopefully) inspire a little sympathy. "Don't downplay what happened or pretend you didn't mean what you said," says Frieman. "This is the time for groveling." He suggests something along the lines of: "I am so sorry. I screwed up and I feel sick to my stomach about it. I wish there was something I could do to take it back." Depending on how the conversation goes, you might offer to make it up to her by taking her out to lunch or helping her with an assignment. If she's still angry, give her space. After a while, you can start rebuilding your relationship.
You Missed a Deadline
The main issue with not turning a project in on time: It inconveniences other people because they'll have to scramble to finish their work under a crunch. "Give co-workers a heads up as soon as you realize you're running behind so they won't be needlessly waiting for you," says Frieman. Explain why you're late (chances are, they've been in your shoes in the past and will understand), tell them how much longer you need and then follow through no matter what — yes, even if it means cancelling dinner plans or pulling an all-nighter.
"Then, you have to play cleanup to help out everybody affected," says Frieman. Ask if there are other assignments you can take off their plate while they're tackling the project, or grab lunch for them so they can concentrate on the task at hand.
More From Daily Worth: