Apple's (AAPL) stock has taken a big spill over the past two days, falling 4.2% on Wednesday -- it's sharpest drop since January -- and almost another 1% on Thursday. All told, that's a market value loss of $31 billion.
Your first instinct may be to blame the company's recent privacy problems. But Wall Street, with its eye ever on the bottom line, is likely more interested in whether Apple's new gadgets -- a new iPhone and an "iWatch," which are expected to be unveiled next week -- will be hits. And two new reasons to doubt emerged on Wednesday: Samsung, whose popular over-sized Galaxy phones have rivaled the iPhone, announced two new versions; and Pacific Crest Securities, one of the Wall Street firms whose analysts follow Apple, recommended "taking profits" -- cashing out, in other words.
That said, any attempt to assess the damage should start by looking at this (admittedly dramatic) decline in context. As the first chart below shows, Apple stock has been on a tear recently, making headlines for hitting all time highs. Even after Thursday's drop it's still up more than 22% this year, compared to about 8% for the S&P 500.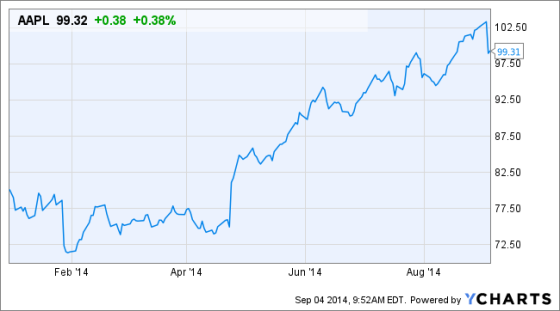 From that perspective, investors weren't exactly losing confidence. It's more like they've started to wonder if they've been too giddy recently.
Indeed, it's something of a testament to investors' faith in Apple that the stock hasn't suffered a gut-check even sooner. While products like the iPhone and iPad remain popular, Apple hasn't had a major new hit in several years. The iPad appeared in 2010. That means while the company generated a whopping $178 billion in revenue over the past 12 months, the pace of growth has slowed -- as the leveling slope of the next chart shows.
In short, as the Pacific Crest note pointed out, Apple's new gadgets will need to be "massively profitable" to maintain growth anywhere near what it has enjoyed in the recent past.
The launch of new iPhones later this month, expected to include a larger "phablet" version (i.e. something in between a phone and a tablet), certainly could generate a hit. But it may also demonstrate the extent to which Apple has fallen behind the new-product curve. As the final chart shows, phablets have been the fast-growing category of late. And as you've probably noticed, it was Samsung -- not Apple -- that's been riding that wave so far.
There's also been much talk of an iWatch. But there are questions about whether such a product will have mass appeal or remain a niche item for geeks -- the calculator watch of the 21st century. There's also the fact that rival Google already has a similar product, meaning this time Apple won't have the field to itself.
In short, it's not hard to see how matching the success of the iPad or iPhone seems like a tall order -- and why Apple stock took a $31 billion hit in just two days.