9 Best Student Loan Refinance Companies of 2021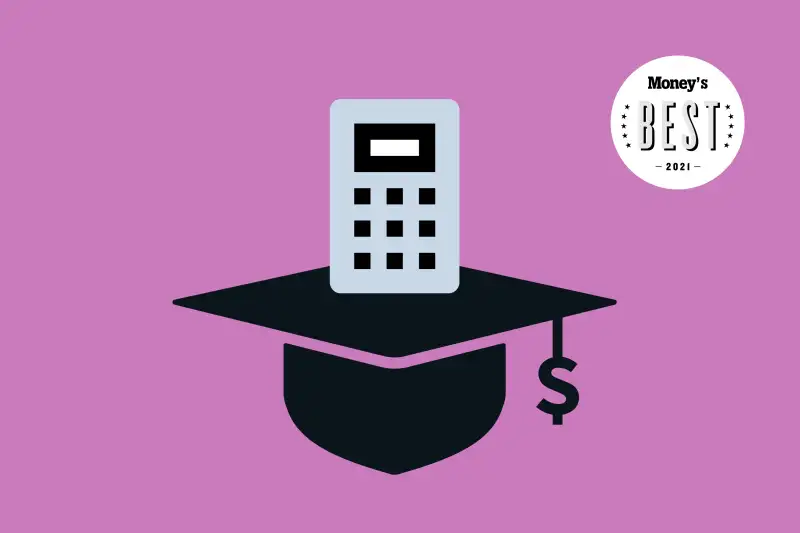 Refinancing your student loans can help relieve financial burden, pay off debt quicker, and save you more money in the long run. Check out our best student loan refinancing companies of 2021, along with industry insights and the latest CARES Act information below.
Our Top Picks For Best Student Loan Refinance
Best Student Loan Refinance Reviews
| | |
| --- | --- |
| Minimum credit score | Declined to release publicly |
| Income Requirements | From $42,000 to $50,000 annual income requirement, depending on loan amount and whether there is a cosigner or not. |
| Fees | No application, origination, or disbursement fee |
| Prepayment penalty | None |
| Cosigner release | Yes, after 12 months of consecutive, on-time payments |
| Variable interest rate | 2.13% APR to 4.75% APR |
| Fixed interest rate | 2.89% APR to 5.08% APR |
Pentagon Federal Credit Union is the second-largest credit union in the nation that offers student loan refinancing. They offer fixed- and variable-rate options for borrowers — students, parents, and couples — refinancing up to $300,000 in private or federal student loan debt, with loan payment terms ranging from five to 15 years.
With PenFed, married couples can file a loan application to refinance their student loans together.
The interest rate is determined by using the higher of the two credit scores. The spouse with the highest degree should apply as the main applicant to ensure the lowest interest rates.
Unlike traditional refinancing, only one person needs to have completed a bachelor's degree or higher to refinance through PenFed's Couple Loan.
As a member of PenFed, you will gain access to member discounts, an advice center, and financial offers. Take the following steps to join with their easy online process:
Sign up for association membership, employment, or military affiliation — a full list of options will be made available to you during the application process.
Open a membership account by making an initial $5 deposit
★ Best Student Loan Consolidation for Medical Students

| | |
| --- | --- |
| Minimum credit score | 690 |
| Fees | No application, origination, or disbursement fee |
| Prepayment penalty | None. $400 bonus for every referral. |
| Cosigner release | No, you must reapply for a loan to remove a cosigner |
| Fixed interest rate | 2.50% to 6.00% depending on loan payment term |
| Variable interest rate | 1.89% to 4.70% depending on loan payment term |
Laurel Road's medical school loan refinancing is available to borrowers who want to consolidate their federal and private loans to have a single loan payment. For medical residents or fellows, Laurel Road is one of the few fintech loan servicers that offer a refinancing option you can qualify for before you're earning a full physician's salary.
Interest will not compound during your residency and the company also allows you to reduce payments to as little as $100 per month for up to four years, before you start your standard repayment.
Your eligibility as a resident will be based on your:
credit profile
monthly debt payments
income projections at the end of your training period.
Residents and fellows that have signed contracts to practice may qualify for Laurel Road's standard rate offers.
Additionally, Laurel Road offers a refinancing option for up to $50,000 for those that have associate degrees in eligible healthcare fields. This $50,000 maximum will not apply to parents borrowing for children pursuing an associate degree.
★ Best for Customizing Loan Repayment
| | |
| --- | --- |
| Minimum credit score | 650 |
| Fees | No application, origination, or disbursement fee. |
| Prepayment penalty | None, as well as no late payment charges |
| Cosigner release | No cosigner release |
| Variable and fixed interest rate | From 1.88% to 2.50% |
Variable rates are not available in AK, IL, MN, NH, OH, TN, and TX
Backed by student loan giant Navient, Earnest offers multiple loan repayment options for student and parent refinance loans at competitive rates and a unique underwriting approach, which factors your earning potential to determine your interest rate and payments. Earning potential will be based on your degree, your on-time payments history, and credit score.
Earnest also offers a "precision pricing" option, which
Allows you to choose a loan repayment term based on your ideal monthly payment amount
Offers term lengths at 1 to 3-month intervals between 5 to 20 years
Benefits recent graduates or borrowers that may not have sufficient credit history to qualify for refinancing elsewhere
Discount for optional enrollment in autopay
For those looking for hardship relief, Earnest offers these options:
Forbearance
Deferment option of up to 180 days for active-duty military members
Option to skip one payment every year, up to 12 times over the life of the loan
In the event of death or total and permanent disability, Earnest will discharge all of your private student loan debt
To refinance your student loan through Earnest you must have a minimum loan balance of $5,000, or $10,000 if you reside in California.
★ Most Affordable Repayment Options for Medical Students
| | |
| --- | --- |
| Minimum credit score | 660 |
| Fees | No application or origination fees |
| Prepayment penalty | No prepayment penalty, does charge a late payment fee |
| Fixed interest rate | Start at 2.49% APR |
| Variable interest rate | Start at 1.89% APR |
Splash Financial is an online marketplace that partners with loan servicers to provide the lowest interest rates and most affordable repayment options for medical students. Loan terms for fixed-rate loans are a minimum of 5 to a maximum of 20 years and 25 years for variable interest loans. The minimum loan amount needed to refinance is $5,000, while there is no maximum amount.
For medical and dental residents:
Medical school loan refinance may only pay $100 a month for the duration of the residency term, plus an additional six months after the end of the residency or fellowship, before beginning regular loan repayments
Students with associate degrees in specific medical fields are also allowed to refinance up to a maximum of $50,000 with Splash
The company features a quick and easy loan application and pre-qualification process and works with private, federal, and Parent PLUS loans. Spouses can benefit from student loan consolidation and refinance their loans together as the company offers the option to "take over" your spouse's loans. Parent loans can also be transferred to their child.
Additionally, if you refer someone and they successfully refinance their loan, Splash will pay you both $250. You don't have to be a Splash customer to refer someone and there is no limit to how many people you can refer.
★ Best Student Loan Marketplace
| | |
| --- | --- |
| Minimum credit score | As of June 2020, most of Credible's partner lenders require a minimum credit score of 670 in order to qualify for refinance. |
| Fees | To date, none of Credible's lending partners charge prepayment penalties, origination, application, or other hidden fees. |
| Rates | According to Credible's website, borrowers with good credit scores can obtain interest rates starting at 2.16% fixed and 1.88% variable. |
Credible is an online marketplace that can help you compare multiple lenders once to save both time and money. Partner lenders pay Credible a commission once you sign up, so it's free for users.
The platform provides personalized quotes based on the financial information you provide, so you can view the rates for your preferred lenders without going through multiple websites.
Credible's loan servicers include a mix of banks, fintech companies, and state loan authorities such as Massachusetts Educational Financing Authority (MEFA) and Rhode Island Student Loan Authority (RISLA). Student loan refinancing opportunities are available for undergraduate, graduate, and Parent PLUS loans.
While these state loan authorities don't always offer low interest rates as some lenders such as SoFi, they do offer other perks such as:
Income-driven repayment (particular to RISLA)
Credible's Partner Lenders are: Advantage Education Loan, Brazos, Citizens Bank, College Ave, EdvestinU, ELFI, MEFA, PenFed, RISLA, and SoFi
Other Student Loan Refinance Companies We Considered
In our Other Student Loan Refinancing Companies We Considered, we include popular companies that are still worth considering, despite not meeting all the requirements for our Top Picks section.
Minimum income requirements
Individual: 21 months or more of credit history and a monthly income of at least $2,000.
Cosigner: borrower must have minimum monthly income of $100 and cosigner must have a minimum monthly income of $2,000.
Fees
No application or origination fees
Prepayment penalty
No prepayment penalties.
Cosigner release
May be requested after 12 consecutive, on-time principal and interest payments.
Fixed interest rate
Start at 2.99%
Variable interest rate
Start at 1.61%
Navy Federal is the largest credit union in the world and specializes in banking and financial services to members of the military.
Students who have any type of student loan with Navy Federal are eligible to use the Career Assistance Program, an online job training tool that provides tips on interviewing, resume building, and more. Parents who have loans for multiple children can refinance and benefit from student loan consolidation.
Why It Didn't Make The Cut
Limited membership. The credit union only services members of the military or those who have family or household members in the armed forces.
| | |
| --- | --- |
| Minimum income requirements | 650 |
| Fees | No application, origination, or disbursement fee |
| Prepayment penalty | No prepayment penalties or late payment charges |
| Cosigner release | May be requested after three years of consecutive, on-time payments. |
| Fixed interest rate | From 2.59% to 6.74% |
| Variable interest rate | From 2.46% to 6.81% |
Common Bond has no origination or prepayment fees, and the application process is easy and seamless. Other highlights include Up 24 months of forbearance due to a national disaster, such as the COVID-19 pandemic and a referral program that pays $200 if someone you refer to the loan servicer takes out or refinances a loan.
Why It Didn't Make The Cut
While CommonBond is a popular choice for many, it didn't make the list of our top picks because it doesn't offer refinancing options for federal Parent Plus student loans, one of our main criteria for establishing our top picks.
| | |
| --- | --- |
| Minimum income requirements | 650 |
| Fees | No application, origination, or disbursement fee. |
| Prepayment penalty | None |
| Cosigner release | May be requested after 36 consecutive on-time payments on principal and interest. |
| Fixed interest rate | From 2.69% to 9.15% |
| Variable interest rate | From 2.24% to 8.90% |
Citizens Bank combines the stability of a traditional bank with the flexibility of online lending and offers refinancing options for both students and parents.
Loan refinancing is available to permanent resident aliens and non-U.S. citizens (with a qualified co-signer), something that most other loan servicers don't do.
Why It Didn't Make The Cut
Citizens Bank has a history of complaints, eventually resulting in regulatory action by the CFPB in 2015. This issue seems to have improved within the last few years, as there are currently only 43 complaints regarding student loan refinancing lodged against the company at this time. Continued improvement in customer service can push Citizens Bank into contention as one of our best student loan refinance providers.
| | |
| --- | --- |
| Minimum income requirements | Does not disclose |
| Fees | No application, origination, or disbursement fee. |
| Prepayment penalty | None, as well as no late payment charges |
| Cosigner release | May be requested after the student has graduated and completed 12 on-time payments, amongst other requirements. |
| Fixed interest rate | From 2.74% to 6.94% |
| Variable interest rate | From 2.25% to 6.59% |
SoFi is a leading online loan servicer that offers student loan consolidations and refinancing loan options for both students and parents. Refinancing is available for undergraduate, graduate, and medical resident student loans.
Access to member perks includes career coaching, free access to the Edmit Plus tool, which you compare the true cost of different colleges, free access to personalized financial planning advice, and referral rewards program. Refer someone to SoFi who gets a student loan refinance and you both get $300
Why It Didn't Make The Cut
While SoFi offers competitive rates and provides members with a variety of cost-free benefits, the lender barely missed making our list of top student loan refinance servicers. It currently has 53 complaints against it with CFPB, mostly relating to the process of actually getting a loan, which is just a tick above our cutoff. Even a small improvement in this area would put SoFi student loan into contention for a top pick.
Student Loan Refinance And COVID-19
CARES Act
As of January 2021, the federal government has placed federal student loans in interest-free forbearance. This will be in place at least until September 31, 2021 and will apply to federal student loans on default as well, as collections and garnishments have been suspended until that same date.
Most federal student loan borrowers currently have their monthly payments suspended through the Coronavirus Aid, Relief, and Economic Security (CARES) Act. The program, originally set to expire in December 2020, has been extended until September 31, 2021.
No interest will accrue during this time, either, and the suspended payments will count towards loan forgiveness. (Read more about the CARES Act and student loans here.)
Student Loan Servicers COVID-19 Response
PenFed
• Forbearance or adjusted loan repayment plan for up to 6 months for those who qualify.
• The option to file a COVID-19 Hardship Application for additional support
Consumers can find more information here.
Laurel Road
• Forbearance of 3 monthly payments
• Option to request an additional 3-month forbearance if you are still unable to meet your payments. To qualify for these additional 3 months your account must have been current before the first COVID-19 forbearance.
For more information, please refer to their Coronavirus Response page. This resource consists of a financial guide centered on the current pandemic and discusses how to better navigate hardship.
Splash Financial
• Lower rates in response to the economic crisis.
Splash Financial encourages clients to reach out so they can negotiate on accommodations like forbearance or waiving fees on an individual basis.
Earnest
• Short-term forbearance, which will make eligible loans current and postpone payments for at least a month.
• Coronavirus national emergency forbearance, which allows qualified customers up to three months of delayed payments.
• Short-term interest-only program that allows clients to make lower (interest only) payments for up to 90 days.
Customers are encouraged to access their Coronavirus Response Center, a web page that addresses common questions about hardship, disaster forbearance, and their other payment postponement options.
Navy Federal Credit Union
Eligible members have access to:
• loan extensions
• deferred payments
• credit card line increases
• student loan forbearance through LendKey
• overdraft protection, fee-free transfers
• penalty-free certificate withdrawals.
For further questions, the company encourages borrowers to contact their Student Loan Center at 1-877-304-9302.
Common Bond
• Natural disaster forbearance for the duration of the national emergency declaration. Interest will still accrue, but there are no additional fees.
• All late fees are waived.
You can apply for this forbearance at commonbond.co/forbearance.
Citizens Bank
• Three-month emergency loan forbearance. Interest will still accrue.
• Option to request two additional three-month forbearance periods, for a total of nine months.
• All late fees are waived
Sofi
• Payment deferral.
• Option to request a forbearance period for two to three months (interest will still accrue, and the life of the loan will extend).
Credible is excluded from this section because it is not a loan provider, but a marketplace for other lending institutions. It does not have its own COVID-19 policy in place, so we recommend that you refer to the loan servicers platforms for further information.
Is Refinancing Your Student Loans Right For You?
With interest rates near historic lows, refinancing your student loans — whether federal or private — can save you money by replacing existing education debt with a new loan under a private lender.
The Association of American Medical Colleges (AAMC) encourages students to consider multiple variables, such as their career path, the amount of financial risk they are willing to take, the terms and conditions established by loan servicers, and their financial stability and employment prospects after graduating.
Refinancing a federal loan can mean losing valuable benefits and protections such as income-based loan repayment plans, public service loan forgiveness, interest subsidies, student loan tax deductions, limited monthly payments, and more.
Take a look at the following pros and cons to find out if refinancing your student loan is right for you.
| | |
| --- | --- |
| Pros | Cons |
| Take advantage of market fluctuations and reduce your interest rate | Exclusion from federal repayment protections and buffers. |
| Shorten or lengthen loan repayment term | Exclusion from federal student loan forgiveness |
| Rise or lower your monthly payment | Subject to the private lender's repayment terms |
| Student loan consolidation and a single monthly payment | No flexibility of altering repayment plan without refinancing |
| Option to remove your cosigner | No income-based repayment plan |
| Multiple repayment terms are available, often 5 to 20-years. | Irreversible: private loans can't be changed back to federal |
Difference Between Private Loan Refinance and Direct Loan Consolidation
One of the benefits of refinancing through a private student loan lender is that borrowers can integrate multiple loans into one with a single monthly payment under a single servicer. This is not to be confused with federal-only Direct Loan Consolidation. Here are the key differences:
| | |
| --- | --- |
| Private Loan Refinance | Direct Loan Consolidation |
| Replaces one or more existing loans — federal or private — with a new private loan. | Combines your existing federal student loans into one federal student loan. |
| Available for federal and private loans, depending on the lender. | Available for federal student loans only. |
| Interest rates are determined by your credit history and potential market trends. This may result in a lower interest rate. | Your new interest rate will be the result of the weighted average of the interest rates on the loans you're consolidating, so this option does not reduce the amount of interest you're paying each month. |
| Credit history will be verified. | No credit check necessary to be approved. |
| Fixed- or variable-interest-rate loans. | Can consolidate variable rate loans into a fixed-rate loan. |
| Multiple repayment terms are available, often 5 to 20-years. | Consolidation loans offer several repayment options besides the standard 10-year repayment plan and can extend the term of the loan to between 12 to 30 years. |
| Parent PLUS loans can be refinanced under the adult child, relieving parents of debt. | Parent Plus loans cannot be consolidated under the adult child's name. |
| You lose all benefits associated with federal student loans. | Retains all benefits and protections available to federal student loans. |
Student Loan Forgiveness in 2021
With the new administration change, the federal government is prioritizing student loan debt forgiveness. Keep this in mind before refinancing with a private lender, as the new refinanced loans will likely be excluded from any federal debt relief.
As this news develops, borrowers may be tempted to stop making payments on their principal amount, hoping for debt forgiveness. This is not advisable and taking this risk could easily backfire on you, as there is nothing finalized, neither as legislation nor as an executive order.
It is best to keep to your current financial plan and monitor the news for any new developments. In the meantime, read more about existing federal student loan forgiveness programs you can take advantage of right now.
Take The Following Steps Before Refinancing
1. Talk to a Financial Advisor
Meet with a certified financial planner that has experience working with student loans, ideally before you start school or while you're in school and have more options available.
A certified financial planner can:
Help you review your financial situation
Provide you with educational resources on how to better manage your student debt.
Determine which loan repayment plan or solution is best for you
2. Evaluate Your Credit
Evaluating your credit refers to two components: your credit report and your credit score
Credit report
Keeping track of your credit report helps you keep track of incorrect items in your credit history and take the steps to contest and remove them to boost your score.
In response to the economic crisis, all three major credit reporting bureaus- Equifax, Experian, or TransUnion — are offering free weekly access to your credit report through April 2021. You can access all three at AnnualCredit Report.com.
Credit score
A person's credit score is calculated based on the data reported on their credit report. The two scoring systems available are FICO and VantageScore. The great majority of lenders will use FICO scores as a determining factor when evaluating the creditworthiness of an applicant or their ability to pay back loans.
Although your credit score is not included in your credit report, some credit card issuers, mortgage, and auto lenders provide free access to this score through the FICO Score Open Access program. Borrowers can also pay one of the credit bureaus to view it or enroll in a program or service that offers regular access.
3. Consider the Types of Loans You Have
Depending on the type of loan, refinancing through a private lender has implications you should be aware of.
Federal student loans include:
Direct subsidized loans
Direct unsubsidized loans
Direct PLUS loans
Direct consolidation loan
If you have federal student loans, pay close attention:
Refinancing federal student loans means you lose exclusive benefits provided through the U.S. Department of Education, such as:

Public Service Loan Forgiveness (PSLF)
Income-driven repayment (IDR) plans.
Forbearance and deferment

You cannot refinance back to a federal student loan in the future once you refinance with a private lender. Make sure you're confident you won't need these benefits later on.
Accommodations like the 0% interest rate in response to the COVID-19 crisis won't apply to private loans.
Public Service Loan Forgiveness (PSLF)
Income-driven repayment (IDR) plans.
Forbearance and deferment
4. Compare Lenders
A rushed decision without comparing lenders could be a double-edged sword. For example, you could have a lower monthly payment, but the new term could potentially add years and interest to your loan. The key numbers to look for are:
credit score and annual income requirements
annual percentage rate (APR)
debt-to-income ratio (DTI) standards.
5. Compare Interest Rates
Verify whether your lender provides fixed or variable interest rate options and keep track of the current economic conditions. Locking in a fixed rate is a good option if you want to take advantage of the lowest rates available
Refinancing with a variable interest rate means that your loan repayment may increase in the future depending on external economic factors. Make sure your interest rate reflects your long-term goals.
Define Your Repayment Term
If you're refinancing your student loan, you may just want to pay off your loan as soon as possible, but remember that refinancing is essentially a new loan agreement. You'll obtain a revised payment schedule, a new interest rate, and new loan repayment terms.
If you plan to pay off your loan sooner than expected, make sure the lender won't penalize you for early repayment.
Consider Whether They Offer Cosigner Release
Having a qualified cosigner in your loan application can mean the difference between denial and approval.
A cosigner can:
help you get the best rates and better terms
serve as an additional repayment source
increase the amount you can receive as the principal borrower
Many borrowers try to refinance student loans to remove a cosigner from their existing loan, but candidates with an insufficient credit history or a low credit score will likely need to apply with a cosigner. This is where cosigner release terms are important.
Some private lenders may offer a cosigner release option if certain repayment requirements are met by the primary borrower.
The cosigner's credit will be cleared of the debt. The loan will remain on the cosigner's credit history, but the record will indicate that the loan is paid in full and closed, which may open new financial opportunities for them.
It's worth noting that while most companies may advertise cosigner release, this doesn't mean that they will grant it automatically. Getting approved for a cosigner release is rare.
In fact, the CFPB revealed that 90% of private student loan borrowers that applied for a cosigner release were rejected in 2015.
Research Each Lender's Hardship Relief Options
Private lenders can be more restrictive when it comes to hardship relief. However, some online lenders do offer student loan unemployment deferment and forbearance.
Deferment and forbearance programs are a form of payment relief that allows you to temporarily pause student loan payments until you can get back on your feet. A typical forbearance or deferment period with a private lender is about 2 to3 months, while the federal program allows much longer periods.
Verify whether your preferred loan servicer offers relief measures if you decide to continue your studies or for circumstances beyond your control such as:
unemployment
disability
furlough
military leave
death
If You Have Decided to Refinance, Here's What You'll Need For Your Application
Good Credit
Most lenders require credit scores above 650, though you'll need a higher score to qualify for the lowest advertised rates. If your credit is too low or you have an insufficient credit history, you'll likely have to apply with a cosigner that has a strong credit report and a stable income.
Proof of Income
Stable annual income is essential. Lenders will evaluate your debt-to-income ratio (DTI), meaning the percentage of your gross income that goes toward paying your debt each month. Most companies require you to have a low DTI to qualify, but some may accept written job offers as sufficient evidence.
Cosigner
Applicants with insufficient credit history, low income or low credit score will benefit from a cosigner. A cosigner is a parent or relative that applies for the loan with you and takes on the responsibility of paying it back if you can't. Cosigners must have sufficient income and strong credit.
College Degree
A college degree isn't always necessary to refinance your student loans, but having a degree gives you more options. Most lenders require you to have at least a bachelor's degree to qualify for refinancing, and a small portion accept borrowers with associate's degrees.
U.S. Citizenship or Permanent Residency Status
Most, if not all lenders require you to be a U.S. citizen or permanent resident to be eligible to refinance your student loans. If your student loans are foreign, it's recommended that you build sufficient credit in the United States to qualify for refinancing.
Best Student Loan Refinance FAQ
Is it a good idea to refinance a student loan?
This depends on the type of loans you have, your future economic prospects and what you stand to gain and lose by refinancing with a private lender. It is a sound financial decision for some, while a risky, unadvisable change for others, so it requires careful evaluation.
What is the best student loan refinance company?
The best provider will offer a student loan refinancing plan that fits your financial profile and long-term financial goals. That means looking closely at their rates, terms of repayment and their options for financial assistance. Always compare their terms with the ones provided by your federal student loans before choosing to refinance.
Will my consolidated loans qualify for loan forgiveness?
Yes, only if you consolidated your loans with the federal government, not through refinancing with a private lender.
Can refinancing my student loans hurt my credit score?
Refinancing your student loans won't put a major dent in your credit score, but it will knock off a few points. Lenders will often conduct a soft credit pull to give you an estimate of the interest rates available to you. Soft credit pulls will not impact your score.
Once you decide to move forward with a full application, the lender will conduct a hard credit inquiry, which can deduct as much as five points from your credit score.
Could it be more difficult to refinance my student loans if I have an associate degree?
It depends on the lender. While most private lenders require that you have a bachelor's degree from a four-year institution, some lenders accept refinancing for associate degrees that meet certain criteria. You may be asked for evidence of your current enrollment status as well as your school's accreditation as recognized by the U.S Department of Education and state.
Did the recent federal rate cut affect student loan refinancing?
The Fed's decision to cut rates to 0% earlier in 2020 does not influence how private lenders set their interest rates when it comes to refinancing your student loans. However, there are many elements at play when it comes to how interest rates are determined, including market conditions. We advise you to shop around and evaluate lenders with the best rates before you put in a formal application.
Is there a downside to refinancing student loans?
If you are refinancing federal student loans, you lose certain benefits and considerations exclusive to these types of loans. These include loan forgiveness and flexible repayment plans, but also access to hardship relief, like CARES Act provisions that put student loans on forbearance and set interest rates at 0%. In unprecedented circumstances, you will be subject to the private lender's terms and conditions, and these might not be enough in times of financial distress.
How We Chose the Best Student Loan Refinance
Money compared over 16 of the nation's largest lenders by market share and narrowed down that list with insight from industry experts, selecting the 9 best student loan refinance companies of 2020. To qualify for our Top Picks, all companies had to:
Additionally, we evaluated each company based on 16 factors that are important to parents and students, including eligibility requirements, loan specifications, customer experience, and financial strength.
Summary of Money's Best Student Loan Refinance Companies