The 7 Best Motorcycle Insurance Companies of 2021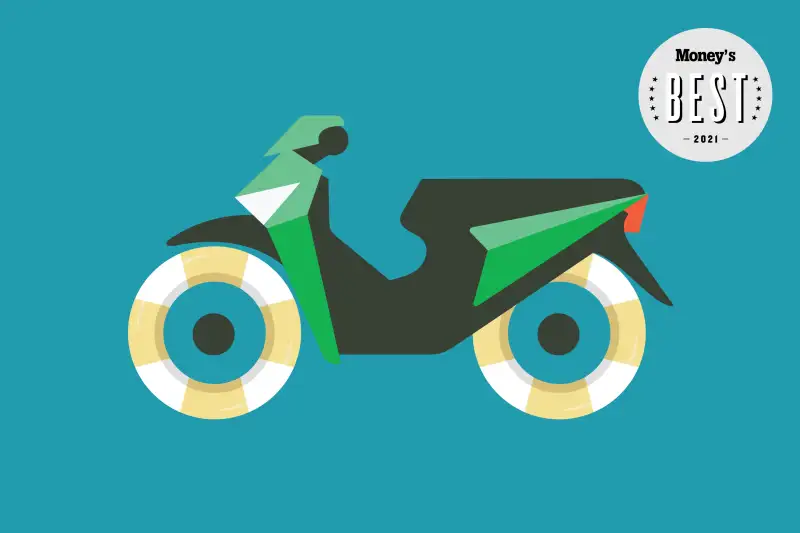 Motorcycle insurance protects you, your vehicle, and any property or bystander in case of an accident. Most states require motorcycle insurance coverage, and depending on the rider, bike, and location, policies can range from a few hundred dollars up to $2,000.
If your motorcycle isn't insured, or if you're looking to switch providers, we're here to help. We've picked some of the best motorcycle insurance companies on the market, highlighting the discounts and benefits that can offer you more protection for less money.
Our Top Picks for the Best Motorcycle Insurance Companies
Ads by Money. We may be compensated if you click this ad.
Ad
Bundling Car and Motorcycle Insurance policies is not only convenient - it can also save you hundreds of dollars a year in premiums.
Combining insurance for multiple vehicles with a single company simplifies your payments, and you could get a multipolicy discount of 5% to 20%. Click on your state to get a free quote from Progressive.
Get a Free Quote
Best Motorcycle Insurance Company Reviews
Progressive: Best for Accident Forgiveness
| | |
| --- | --- |
| Pros | Cons |
| Wide range of coverage options | Coverage amounts are more expensive |
| Loyalty rewards for long-time customers | No breakdown coverage available |
| Get a quote and purchase your policy online | |
| 24/7 claims center | |
| Plenty of discounts available | |
Progressive stands out for its generous Accident Forgiveness benefits. Small Accident Forgiveness covers claims for minor collisions that cost less than $500 after you've paid the deductible — without an impact on your premium. Progressive's Big Accident Forgiveness is even more generous, covering your first accident of the year, regardless of the cost of the claim.
The downside is that to qualify for Big Accident Forgiveness, you have to be a Progressive customer for at least four years and accident-free for three.
Progressive also writes policies for the broadest range of machines of any company on this list, ensuring regular motorcycles and mopeds, dirt bikes, sportbikes, performance bikes, autocycles, and enduro bikes, touring bikes, three-wheel trikes, collectibles, scooters, ATVs & UTVs.
GEICO: Best for Accessory Protection
| | |
| --- | --- |
| Pros | Cons |
| Comprehensive and Collision coverage for your helmet and bike accessories | Limited add-on coverage |
| Free emergency roadside service | Some discounts are not available |
| 7 discounts options to choose from | |
| Choose to pay in a lump sum or payment plan | |
| 24/7 customer service via phone, app, or live chat | |
Geico includes accessories coverage with its comprehensive and collision policies, which means coverage for your helmet, non-stock sidecar, trike conversion kit, seats and saddlebags, electronic equipment, and chrome pieces at no additional cost.
Additionally, Geico has seven different discounts available, including 10% off your premium if you switch from a different carrier, if you insure more than one motorcycle with Geico, and if you become a loyal customer.
| | |
| --- | --- |
| Pros | Cons |
| Specializes in motorcycle insurance | Coverage not available in Alaska, Hawaii, or Washington, D.C. |
| Coverage for autocycles and other specific motorcycle types | Lower rates can be found with other companies |
| Discounts and benefits for Harley Owners Group members | |
| Insures, finances, and offers extended service plans for bikes | |
| Submit claims online or over the phone 24/7 | |
What makes Harley-Davidson an excellent option for new riders is that it provides more than just insurance. Harley-Davidson also sells extended service plans, provides loans to buy your bike, and offers theft and appearance protection, all in one roof.
Discounts include a multi-policy discount for bundling policies, anti-theft, multi-cycle, military and law enforcement, prompt payer, and claim-free renewal. You can also take safety courses from the Harley-Davidson Riding Academy that, after completion, help reduce premium costs.
Dairyland: Best for Vintage Bikes
| | |
| --- | --- |
| Pros | Cons |
| Coverage option to use original manufacturer replacement parts in repairs | Coverage is not available in California, Hawaii, Louisiana, New Jersey, Oklahoma, and Washington, D.C. |
| Offers insurance for high-risk drivers (SR-22) | No online claims processing |
| 24/7 live claims support | Expensive policies |
| Flexible payment plans | |
Dairyland's Physical damage-plus coverage pays to repair your damaged bike with original equipment manufacturer replacement parts (OEM), which is ideal for new riders or experienced riders who own a rare or vintage motorcycle and want to preserve the machine's integrity.
Besides the standard coverage and its Physical Damage plus add-on, Dairyland offers bike replacement-cost insurance, roadside assistance, trip-interruption, and rental reimbursement.
Finally, Dairyland also offers SR22 insurance for people with a history of driving violations such as DUI, DWI, reckless driving, at-fault accidents, driving without insurance, or driving without a license.
Farmers: Best for Track Riders
| | |
| --- | --- |
| Pros | Cons |
| Track-day insurance for non-competitive riding | Coverage and discount options not available everywhere |
| Extensive plan for collectors and custom and vintage bikes, low-speed vehicles, legal ATVs, and transport trailers | Online claims only |
| Customer service via phone and email and live chat feature | |
| Convenient add-on package | |
| Rewards for safe drivers | |
While most insurers won't insure you if you're using your bike on a track, Farmers stands out by offering track-day insurance for those looking to ride in a non-competitive bike course.
Farmers offers three pre-packaged plans — the Saver, the Plus, and the Elite.
| | | |
| --- | --- | --- |
| Saver Package | Plus Package | Elite Package |
| $500 safety apparel coverage | $1,500 safety apparel coverage | $2,500 safety apparel coverage |
| First accident forgiveness | $3,500 optional equipment coverage | $5,000 optional equipment coverage |
| Available optional equipment coverage | Total loss settlement for two years based on the value of a new motorcycle | $2,000 personal effects coverage at replacement cost |
| Available towing and roadside assistance coverage | Trip interruption and track-day coverage | Total loss settlement for five years based on the value of a new motorcycle |
| | Reasonable and necessary expenses for towing and roadside assistance | Enhanced rental coverage |
| | | Diminishing deductible |
| | | Diminishing waiver |
| | |
| --- | --- |
| Pros | Cons |
| 30% discount for bundling | No coverage for vintage or antique type of motorcycles |
| Excellent policy coverage | Only 5 discounts available |
| Easy quote process | |
| Rental reimbursement and added equipment coverage | |
Bundle your bike insurance with any other insurance product offered by Allstate and save up to 30% off your premiums. This is among the best bundling discounts on the market, as these types of discounts usually cap at ten or fifteen percent.
The company also has excellent add-ons for your motorcycle insurance, including lease/loan gap coverage and a first-accident waiver.
On the downside, Allstate has only five motorcycle insurance discounts available, which is lower than other companies on this list.
Markel: Best for Discounts
| | |
| --- | --- |
| Pros | Cons |
| 9 different discounts available | Not available in all states |
| Mechanical breakdown coverage | |
| Accident forgiveness program | |
| 24/7 claim support by phone | |
Markel has nine different discounts, and most of them have easy requisites, such as installing anti-lock brakes on your bike, insuring multiple motorcycles, being a safe driver, and renewing your policy.
Besides standard offerings, Markel also has a variety of additional coverage options, like allowing customers to insure their trailers, as well as mechanical breakdown coverage.
Lastly, Markel also has an accident forgiveness program, which helps you waive any at-fault surcharges for your first at-fault loss. Unfortunately, you have to be accident-free for four consecutive years to be eligible.
Motorcycle Insurance Guide
There's a common joke among motorcyclists that there are two kinds of bikers: those who have been in accidents and those who will be in accidents. Although this is only half true, according to statistics, the consensus is that it's always better to be safe than sorry.
Andrea Chapman, a motorcyclist from Ohio, has been riding the open road with her husband, Mark, for over 20 years, and they have always owned insurance on their bikes, as required by the state.
"We've had all kinds of bikes, from standards to cruisers, and we've taken different approaches to buy motorcycle insurance. We've bundled it with our car and homeowner's insurance in the past, but something we've always done is shop around for the best rates."
Types of Motorcycle Insurance
When you're shopping around, you want to find the right motorcycle insurance policy for your budget as well as the bike you're insuring. To purchase the best insurance coverage for your needs, you must first understand the different types of motorcycle insurance.
The most common types of coverage are:
Bodily injury liability
Protects you financially against bodily injury and property damage lawsuits in the event of an accident involving another person. Some insurers also include guest passenger liability coverage or sell it as a separate add-on.
Motorcycle collision
If you're in an accident with another vehicle, motorcycle collision coverage takes care of damages suffered by your bike.
Comprehensive coverage
Covers damages caused by theft, vandalism, or fire.
Coverage for custom parts
Most comprehensive and collision policies only cover original factory parts. Coverage for custom parts takes into account sidecars, chrome parts, and custom paint jobs, and other items.
Uninsured/ underinsured motorist coverage
Protects you and your property in the event you're in a collision with someone who has insufficient insurance coverage or doesn't have insurance at all. UM/ UIM insurance can also cover lost wages, medical payments, and, in some instances, property damage. Some states might require you to add an Uninsured Motorist policy by law.
Motorcycle Insurance Requirements by State
As with auto insurance, almost every state has motorcycle insurance liability requirements, including property damage and bodily injury liability if you're in an at-fault accident.
Only two states — Florida, Montana, and Washington — neither require motorcycle insurance nor impose legal or financial consequences if you don't have it. In Arizona, you have to prove you can cover the costs of a potential accident by submitting a check to the DMV, while Virginia charges an annual fee for driving without insurance.
Other Important Information About Motorcycle Insurance
Just like when insuring a car, your motorcycle insurance premiums are affected by factors like age, driving history, zip code, the make and year of the motorcycle, and how many miles you drive annually.
Taking a riding course can help you lower your premium if you're under the age of 25 or if you've had an accident in the past.
If you live in a state that's harder to ride during winter, consider a lay-up policy. Lay-up policies allow you to stop paying liability and collision coverage while keeping your comprehensive coverage active.
If you occasionally ride on a track, make sure your insurer covers you on track days. Some insurers don't cover track use at all, while others will only cover track usage if you're not competing in a race.
In the event of an accident, insurers will inquire about the type of helmet you were wearing. Your insurance provider could deny your claim if you were not wearing a helmet or a helmet not approved by the US Department of Transportation (DOT).
While bundling your motorcycle insurance could help you save, in some cases, bundling can be more expensive than purchasing policies individually.
Always shop around and compare premiums before settling on an insurance company.
Helmet Laws for Motorcyclists
The U.S. Centers for Disease Control and Prevention (CDC) states that helmets reduce motorcycle rider fatalities by between 22% and 42%, and brain injuries by 41 to 69%. However, helmet laws in the United States vary widely by state.
In 21 states and the District of Columbia, universal helmet laws require both drivers and passengers to wear this protection. Wearing a helmet is required in a further 27 states if you're under 18 or 21 years old. Three states — New Hampshire, Illinois, and Iowa — don't mandate helmet use for any riders.
According to the Insurance Institute for Highway Safety, states with lenient helmet laws have higher injury and mortality rates than those with helmet regulations.
Best Motorcycle Insurance FAQ
How much is motorcycle insurance?
On average, motorcycle insurance in the US costs $1,173 per year. However, rates vary according to driving habits, place of residence, age, and the amount of coverage. Although not featured in our list, Safeco offers cheap motorcycle insurance.
How to get motorcycle insurance?
You can get motorcycle insurance either by visiting an insurance company of your choice in-person, by phone, or online. Remember always to have information about your motorcycle, driving record, and insurance history at hand, as insurers typically ask you about these subjects to determine premiums.
How does motorcycle insurance work?
Like car insurance, motorcycle insurance protects you and your vehicle from being liable if there is an accident. If you suffer an accident, whether at fault or not, and have the proper liability coverage, your insurer will cover the accident costs. However, before the insurance kicks in, most companies ask you to pay for a deductible. For example, if your deductible is set to $800 and motorcycle repairs amount to $3,000, you'd have to pay $800 first, and the insurer would cover the remaining $2,200.
Is motorcycle insurance cheaper than car insurance?
In most cases, motorcycle insurance is much cheaper than car insurance. This also applies to motorcycle parts and vehicle replacement costs, as replacing a motorcycle part or a totaled bike is less expensive than that of a car.
How much motorcycle coverage should I get?
The amount of coverage you should get for your motorcycle depends on your state's legal requirements and personal needs. Most states require you to get two types of liability insurance: property damage and personal injury protection coverage. You can also add other forms of protection that aren't required by law, including comprehensive coverage, uninsured/underinsured motorist coverage, and coverage for custom parts.
How long do you have to wait to get insurance after buying a motorcycle?
Since most states legally require you to get motorcycle insurance, it's vital to get your new bike insured as fast as possible. You can do this either by getting a phone or online motorcycle insurance quote from an insurer. For states that don't require insurance by law, you can opt to buy it later, but you risk being liable if you suffer an accident.
How We Found the Best Motorcycle Insurance Companies of 2021
To select the best motorcycle insurance companies on the market, we considered the factors we think matter most to consumers, including discounts, coverage, add-ons, claims process, and customer satisfaction.
Discounts
We favored lenders that offer a wide variety of discounts. Most insurers offer the standard discounts for taking a motorcycle safety course and buying multiple policies. Others reward customers for certain memberships and certifications and for remaining claim-free for several years. We also noted companies' policies on forgiving accidents so that these mishaps won't necessarily increase your insurance rates. The more discounts your insurer offers, the greater your likelihood of snagging a lower rate.
Coverage and Add-Ons
We gave credit to companies that offer additional coverage and benefits, such as rental reimbursement, trip interruption, and accident forgiveness.
Claims Process and Customer Satisfaction
If you ever need to file a claim, you want the process to be as hassle-free as possible. We favored lenders that provide an online claims process and 24/7 customer service.
Summary of Money's Best Motorcycle Insurance Companies of 2021