The 7 Best VA Loan Lenders for 2021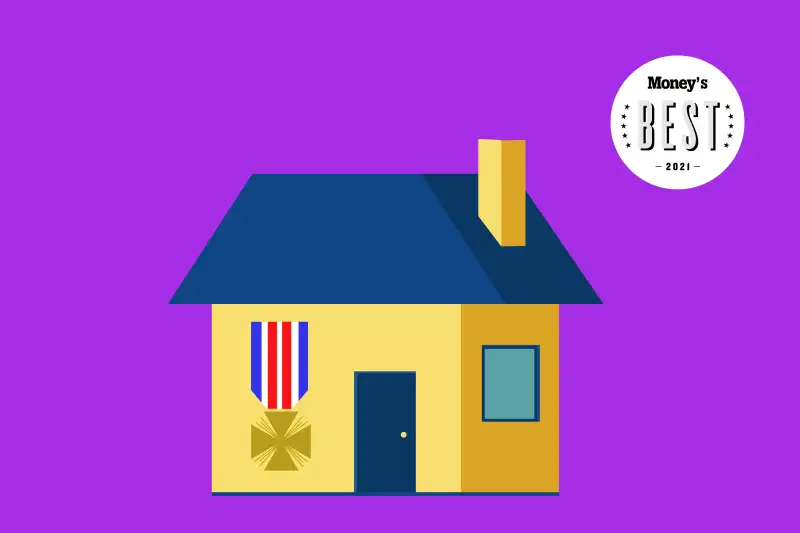 When choosing a VA mortgage lender, it's best to go with one that has experience with the ins and outs of VA lending. We've reviewed some of the top mortgage lenders specializing in VA loans to give you a good starting point.
Money's Best VA Loan Lenders for 2021
Ads by Money. We may be compensated if you click this ad.
Ad
$0 Down VA Loans for Veterans, active-duty and surviving spouses
VA Loans to buy a home without a down payment. Click on your state to get started.
Get Started
Money's Best VA Loan Lenders Reviews
Veterans United Home Loans Review
Minimum Credit Score: recommends 650
Veterans United Highlights:
Offers fixed and adjustable-rate mortgages, FHA loans, jumbo loans, refinance loans, and cash-out loans
Complete your application and prequalification online
Works with former senior enlisted military leaders to help educate veterans
Lighthouse program offers free credit counseling services for homebuyers
Veterans United Realty has over 6,000 real estate agents specialized in VA home purchases
The largest VA lender in the US, one of the things that stood out to us about Veterans United was their 24/7 customer service and large selection of loan types, though they don't offer home equity loans or HELOCs. We also liked the lender's focus on the customer experience, with a robust education section on their website, and user-friendly online approvals. However, it should be mentioned that Veterans United has slightly higher rates and fees than other lenders on our list, and only offers in-person service in 18 states.
Check your eligibility for a Veterans United $0 down VA loan here.
USAA Review
Minimum Credit Score: 620
USAA Highlights:
Offers conventional mortgages, FHA loans, and VA primary, refinance, jumbo, and cash-out loans
Apply over the phone with a dedicated bank loan officer
No underwriting or documentation fees
Low minimum credit score
Must be military or military spouse
Where USAA stands out is with their fees, or lack thereof, though they do charge the VA- mandated 1% origination fee on home loans. For their streamlined mortgage refinance loans, USAA pays for the appraisal, title, and VA funding fee, meaning no additional out-of-pocket expenses. USAA does offer some online capability, allowing customers to determine eligibility, upload documents, estimate how much they qualify for, and get pre-approved. However, the lender skews towards phone service with a dedicated representative that guides customers through every step of the borrowing process.
Navy Federal Credit Union Review
Minimum Credit Score: N/A
Navy Federal Credit Union Highlights:
Freedom Lock lets you lock in the interest rate on your VA or conventional loan
Real Match Guarantee matches any lower rate by another lender, or they'll deposit $1,000 into your account
The RealtyPlus program helps you find a VA real estate specialist and get you between $400 and $8,000 in cash-back
Membership limited to current and former military, their spouses, and certain federal employees, contractors, and retirees
Offers purchase, refinance, jumbo, fixed, adjustable, VA loans
The Navy Federal Credit Union offers two mortgage products designed specifically for members of the military and their families — the Homebuyers Choice Mortgage and the MIlitary Choice Mortgage.
The Homebuyers Choice Mortgage, a fixed-rate 30-year loan with no mortgage insurance premiums and 100% financing, is tailored specifically to first-time buyers. While it does have a 1.75% funding fee, this can be waived for a higher interest rate.
The Military Choice Mortgage has the same advantages as the Homebuyers Choice, but with added benefits. It offers special pricing on interest rates and origination fees to active-duty borrowers and veterans. The lender's standard 1% origination fee can be either rolled into the mortgage or waived in favor of a higher mortgage rate.
You can apply online and obtain pre-approval, and you'll have 24/7 access to customer service reps with deep experience working with military families.
PenFed Credit Union Review
Minimum Credit Score: 620
PenFed Highlights:
PenFed charges no lender fees
Offers lender credit for purchase mortgages
Member deals include discounts for asset protection programs, home security systems, tax preparation services, and car, life, or home insurance
Offers 30-and-15-year fixed-rate VA mortgages, and refinancing for existing VA loans
Serves members in all 50 states, Puerto Rico, Guam, Germany, Spain, Italy, Okinawa, and the UK
While PenFed has low rates and no lender fees, other fees do apply, including the VA funding fee, title, appraisal, and tax services fees, and more. Since it has an open national membership charter, anybody can apply, so long as they open a savings account.
Aside from its VA loan selections, for those not eligible for VA loans or members of the military looking to purchase a second home, PenFed also offers a number of conventional financing options to choose from.
We especially liked the educational efforts of the PenFed Foundation, a 501 (c)(3) non-profit focused on financial literacy, short-term financial assistance, credit-building and homeownership. Assistance and resources are accessible to active-duty service members, veterans, and Wounded Warriors.
Veterans First Mortgage Review
Minimum Credit Score: 660
Veterans First Mortgage Highlights:
Offers low- or no-down-payment mortgages, fixed and adjustable VA loan rates, jumbo loans, and refinancing
Applying can be easily done online or over the phone
When you apply, you'll be assigned a dedicated VA loan specialist
Specialized in VA loans and military borrowers
Licensed in 50 states and Washington, DC
Though Veterans First rates are slightly higher than others on our list, they're still competitive — and total loan costs tend toward the lower end of the spectrum.
Where this lender really stands out is in its focus on customer service and online convenience. Borrowers can apply online, track and upload documents, and e-sign important papers.
Quicken Loans Review
Minimum Credit Score: 620
Quicken Loans Highlights:
Easy online application process through the Rocket Mortgage platform
Offers purchase, refinance, jumbo, fixed, adjustable, FHA, and 15-, 25-, or 30-year fixed-rate VA loans for purchase or refi
Approves VA loans with one of the highest DTI ratios a lender can require (60%)
Can instantly verify employment and income
YOURGage mortgage allows customizable fixed-rate loan terms
Quicken Loans is not only the largest mortgage lender in the country, it's also the second-largest originator of VA loans by volume. While its main focus is on its seamless online experience through Rocket Mortgage, Quicken also has 3,000 mortgage bankers for those who prefer speaking with a person.
Since it's a non-depository lender, Quicken doesn't offer home equity loans or home equity lines of credit. Further, though its rates and fees are a bit higher than average, Quicken has been the highest-ranked lender in mortgage origination satisfaction in the J.D. Power U.S. Primary Mortgage Origination Satisfaction Study for eleven years running.
Ads by Money. We may be compensated if you click this ad.
Ad
Apply for a VA Loan with Quicken Loans.
Get a Free Quote
LendingTree Review
Minimum Credit Score: N/A
Lending Tree Highlights:
Complete just one form, and receive competing quotes from multiple lenders
Platform also lets you access many other financial products, even debt relief programs
Easy-to-use mobile app
Over 1,500 potential lenders
0% down payment options
LendingTree is the nation's largest online lending marketplace, offering a wide array of VA mortgage options. The biggest advantage LendingTree offers to military borrowers is in how its platform allows for simple comparison of competing quotes. This can especially come in handy with rarer loans, such as ARMs (adjustable-rate mortgages), since using a marketplace can help you consolidate offers.
Choose the Right VA Loan for You
The U.S. Department of Veterans Affairs offers four different types of loan products, each with its own set of requirements and limitations. Evaluate all loan options before deciding which best suits your needs.
Purchase Loan
Purchase loans are designed for the service member who is looking to purchase a primary residence, make energy-efficient upgrades to their home, or buy property to construct a home.
With the passage of the Blue Water Vietnam Veterans Act of 2019, the VA itself no longer places a maximum limit on the amount that can be borrowed. However:
Your VA mortgage lender may place a limit on the amount you can borrow. In most counties in the US, the maximum loan amount is $510,400 for 2020, but it can be as high as $765,600.
You cannot use a VA mortgage loan to purchase a vacation home, rental property, or a fixer-upper in need of major repairs.
Interest Rate Reduction Refinance Loan (IRRRL)
The IRRRL, also known as a streamlined refinance loan, can only be obtained to refinance an existing VA mortgage. It can be used to get a lower interest rate, reduce the term of the original loan, or convert an adjustable-rate mortgage (ARM) to a fixed-rate mortgage.
Cash-Out Refinance Loan
A cash-out refinance can be used to replace your existing VA loan with one with new terms, in order to take advantage of your home equity. You can also use the cash-out option to refinance a non-VA-backed loan into a VA-backed loan to obtain better terms.
Native American Direct Loan (NADL)
This is the only loan offered by the VA that is managed and funded directly by the government entity. This loan is available to any veteran who is, or whose spouse is, a Native American, and can be used to buy, build, or improve a home on federal trust land.
As of January 1, 2020, there was no limit to the amount of money that could be borrowed (aside from the limits imposed by creditworthiness and DTI) with this program.
What You Need to Know About VA Home Loans
VA Home Loan Eligibility
The VA home loan program is a great way for active-duty military members, veterans, past and present members of the National Guard, and the surviving spouses of military personnel who died in combat to use their military benefits.
While a VA home loan does not have a credit score minimum, most participating VA loan lenders do require a minimum credit score of 620. Our advice? Always check your score before applying for a loan, and take steps to improve that score if you can.
There are service requirements, however:
Veterans and active-duty service members need to have served at least 90 days during wartime, or 181 days during peacetime.
National Guard members must have served at least 90 days of active-duty service during wartime or six years of creditable service in the Select Reserves or Guard.
Once you have been deemed eligible, you must apply for a Certificate of Eligibility (COE), which serves as proof to the VA mortgage lender that you meet the VA's eligibility requirements.
The most common VA home loans are provided by private lenders but guaranteed by the Federal government; if the borrower were to default on the loan, the government will repay part or all of the loan as part of the guarantee and provide several benefits to qualifying military service members.
Ads by Money. We may be compensated if you click this ad.
Ad
Ready to take the next step and buy your new home?
For veterans, active-duty service members and surviving spouses, VA Home Loans can help make buying a home more affordable.
Get Started
Benefits of a VA Mortgage Loan:
Interest rates and credit score requirements are lower than for conventional loans
You may be approved with more debt
No down payment, meaning fewer out-of-pocket costs
No need for private mortgage insurance (PMI) or mortgage insurance premium (MIP)
More lenient refinance options than conventional loans
Access to more mortgage relief options, such as mortgage modifications or a forbearance period
Disadvantages of a VA Mortgage Loan:
Lenders may have additional requirements for homebuyers since the VA only covers 25% of the loan
Closing costs aren't covered
The VA funding fee is non-negotiable and can range between 1.25% to more than 3%
Factoring in the funding fee may mean that your loan exceeds the market value of the home
VA loans cannot be used for rental properties
The home must pass VA safety requirements, which may include inspections for termites, water quality, and more
..
Coronavirus Mortgage Relief for VA Home Loans
The Coronavirus Aid, Relief and Economic Security Act (CARES Act) can help VA home loan borrowers who have been economically impacted by the COVID-19 pandemic by allowing for mortgage forbearance, moratoriums on foreclosures and evictions, and credit score protection.
How the CARES Act helps VA home loan borrowers:
VA Mortgage Forbearance
If you have experienced a decrease in or complete loss of income due to the effects of the Coronavirus, you can request forbearance from your VA mortgage lender.
Forbearance means you can make reduced or no payments for a period of one month up to a maximum of 180 days, with the ability to request an additional 180-day period.
During the forbearance period, your VA mortgage loan will continue to accumulate interest, but you won't incur any late fees or penalties. Your missed payments are not forgiven or canceled, just postponed.
Once the forbearance period ends, there are four ways of repaying the missed VA mortgage payments:
Paying a larger than required monthly payment once you resume mortgage payments, until the deferred amount is paid off
Paying the deferred amount in a lump sum at some point during the life of the VA loan
Making a balloon payment at the end of your loan term, in which case the VA requires that the amount be non-interest bearing
Requesting a loan modification to extend the term of your loan. The Department of Veterans Affairs allows for loans to be extended up to 360 months (30 years), so long as the extension is 120 months (10 years) or less on the original maturity date on your VA mortgage note.
Requesting a forbearance is as simple as calling your VA mortgage lender and requesting it. There is no documentation required. However, if you can continue to make your loan payments, it is highly recommended that you do so.
Moratorium on Foreclosures and Evictions
The CARES Act establishes a moratorium on foreclosures and evictions until December 31, 2020. This means that:
No new actions to evict from or foreclose on a property can be initiated by the lender.
If a property was already in foreclosure, that process is temporarily halted until after December 31, 2020.
If you find yourself in danger of losing your home once the moratorium ends, you should contact the VA for immediate help.
Protection for your Credit Score
The CARES Act provides protection by establishing rules for how VA loan lenders report information to the credit bureaus:
If you are up to date on your VA mortgage payments and go into forbearance, your VA mortgage lender is required to report your account as being current. They can mark the account as being in forbearance, which may affect your ability to apply for new credit while in forbearance but will not negatively affect your credit score.
If you were behind in your VA mortgage payments and ask for a forbearance, your VA loan lender is required to maintain that delinquent status until you bring the account up to date. Your score should stay the same as it was before forbearance. However, it will already have been affected, as you were already delinquent in your payments.
Know the Costs Associated with VA Loans
While VA loans don't require a down payment or PMI, it doesn't mean there aren't other out-of-pocket costs. VA mortgages do come with an upfront mortgage insurance provision, known as the VA Funding Fee. The fee can range from a low of 0.5% to 3.60% of the loan, is added to the mortgage amount, and can be either financed over the term of the loan or paid upfront at closing.
In some cases, such as veterans on a service-related disability, or active-duty service members with proof of being a recipient of a Purple Heart at closing time, the funding fees may be waived.
Other closing costs associated with VA loans include:
Real estate commissions
Brokerage fees
Loan origination fees
Discount points
Appraisals
Title fees
Under VA mortgage lending rules, a property seller can pay up to 4% of the total loan amount toward the veteran's closing costs (these are known as "seller's concessions"). The veteran can also cover the closing costs through a gift from a family member.
Best VA Loan Lenders FAQs
What is a VA loan?
A VA loan is a no-down-payment mortgage military benefit partially backed by the Department of Veterans Affairs (VA). Borrowers can use the loans for the purchase of a primary residence or to refinance an existing mortgage.
How do you get a VA loan?
How many times can you use a VA loan?
So long as you meet the availability requirements, VA loans are a military benefit that can be used more than once to purchase or refinance a principal residence. However, you may be able to use a partial entitlement for a second loan, if you haven't used it all on your first mortgage. Bear in mind that using a partial entitlement may mean you'll need to shell out a down payment, and a higher VA funding fee.
Do sellers prefer VA loans?
There used to be some resistance from sellers regarding VA loans. However, many of the reasons given — slow closing times, and sellers having to pay all closing costs — are no longer true. While it is true that the conditions of VA loans mean that homebuyers cannot be required to pay closing costs, these are often wrapped into the lender's origination fee. Further, the VA does allow borrowers to pay up to 4% in buyer's costs if they so choose.
How We Chose the Best VA Mortgage Lenders
Experienced VA Loan Providers
We prioritized VA mortgage lenders that process many VA loans. The home buying and mortgage application processes can be complicated. Having a VA mortgage lender who is familiar with this process ensures that all the steps required are taken care of in a timely manner.
Customer Service
We also prioritized VA mortgage lenders that excel in customer satisfaction and provide first-time homebuyers or homeowners step-by-step guidance throughout the pre-approval, application, and loan closing process.
The 7 Best VA Loan Lenders of 2021
Resources
Download Money's 21 Smartest Money Moves for 2021
Fine tune your financial life this year with Money's expert advice on investing, retirement, building credit, and more. It even comes with a handy checklist. Best of all? It costs you nothing.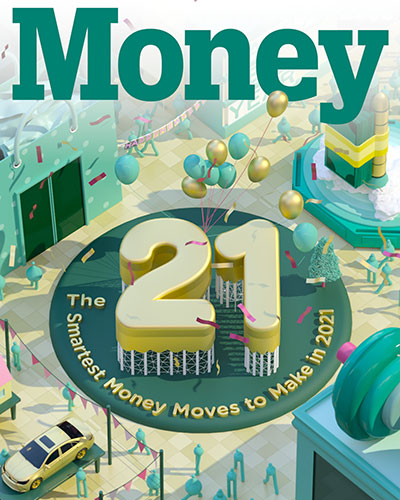 Download Money's 21 Smartest Money Moves for 2021
Fine tune your financial life this year with Money's expert advice on investing, retirement, building credit, and more. It even comes with a handy checklist. Best of all? It costs you nothing.
Success!
Check your inbox or begin downloading your 2021 Toolkit now be selecting the button below.
Download now