The 6 Best Auto Refinance Companies of 2021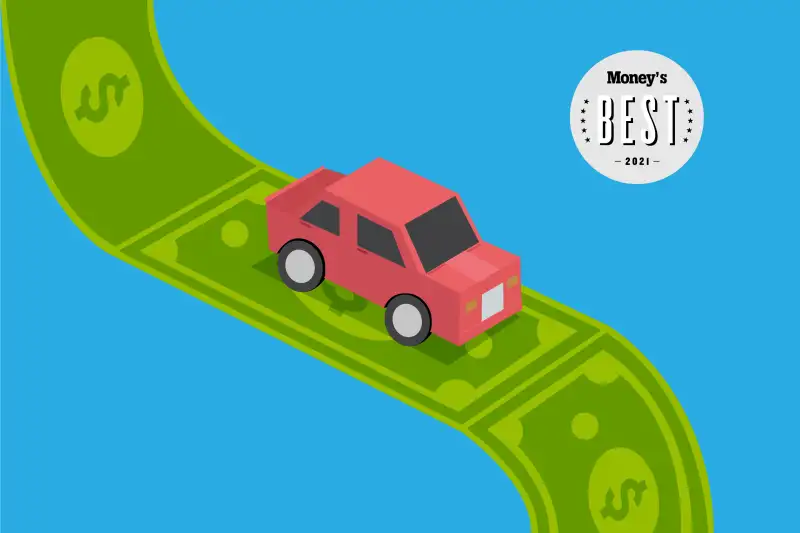 To refinance your car loans means finding a comfortable interest rate that can help you with your car payment. We have picked 6 of the best auto refinance companies on the market and gathered insights on the car loan industry. Read on to learn what you can do to get the best loan terms for your needs.
The 6 Best Auto Refinance Companies of 2021
Ads by Money. We may be compensated if you click this ad.
Ad
Refinancing Your Auto Loan Could Lower Your Monthly Payments
An auto refinance loan is a secured loan used to pay the existing balance on a current car loan.
Start Now
LendingTree offers a place to compare rates for just about any financial product, including auto refinance loans. The company's approach is simple: You submit a short form online, and the website connects you with up to five different lenders that can help you refinance your car loan.
Additionally, since LendingTree now has its own customer support staff, you don't have to depend solely on the lender you're matched with. If you have any queries about your lender or LendingTree's services, their staff will be there to help you.
| | |
| --- | --- |
| Pros | Cons |
| Compare rates with various lenders | You may not qualify for advertised rates |
| Has its own support staff | There may be limits on some loans |
| Quote request form takes less than five minutes | |
rateGenius: Best Marketplace Runner-up
rateGenius, another well-established rate comparison site, focuses on keeping refinances within your existing term length so you won't pay more over the life of the loan.
After you enter your information, rateGenius will show quotes from its network of over 150 auto refinance companies. If you can get a better rate with one of these lenders, you'll work directly with rateGenius' lending specialists to complete your loan application.
rateGenius will even handle the back-end work, such as making sure your old loan gets paid off on time and that your new auto loan is set up correctly.
| | |
| --- | --- |
| Pros | Cons |
| Loan terms between 24-87 months | Requires minimum income of $2,000/month |
| Over 150 partnered auto refinance companies | Requires a hard credit check |
| Will handle the back-end work for you | Approval can take up to 48 hours |
Autopay: Best for Refinance Options
Autopay's greatest strength is that it offers a multitude of options for refinancing your car. While the company offers the typical auto refinance option, they also have two other options that you rarely find in marketplaces: cash-out refinancing and lease buyouts.
Cash-out refinancing works best when you need extra cash at the lowest rate, and lease buyouts are an excellent choice if you're locked into an expensive lease and want to buy a car instead.
Although these two options could solve your current bind, remember that they'll also increase long-term costs. For example, cash-out refinancing could swell your refinanced loan significantly. If you tried to sell the car the following year, the sales price might not be enough to pay off your loan.
| | |
| --- | --- |
| Pros | Cons |
| Rates as low as 1.99% | Has vehicle restrictions |
| 94% loan approval rate | May require a down payment |
| Allows co-applicants | |
MyAutoLoan.com: Best for Competitive Interest Rates
Whether you're buying from a private party, refinancing your car, or getting a motorcycle, MyAutoLoan.com can connect you with competitive rates and a wide variety of financing options focused on low-interest loans.
You will need an income of at least $1,800 per month and a credit score of 500 to submit an online application. Shoppers with the best credentials will have the choices for better loans — with the possibility of an annual percentage rate as low as 2.99 percent.
MyAutoLoan.com's partners don't offer loans lower than $8,000, and the service will do a hard inquiry on your credit report, so don't apply unless you're serious about refinancing your loan. Another downside is that MyAutoLoan.com doesn't work in Alaska or Hawaii, so customers in these states will have to look elsewhere for refinancing.
| | |
| --- | --- |
| Pros | Cons |
| 30 days to decide | Lowest loan: $8,000 |
| Minimum credit score requirement of 500 | Maximum vehicle mileage of 125,000 miles (or 120,000 miles for private party loans) |
| APR as low as 2.99% | Maximum vehicle age: 10 years |
Refinancing saves you the most when your credit has improved after taking out your current auto loan. But if your credit's the same or even worse now, you're not entirely out of luck.
Auto Credit Express specializes in helping people with average to poor credit get a better rate on their loans, especially if you've been making on-time payments on your current loan for at least 18 months. They do this either by connecting you to one of their specialized indirect lenders or via their finance department.
The application process takes no more than three minutes, and the company performs a soft credit inquiry on your credit score. Additionally, if you're looking to know more about the lending industry, Auto Credit Express has excellent learning resources, including in-depth blogs and instructional videos.
| | |
| --- | --- |
| Pros | Cons |
| Specializes in customers with low credit score | Options limited to the Auto Credit Express dealership network |
| Minimal requirements to qualify | May have high interest rates |
| Military and service members may get lower rates, down payments, and discounts | |
PenFed: Best Auto Refinance Rates
Being a credit union, PenFed offers some of the lowest auto refinance rates on the market for both new and used cars, with zero application or processing fees and no prepayment penalties.
Repayment terms range from 36 months to 84 months for a new car refinance and 72 months for a used car, with the ability to refinance 100% of your outstanding car loan balance.
Interest rates start at 2.14% for a new car refinance, and 2.99% for a used car refinance. A new car is one where you are the vehicle's original loan owner, and the car is a model year 2020 or 2019. The maximum loan amount you can get from PenFed is $100,000. The lender also offers credit counseling and works with customers to find the best option to fit their needs.
| | |
| --- | --- |
| Pros | Cons |
| Ability to refinance 100% of your car loan balance | Excellent credit required for lowest rates |
| Provides rate discounts for using its car buying service | Required membership |
| Easy online application | |
COVID-19 and the Auto Loan Industry
Like other industries, the auto loan and refinance market has been affected by the coronavirus pandemic. Unemployment rates have remained stagnant at 6.7%, meaning that many people struggle with loan payments, including car loans, which are not secured — or guaranteed — by the federal government and thus were omitted from the CARES act.
However, this doesn't mean that help isn't available if you're struggling with your auto loan, as almost every lender is offering relief for customers in some form or another.
Additionally, car loan interest rates have dropped nationwide, so if you can afford it and have good credit, it can now be a good time to refinance your car loan.
Unfortunately, since economic prospects are still unstable, lenders are more cautious when approving car loans and refinancing. You might need to prove that you're employed, have a source of income to pay for your loan, or at least have a cosigner to guarantee that you won't default.
Important Things to Know about Refinancing Auto Loans
Refinancing with a longer term should decrease your monthly payments, but it will also increase the total interests you'll be paying.
Interest rates for long-term loans usually are higher than rates on short-term loans.
Cash-out refinancing gives you cashback for taking out a larger loan than you need, but you risk owing more than your car is worth.
Continue paying your old auto loan until you get confirmation from your previous lender that the loan has been refinanced.
Although most people refinance with a new lender, it doesn't hurt to check with your current lender as well, especially if you have a long credit history with the company.
Before applying for refinancing, check with your lender to ensure there are no prepayment penalties that could add to the overall cost of refinancing.
Some lenders may charge an origination fee for the new loan.
How to Find a Good Auto Refinance Company
A suitable lender will always help you understand all your options, including those that best fit your financing goals in the long run. No matter if you found your lender on your own or through a marketplace, take the time to research the lender you're working with.
Here are some steps as to how to find the best auto refinance company:
Look at financial stability – Credit rating agencies like Moody's can help you assess your lender's financial health. Healthier financial institutions tend to offer the best rates, especially when you're a highly qualified borrower.
Check customer complaints – Consumers often file complaints with the Consumer Financial Protection Bureau (CFPB) or the Federal Trade Commission (FTC). Read these complaints thoroughly, since there's a big difference between "this company had rude customer service" and "this company was sued for $20 million in a class-action suit."
Expect transparency – Legitimate companies will be transparent about their operations, partners, and underwriters. If this information is incomplete or missing, always move on to another company.
Be wary of upfront fees – Look out for companies that require you to pay upfront for their services. These platforms are trying to make money off of you instead of making sure you're connected with a quality lender.
Find out about privacy – Before submitting your personal information, find out how the lender or marketplace protects your privacy. Most legitimate sites will publish their privacy policies online.
Keep your eyes open – If something feels off with a company, or if the terms of the loan seem too good to be true, chances are they are. Avoid these companies at all costs.
How to Refinance a Car
As with a mortgage or any other loan, you will have to meet your new lender's requirements to refinance your auto loan rates. Make sure you prequalify by learning what these requisites are before applying for refinancing.
Be current on your payments – You must be up to date with your current car loan payments. Otherwise, it will be near impossible to qualify for a new loan.
You can't be upside-down on your current loan – Being upside-down on a car loan means you owe more than the car is worth. If this is the case, you won't be able to refinance your loan. Thus, you need to have equity in your vehicle to qualify for refinancing.
Meet the new lender's car requirements – Each lender will have requirements for your car's age and mileage. If it's too old or has too many miles on it, you won't qualify for refinancing.
Meet the new lender's minimum balance requirement – As with age and mileage, each lender has a minimum and maximum amount they'll refinance. If your current balance is too low or too high, you won't qualify.
Make sure the car title is clear – Lenders won't refinance cars that are "branded," such as rebuilt or salvaged vehicles or commercial vehicles.
Should you consider a cash-out refinance?
Sometimes your new loan can provide more money than you'd need to pay off your existing loan. In this case, you could keep the extra cash. This is called a "cash-out" refinance.
Pros of a cash-out refinance
Better loan terms (possibly) – auto loans typically have lower rates than credit cards or personal loans
Immediate access to cash – this is probably the biggest motivator for a cash-out refinance
Cons of a cash-out refinance
Going upside down – a cash-out refinance could turn your auto loan "upside-down," meaning you'd owe more than your car is worth. If you then needed to sell the car, your sale price probably wouldn't generate enough to pay off your negative equity. You'd have to come up with the rest of the money somehow.
Higher monthly payments – A larger loan will increase your monthly payment, of course. Decide whether the cash you're retrieving for the loan justifies higher payments for the next several years. Determine the use of your cash before deciding. If the money eliminates a high-interest debt, it may be worth it.
Fewer options – not all auto lenders offer cash-out refinancing, meaning your choices may be limited to a handful of lenders
Can You Refinance a Car Lease?
Instead of a car loan, you may have a leasing agreement with high rates that you'd like to reduce, and you're considering whether to refinance the lease. You could technically refinance the lease yourself, but this means that you'd be taking out a loan to buy your car outright. You may end up with a lower monthly payment, but you'll likely lose out on the money you've already paid into the lease and possibly force you to spend more money on prepayment penalties.
If refinancing isn't the best option for you, you could speak with your lender about a lease replacement, which just means swapping out your current lease for one with more favorable terms and interest rates.
When breaking your car lease, other options include transferring the lease, selling your car back to the dealership, or selling the vehicle to another person. However, each of these options has costs associated with them. Evaluate each alternative thoroughly before deciding to refinance or break a lease.
Auto Refinance Companies FAQs
When should you refinance your car loan?
The best moment to refinance your car loan is when it helps you save money, when you have a good credit score, or when your score has improved. By refinancing your car loan with better credit, the chances are that you'll get better interest rates, which can also help you negotiate for a reduced loan term length. You shouldn't consider refinancing your car loan if you are financially stressed or if your loan value goes underwater. An underwater or upside-down loan means that its value is higher than what your car is worth. This type of loan will impact your loan to value ratio, making it less likely that you'll receive favorable loan terms for your refinance.
Does auto refinancing hurt your credit?
Since insurers can make a "hard pull/inquiry" on your credit score to check your creditworthiness, there is a chance that your credit score will decrease, although minimally. Also, if you qualify and accept the new loan terms, your score will drop minimally again. Fortunately, the FICO score system encourages loan shopping since it prevents multiple continuous inquiries from harming your score. Credit bureaus do this by counting multiple credit pulls as one, if done 14 days after the first inquiry.
Can I refinance my car loan through the same lender?
Yes, you can refinance your auto loan through the same lender, as long as they offer the option. However, there is a chance that the rates provided by them aren't the cheapest on the market. If this is the case, you will have to weigh whether you want to remain with the same lender or would like your refinance to enjoy low rates.
Can I get a loan with bad credit?
It's possible to get a car loan with bad credit, but it will be more challenging for people with a good or excellent credit score. A lender always evaluates how risky potential customers are as borrowers, and they do it by checking your credit score. In most cases, your rates will be higher than those with better credit. Some lenders prefer or focus solely on customers with bad credit, so search online to see if the lender you're interested in is one of them.
Can I transfer my car loan to another person?
It's possible to transfer your car loan to someone else, but since some lenders don't allow transfers, you should always ask the company you're interested in first. Some companies offer loan transfers for free, but most charge transferring and/or merchant fees. However, to prevent loan defaults, lenders always check that the transferee has a good credit score and income. If the person's creditworthiness and income aren't up to par, chances are the transfer won't be approved.
Do you need a down payment for a car loan?
Nowadays, auto loans don't require a down payment. However, a down payment is considered a good financial decision as it reduces the loan's overall balance. When you choose the term length of your loan, the lender divides the total cost into equal parts, so if you don't place a down payment, these monthly installments will take into account the car's full price. However, if you make a sizable down payment, your loan balance is reduced, leading to lower monthly installments and lower interest rates.
How We Chose the Best Auto Refinance Companies
After more than 100 hours of research and 15 companies vetted, we chose to base our evaluations on two categories: loan details and customer experience.
Loan details
We checked the loan types and qualification requirements for each company. Also, to help you find great refinance options faster, we added marketplaces with reputable standings on the auto loan industry.
Loan types: We checked to see that companies and marketplaces offered more than just your typical car loan refinance options, such as used auto loans, lease buyouts, and cash refinancing.
Qualification Requisites: Since credit scores are so important for auto loan refinancing, we made sure that our list offers options for people with high or low credit scores.
Customer Experience
For this category, we made sure that the choices we listed were reputable and offered more than one way to communicate with them. We also checked for online complaints to see how reliable the companies were.
Reputability: we looked for a company's transparency regarding partners, loan offers, contracts, and possible rates. If the company wasn't transparent on what it did or how it did it, they were discarded immediately. To check for complaints, we searched the CFPB and FTC databases. Those with the least complaints made our list.
We also made sure that companies had more than one way to communicate with them, including live chat, phone calls, emails, and fillable request forms.
Summary of Money's Best Auto Refinance Companies