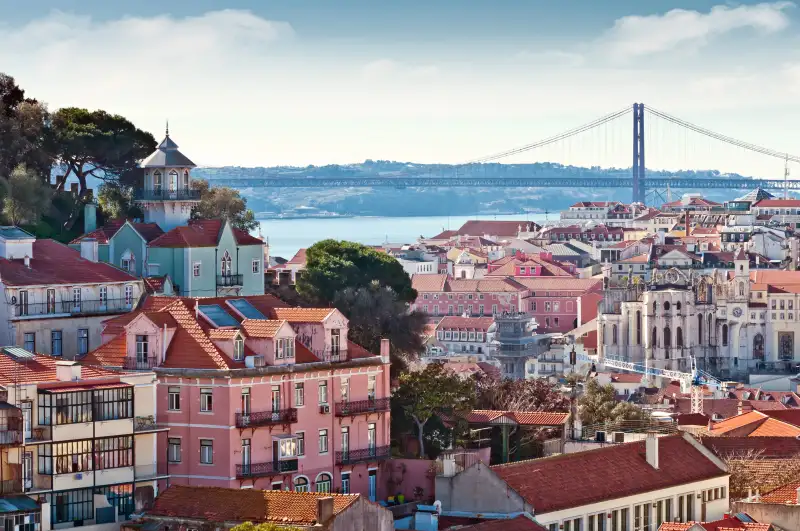 Once overshadowed by European travel behemoths like England and Spain, the gravitational pull of jet setters who have fallen for Portugal's charms is now a force to be reckoned with — owing, in no small part, to its postcard-pretty capital.
Lisbon offers scenic whimsy from every corner: cobblestoned streets weave between candy-colored buildings, yellow trams trot up and down narrow alleys, kitchen linens dangle on laundry lines strung from balconies. The city's idiosyncrasies appeal to travelers of all stripes: families, couples, backpackers, retirees. For many visitors, though, Lisbon's biggest draw is its price tag. (Money readers included: 300 people responded to a poll we sent out in January asking for their top "affordable travel" recommendations for our 2023 Best Places to Travel, and Lisbon won by a landslide.)
The average airfare for U.S. travelers flying roundtrip to Lisbon is about $870, several hundred dollars cheaper than flights to tourist hotspots like Paris, Rome, and Munich, according to data from Kayak and Allianz. The same goes for accommodations: the nightly rate at an Airbnb in London will set you back nearly twice as much as one in Lisbon.
A bargain deal for Americans comes at a steep cost to Lisbon locals. The city's tourism boom has been a major driver of a mounting housing crisis — rents and living expenses have soared; salaries have not. Forced to weather a real estate market so imbalanced that the average Lisbon household now spends 60% of its income on rent, many families have been forced out of the city, and a wave of local shops and restaurants have closed.
Thankfully, that's not where Lisbon's story ends.
After the disruption brought on by COVID-19, the city is now returning to pre-pandemic levels of tourism. And it's figuring out — albeit slowly — how to continue drawing in newcomers without alienating those who call Lisbon home.
There's no easy answer, but solutions are taking root in spaces beyond the scope of travel brochures and guidebooks. For tourists eager to experience everything the city has to offer, knowing what's at stake, and taking an active role in restoring the balance between the people who have walked the streets of Lisbon for centuries and the visitors who just happened to find a good deal on a roundtrip flight, is absolutely critical.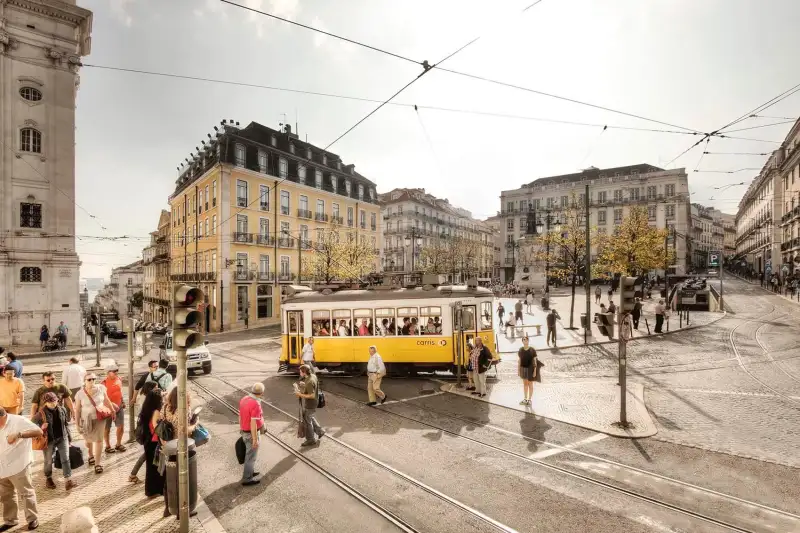 Lisbon's influx of tourism — brought about by government initiatives (and two successive mayors) seeking economic stimulus after the 2008 financial crisis – has changed its neighborhoods in remarkable ways. In recent years, large swaths of the city have been revamped, bike paths have been added and a new promenade now overlooks the Tagus river.
Some of these changes speak largely to the growing power of hospitality conglomerates and wealthy foreigners invested in Lisbon's hotel sector, and little to the people who make the city hum. The Cais do Sodre riverside district, once an industrial dockland, is now home to a massive food hall owned and operated by the Time Out magazine group. Avenida da Liberdade, an expansive boulevard fashioned after the Champs-Élysées in Paris, has hundreds of Airbnb rentals within spitting distance. The Monumento aos Restauradores, a statue celebrating Portuguese independence at the southern end of the Avenue, shares a block with the Hard Rock Cafe (though, to be fair, that's been there since 2003).
And yet, Lisbon is still flush with businesses worth supporting.
Restaurants like O Pitéu in the Graça neighborhood, or the tiny Taberna Sal Grosso near the Santa Apolónia train station, offer typical and affordable Portuguese fare. Tasca da Bela and Maria da Mouraria are known for live fado; music working-class residents of Lisbon have been singing since the early 1800s. Graça do Vinho is a favorite of wine lovers looking for a lively bar.
Newly-opened Praça in the Beato neighborhood lets visitors experience all of Portugal in one place. Not just a restaurant, but also a delicatessen, a grocery store, a wine cellar and more, Praça works with over 240 independent producers — butchers, cheesemongers, vegetable growers — to help bring their goods to as many people as possible.
Like other countries with an imperial past — Portugal participated in the Atlantic slave trade and held on to its colonial territories for centuries — the country is still grappling with the legacy of its history. Restaurants like Casa Mocambo, named after the first African neighborhood in Lisbon (which you'll no longer see on a map), celebrate the culture of countries like Angola and Cape Verde with steaming bowls of moamba chicken and cachupa.
There are countless guided tours of Lisbon, but for a more meaningful experience, look to the Migrantours in the multicultural neighborhood of Mouraria. These walking tours are led by immigrants themselves, who share personal stories of their lives and home countries while leading visitors through the sloped streets and tight alleyways of the neighborhood that's welcomed them with open arms. Tours are €15 per person, and profits benefit Renovar a Mouraria ("Renew the Mouraria"), a grassroots group that provides social, legal and educational services to expats of Cape Verde, Ukraine and elsewhere.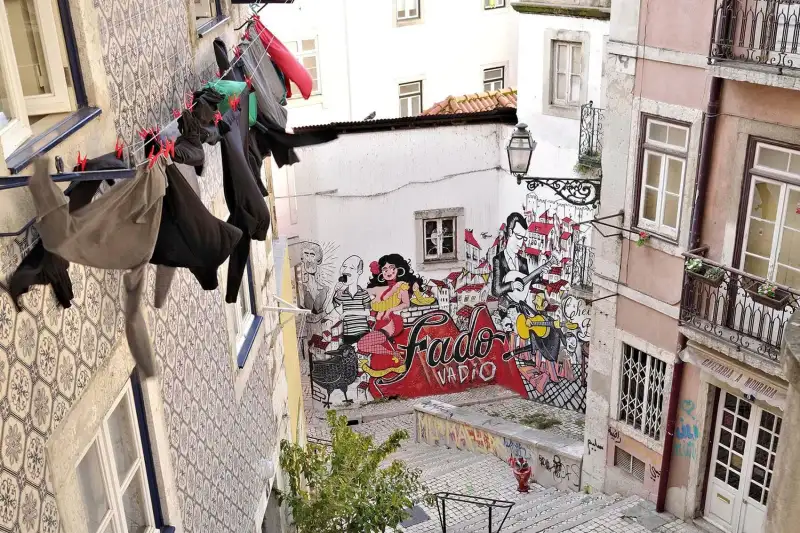 Next, get lunch at Cozinha Popular da Mouraria, a community kitchen run by locals. Then grab souvenirs for loved ones back home at nearby A Vida Portuguesa, an artful general store stocked with nostalgic Portuguese wares from generations ago — perfumed shaving soap, vermouth, smoked sardine pate — resurrected in their original packaging. The shop's founder, Lisbon-born Catarina Portas, is also the entrepreneur behind many of Lisbon's newly-restored quiosques de refresco — colorful, Art Nouveau-esque kiosks sprinkled throughout the city that sell lemonade, horchata and iced coffee to tourists and locals alike, and provide jobs to those behind the counter.
For dinner, venture down Rua São José, an alley off Avenida da Liberdade, where É um Restaurante, another purpose-driven project, mirrors the opulence of the luxury boutiques it neighbors.
The restaurant serves gourmet plates of flaked cod, pumpkin risotto and roast duck (dishes range from €11 to €16), paired with rum and Cachaça cocktails (€6 to €7). Run by the nonprofit Crescer, every employee is a person who has experienced homelessness and is now re-integrating into the job market.
When COVID-19 hit, É um Restaurante closed its dining room and turned its focus to cooking food for the growing number of homeless residents throughout Lisbon. Fully operational once again, and taking reservations from anyone who wants a gratifying meal in one of the most stunning cities in the world, the restaurant's mission, to provide a space for Lisbon's most vulnerable, relies on a steady stream of customers who are cognizant of how their spending impacts the world around them — and what a privilege it is to have a seat at the table.