When Billy Eichner was in grade school, he carried around a three-ring binder with his career plan mapped out on the front cover.
It went as follows: First, he would go to LaGuardia High School for the Performing Arts in Manhattan. After that, he would study film at nearby New York University. Then, according to his Magic Marker vision board, Eichner would become a movie director, though he wasn't quite sure what that meant.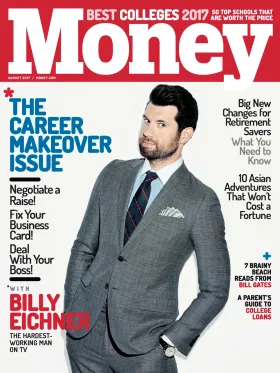 "I used to go around and tell people that," he says. "I don't know why, I didn't know what a movie director really did. But I liked the sound of it."
Like most adolescent career plans, Eichner's didn't pan out exactly as the binder prophesied. But that meticulous planning he started in grade school has carried him throughout his career. Now, he's one of the most in-demand actors in the entertainment industry. You've seen him on Parks and Recreation and Hulu's Difficult People, and he's booked for the next installment of FX's American Horror Story. His success is a master class in finding your niche—and making yourself indispensable to your job.
Eichner, 38, is best known these days for Billy on the Street, a man-on-the-street-style game show, in which he plays a parody version of himself—a quick-tempered theater geek who approaches pop culture with childlike reverence and unfiltered criticism. In its simplest form, he's seen racing around the busiest parts of Manhattan, lobbing questions about pop culture to the strangers he runs into. ("Who's weirder, Tom Cruise or John Travolta?" "Do you love Carly Rae Jepsen?" "Are you watching Suits?")
The prizes fluctuate: Some winners get a dollar, others get an elaborate tchotchke that riffs on an obscure cultural moment—like marionettes of the cast of Transparent or a "Tickle Me L. Ron Hubbard." As host, Eichner deals in absolutes. "Winning," for the most part, means agreeing with him; losing means getting shouted at. Five seasons in, Eichner's greatest triumph with Billy (besides persuading jaded New Yorkers and bemused celebrities to keep participating) is he's the only person in the world who could possibly do it.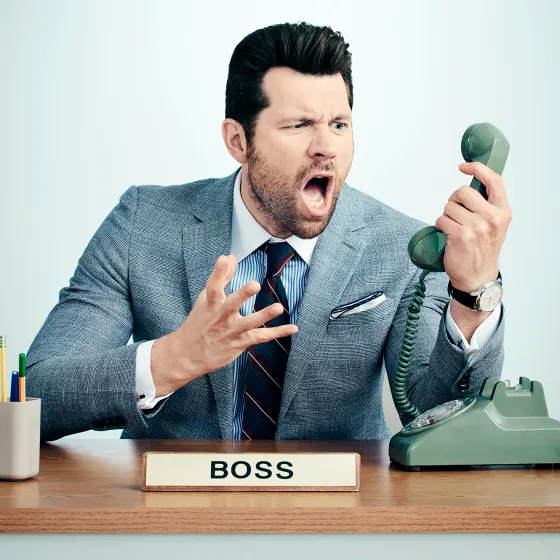 It starts with a hyperactive attention to detail. For all its scrappy, fly-by-the-seat-of-your-pants aesthetics, Billy is actually well-organized and carefully executed.
"Every costume, every prop, every idea gets filtered through me," he says. "It's a huge undertaking, but we do a very good job of making it look like we threw it all together in a couple of weeks. Every little detail has to be right."
Without that level of scrutiny, it's hard to tell where Eichner would be. He doesn't come from show business stock. His dad was an accountant, and his mom worked for a phone company. But early on, they fostered a deep appreciation for the industry that would guide his career path. Raised in Forest Hills, Queens, Eichner grew up just a few subway stops from Manhattan, and he frequented Broadway shows, plays, and concerts with his parents.
At home, the three would sit around listening to Broadway show albums and pop music.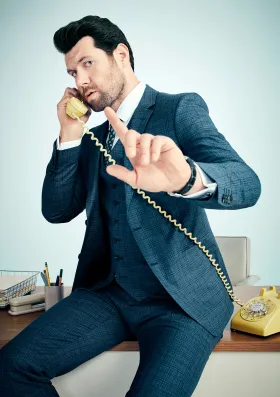 "We loved great performers and great performances," he says. "It all kind of snowballed from there."
Eichner dabbled in the performing arts as a child but "never fully committed to the child actor life," he says. In college he studied theater at Northwestern University in Chicago, where, in addition to acting lessons, he took production and design classes that would serve him well—DIY techniques for what it takes to make something, instead of just being involved in it.
He graduated in 2000 and moved back to New York, quickly hitting all the usual out-of-work actor tropes: auditions, tending bar, praying for callbacks, begging his dad for money.
After a few years of this and not much to show for it, Eichner had a moment of clarity. If he didn't find a way to make himself stand out, he'd be waiting in audition lines for the rest of his life. His solution is one today's gig-economy workers and freelance employees will recognize: If you can't find a job, create one.
"I wasn't going to let waiting in line with 500 other actors be my fate," he says. "So I had to think about what I can do that other people can't. A lot of people can act. But not a lot of people can be funny."
So he went back to school and started taking improv, sketch, and stand-up classes at the Upright Citizens Brigade, the famous comedy theater and school cofounded by Amy Poehler, who would later become an early champion of his work.
Around the same time, Eichner collaborated with some friends on a live comedy show called Creation Nation. Eichner played the host, and one well-received segment featured an irrational pop culture obsessive who forced people to talk about things like Iraq, nuclear weapons, and Cate Blanchett's career. Thanks to videos posted on YouTube, it was seen by the right people.
Soon after, he inked a deal with cable channel Fuse to bring Billy on the Street to the masses. Six years later, he's everywhere. The third season of Difficult People, a sitcom about two jaded New Yorkers, premieres this summer. He's on the upcoming ensemble Netflix comedy Friends From College, and is rumored to voice Timon in the upcoming live-action adaptation of The Lion King. All because of a hustle mentality that dictated he get the training he needed to stand out.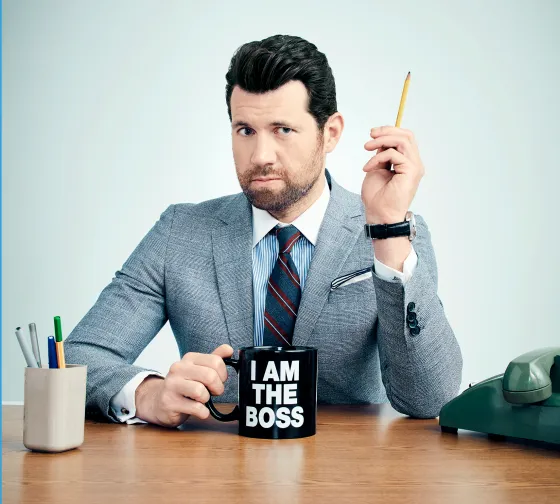 "It's all a fight," he says. "Especially when you're an out-of-the-box talent."
Eichner's also finding that after five seasons of high-energy camp and increasingly elaborate stunts, expectations are high. Many of Eichner's Billy clips go viral, and as much as he wants to be consistently funny, he knows how important it is in today's fast-paced world to avoid parroting the same, tired shtick over and over. Because there's always another kid coming up, with his own version of the three-ring-binder plan.
"I never said I wanted to be the boss of a show where I'm running around screaming at people on the street," he says. "But that's what's happened to work. It's in my nature to be working and thinking what I'm going to do today, six months from now, two years from now. That's always in my head at once, and I don't see that changing."