Suze Orman is a seriously wealthy woman. But of all the things she could show off in her gleaming white Bahamas mansion, what she's most excited about are … her fishing lures.
Big, small, pink, iridescent, all with shiny tempting eyes. The collection, her pride and joy, is better organized than a bait and tackle shop. It's tucked away in a glossy cabinet in her pristine home on a private island. This is where Orman is living out her early retirement as—and this might surprise you—a fisherwoman.
After decades in the public eye and 14 years hosting The Suze Orman Show, the personal finance series that was once CNBC's highest-rated program, Orman stepped away from it all when the show ended its run in 2015. Now she and her wife, Kathy "KT" Travis, live full-time in the Bahamas, where they spend their days out fishing on their modest boat, a guppy compared with their neighbors' gleaming whales docked in the harbor.
Who needs CNBC? Who needs stress? Who needs a full-time job when you have an ocean full of lionfish and lobster and wahoo?
"It's fun to master something new. I mastered money," Orman says on a recent day at the island, presiding over a lunch made entirely of fish she has caught. To finance this second act, she and Travis sold four homes in New York, South Africa, and San Francisco. (They own another in Florida.) Her paradise is a short flight from Fort Lauderdale, a low-key haven where she can be found puttering around on a golf cart and cheerfully addressing everyone by name.
Of course Orman, 66, isn't done working yet. As she wrote for Money recently, "70 is the new retirement age—not a month or year before." So this is her life—happy retiree, devoted wife, expert fisherwoman—for now.
A Day in the Life
The routine is simple. She and Travis fish for up to eight hours a day. Travis cooks, Orman does the dishes. On the side of the house, Travis tends to a little garden with basil and tiny watermelon. Downstairs in the basement, Orman has amassed three deep freezers full of fish caught over the past year, enough to survive an apocalypse, financial or otherwise. Their home is spotless and devoid of clutter, high-end modern and gorgeous, but not enormous. When nieces and nephews come over, they like to sleep on air mattresses outside by the fire pit. No wonder the couple call the place Purnata: "perfection" in Sanskrit.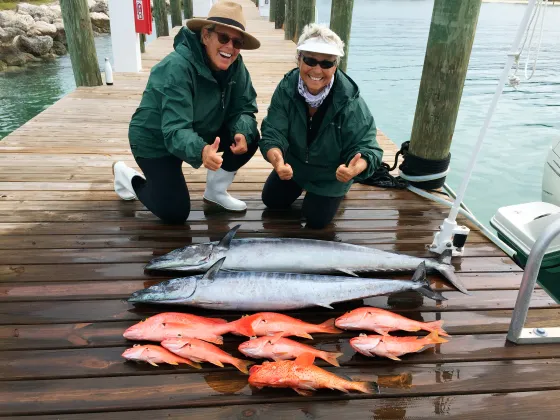 The island's wealthy residents text one another trophy photos of their most impressive catches, and Orman scrolls through dozens of the exchanges on her phone. There she is—blond hair, big sunglasses, even bigger fish. You've never seen someone so proud to hold a tuna.
"You look so happy," I say. "I am happy!" she replies in her signature singsong cadence.
Yet like most people who try to retire, Orman finds herself drifting back to old habits while adopting new ones. In her case this means giving people advice, even when it's unsolicited. "Oh, she'll let you know what she's thinking," says Ivan, a Bahamian man who has lived and worked on the island for years, when asked to describe her.
"KT is always making up for what I've done," Orman says with a laugh, noting that she was lucky to find her perfect partner at age 50.
'All These Goddamn Finance Shows'
Just a few weeks after Orman showed off her lures that day, a hurricane arrived, nearly upending her idyllic retirement. Hurricane Irma appeared to be heading straight toward the Bahamas before it veered west at the last minute.
I called Orman to ask how her home had fared. She had evacuated to Chicago, and the island somehow made it through. But not everyone was as lucky—and that's what she wants to talk about.
"People think, 'I'm not going to be hit by a hurricane. I'm not going to be in a flood area.' But what about fire? What about a tornado? What about an earthquake? Everybody has this false sense of security that disaster is never going to touch them. Those things upset me 10 times more than [the idea of] me losing the island or my house," she says.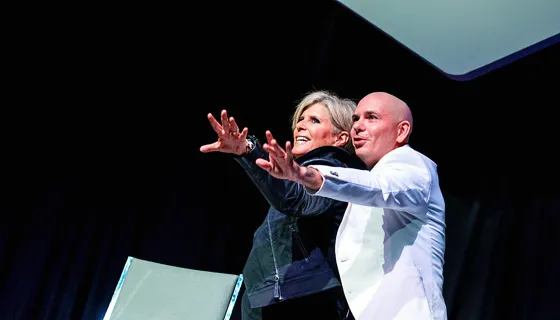 The brush with disaster—and the very real disaster that touched millions of people during this year's violent hurricane season—gets to the heart of her approach to money. Money, according to Suze Orman, is about security. It's there to make you feel safe when everything is going well and to protect you if the worst happens. That ethos drives much of her advice. Get out of debt, save an eight-month emergency fund, contribute to a Roth IRA. All she really wants is for people to prepare for the "what ifs" of life.
Each year, six in 10 people get hit with a financial shock they can't afford, such as a health crisis, layoff, or major expense that wasn't in their budget, according to a Pew survey. Perhaps for this reason, most people don't have very much in retirement savings. The median working-age family has only $5,000 in its retirement accounts, according to a report from the Economic Policy Institute.
"All these goddamn finance shows are talking to people in the stock market, and there's nothing talking to everyday people whose lives could be destroyed with one tornado, one hurricane, one flood, one mishap," Orman says.
As Irma and other catastrophes remind us, life brings all sorts of unexpected storms—and preparation is vital. During Irma, some of the islanders didn't evacuate. Orman didn't trust anyone else's home to stay standing during the storm, so she gave them her house keys. And when the power got knocked out and container ships were kept away, Orman's cache of fish remained frozen, so she donated her haul to feed the island.
"I can use my money now to try to help as many people as I possibly can. I love that," she says. "When you have money, you should never live a life where you isolate yourself from others and just use it for yourself. Money is there to make the world a better place and to help those who really can't help themselves."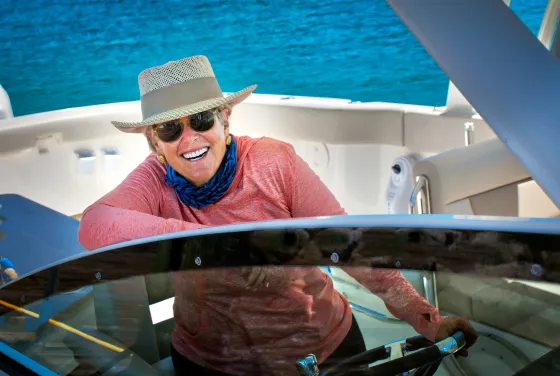 'You Just Do What You Have to Do'
People first, then money, then things. The motto was practically gospel on The Suze Orman Show. Critics used to call the program redundant—the same old advice over and over again. But that was partly by design. "People don't always listen until they need to listen. Until it's really happening to them, it doesn't always go deep into their heads," says Amy Feller Gallant, who worked alongside Orman for 14 years as executive producer.
The same could be said about preparing for retirement. Everyone knows it's coming, but some still treat it like a faraway dream. And now that we're living longer, we have to prepare to live through retirement's ups and downs for potentially decades. That's why Orman has been hollering all these years—she's trying to shock you into attention. What are you going to do when the worst happens?
Her resilience and pragmatic obsession with doomsday was cultivated during a childhood on the South Side of Chicago. Orman says her father hardly ever missed a day of work, despite being riddled with emphysema from being injured in a fire. "You just do what you have to do," she says. "Not what you want to do, but what you have to do."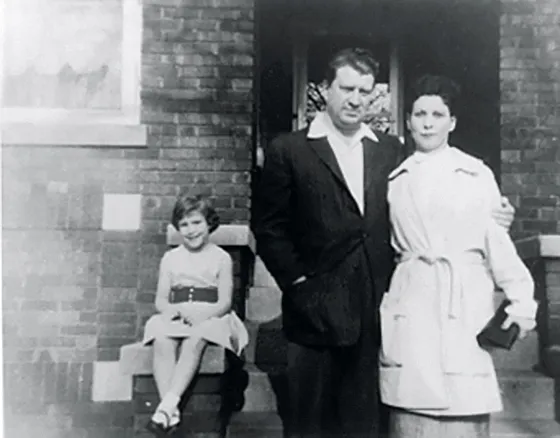 What she had to do wasn't always glamorous. Orman worked as a waitress, making $400 a month until she was 30—at one point living in her car—until some of her regular customers banded together and loaned her $50,000 to start her own restaurant. After a financial advisor at Merrill Lynch lost the money within three months, Orman waltzed into the firm wearing red-and-white striped pants and a blue shirt, looking like the American flag, with no finance background whatsoever, and asked for a job. She got one (if only to fill the "woman quota," she says), sued Merrill Lynch for the loss while she was working there, settled out of court for the full amount, and then built up her career as a stockbroker and financial advisor before her first bestselling book rocketed her into the public eye.
So excuses are nonstarters for her, regardless of your history. "I don't care what happened to you," she says. "You have what it takes to rise above it and be a warrior and not turn your back on the battlefield."
Yes, she actually speaks like this, in sound bites or mantras or whatever you want to call them, loaded with conviction. "I know Oprah always called it the Suze Smackdown, and some people didn't like me because they thought I was too harsh, but I was the only voice of reason in their life," she tells me. "People don't hear things when you say it nicely. They hear it when you scream at them and tell them they're an idiot. The most compassionate thing I have ever done is when I yell at people. But not just yell at them, I also give them the solutions."
What's Next for Suze?
There are signs that Suze Orman is itching to get back in front of people again, perhaps in a new venue. When Feller Gallant, her former producer, visited the Bahamas last February, they did an impromptu Facebook Live session. Fifty thousand people tuned in to watch and ask questions. There's a possible podcast series in the works, a free platform she finds more democratic than cable. And her real dream is to have an artificial intelligence bot offer her financial advice all over the world. There's Siri and Alexa, so why not Suze?
Her passions have also taken her to the Pentagon, where she's educating service members with a video series about FICO scores and the Army's new blended retirement system. She has also appeared onstage to talk about money with Armando Christian Pérez, a.k.a. Pitbull, the Miami rapper-turned-entrepreneur, and the unlikely pair plan to team up again.
She recently collaborated with Money to write a new retirement guide, urging readers to work at least part-time until they're 70.
She'd love to do more, like a series of seminars about women and money. "Women do not say what they're thinking, and they don't do what they are feeling," she says. "They say yes out of fear vs. no out of love for themselves."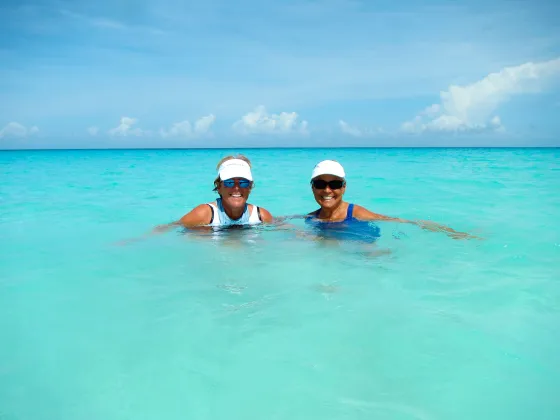 What would that look like? "I would like it to be eight hours over two days," she says. "But nobody thinks they can take me for that long."
Combine all of those possibilities, and it hardly sounds like the schedule of a retiree. But that's the beauty of an empty calendar: You can fill it however you wish.
Back at Purnata, there are only two tchotchkes in the entire house. One is a carved wooden fish. The other is a handmade sign, a gift from their friend Colombia, which hangs on the handle of the front door. Its message? "Gone fishing." Maybe for now, but maybe not for long.