What does your fantasy retirement look like? It's going to be a little bit different for everyone. Some people swear they never want to stop working—especially if it's now on their own terms—while others want their daily grind to be a hike in the woods, or a few rounds on the links.
No matter what your dream, you'll probably want to live somewhere with great amenities and good neighbors, plus a way to make the most of your hard-earned retirement savings.
Finding that perfect, affordable spot can be tricky, so Money has done the legwork for you, identifying seven places in the U.S. guaranteed to win you over—however you want to spend the next phase of your life. (And if you don't find your perfect spot among the following, check out Money's entire Best Places to Live package.)
Best for Water-Lovers: Palm Coast, Florida
50+ population: 45.5%
County median home price: $203,000
Clear days per year: 221
Located on the Sunshine State's east coast between St. Augustine and Daytona Beach, Palm Coast delivers everything water-seeking retirees could want. An extensive network of freshwater and saltwater canals—80 miles in total—flows through the town, linking residents with the Intracoastal Waterway, which runs along the Eastern Seaboard, from Norfolk to the Florida Keys. Those looking to cruise ocean waves or catch saltwater fish can access the Atlantic from Ponce Inlet to the south.
Drive a few minutes past the city's limits and you'll hit the beautiful white sand at Flagler Beach, where you can splash in the surf, fish off the pier, or stroll down the boardwalk. Many of the 19 miles of beach that stretch out along Palm Coast are pet friendly too.
Being slightly off the oceanfront means you can get more square footage at cheaper rates. The median home sale price in Flagler County is $203,000—$46,000 cheaper than in better-known Palm Beach County and almost $75,000 less than in Miami-Dade County.
Best for Lifetime Learners: Marysville, Ohio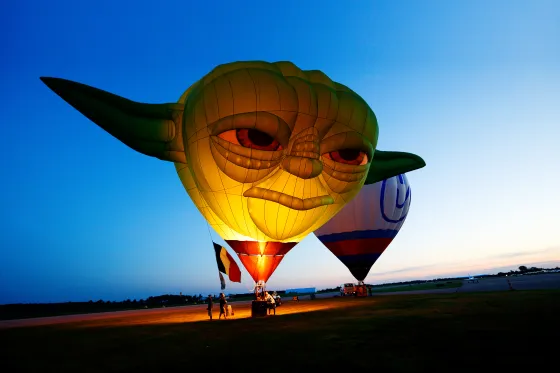 50+ population: 31.6%
County median home price: $376,666
4-Year Colleges within 30 miles: 32
Surrounded by farmland, Marysville may not seem like a perfect fit for those looking to hit the books—but proximity is key here. Ohio allows any resident 60 or older to audit classes for free at any of the state's 13 public universities and 23 community colleges. And Marysville sits only about 30 miles northwest of Columbus, home to Ohio State University.
The third-largest U.S. ­university, OSU is used to ­catering to a wide range of students, including retirees: Seniors get access to free distance learning courses along with free undergraduate and graduate-­level classes. (Complete as much or as little coursework as you want.) Marysville also has more than 30 other four-year universities within a short drive, plus several community colleges.
Taking a semester off? ­Relax in Marysville's cute downtown, with two-story brick buildings, dozens of architectural styles, and a beautiful city hall that dates back to the 1870s. The annual All Ohio Balloon Festival, held every August, happens here and features dozens of hot-air balloons, plus helicopter, airplane, and balloon rides, as well as live music.
Best for Encore Workers: New Braunfels, Texas
50+ population: 32.4%
County median home price: $255,811
Job growth forecast: 15.5%
Launch your postretirement encore career from one of the fastest-growing cities in the U.S. Whether you're after a fun part-time gig to stay active or making a serious stab at a new venture, New Braunfels has the opportunities. Moody's Analytics predicts that between 2016 and 2021 the city will see 15.5% job growth.
Located alongside Interstate 35, New Braunfels offers easy commutes to Austin, 50 miles away, and San Antonio, 30 miles away. It's also home to a Walmart distribution center, manufacturing plants (including one for auto-parts production company Canadian General Tower), and Schlitterbahn's flagship water park and resort—a few reasons that New Braunfels has a low 3.6% unemployment rate.
Many retirees find seasonal jobs working with the tourists who flock to the area every summer, visiting the water park and tubing down the Guadalupe and Comal rivers, says Michael Meek, president of the Greater New Braunfels Chamber of Commerce.
The surrounding beauty of Texas foothill country makes a great base for retirees also looking for outdoor pursuits—from hiking limestone canyons to digging for topaz to wandering through fields of bluebonnets. In town, you'll find charming reminders of its German heritage, like the Wurstfest, a sausage festival held every November, and a bakery that sells fresh pfeffernüsse and lebkuchen.
Best for Urban Enthusiasts: Hoboken, N.J.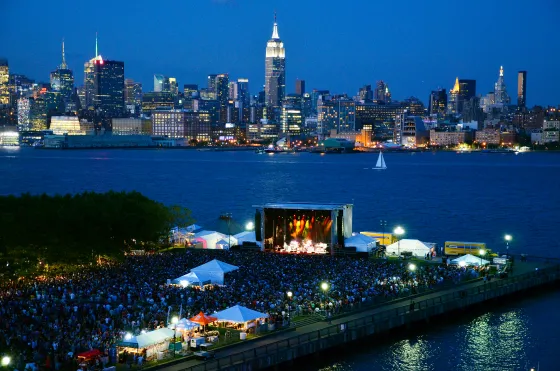 50+ population: 16.8%
County median home price: $409,975
Cultural institutions within 30 miles: 722
Half a century ago this mile-long stretch of Jersey shoreline, across the river from New York City, was best known as Frank Sinatra's hometown and as the setting of 1954's On the Waterfront. But today that gritty past is hard to spot, with eclectic restaurants and refurbished townhouses dotting the walkable streets. One thing that hasn't changed? New York's theaters and art museums remain a short ferry or PATH train ride away.
Any day—or night—of the week, you can get easy access to renowned art museums (such as the Museum of Modern Art and the Whitney Museum of American Art); top musical theater performances on Broadway; world-class ballet and opera at Lincoln Center; and stand-up routines from big-name comedians as well as newcomers at Carolines on Broadway or the Comedy Cellar. An added bonus: You're paying considerably less than city dwellers for the privilege.
Of course, Hoboken has several gems within its own boundaries. Sprawl out on the great lawn of the park at Pier A to catch some rays, have a picnic, or simply take in the postcard-worthy views of the downtown Manhattan skyline. Summer events include free outdoor movie screenings and concerts.
Indulge your literary leanings with a trip to Symposia, a nonprofit used-book store that also hosts a range of events, from book signings to guitar circles. Audiophiles should pop into Tunes' 1,700-square-foot shop to peruse a vast collection of new and used CDs and LPs.
Best for Belt Tighteners: Nixa, Missouri
50+ population: 31.6%
County median home price: $166,078
Average property tax: $1,598
Looking for a spot that will let you max out your quality of life while keeping costs under control? Six miles south of Springfield sits Nixa, a quiet community that boasts the highest quality of living in the region—at a fraction of what you'd pay in other city suburbs.
Don't assume Nixa is down and out: The thriving local economy is forecast to see 8% job growth by 2021. At the same time, homes in Christian County, where Nixa is located, carry a median home sales price of $166,078—$81,055 cheaper than the median among the 2,400 U.S. spots Money surveyed. A typical Nixa property tax bill rings in at $1,598, and its overall cost of living is one of the lowest across the nation.
Use those savings to enjoy nearby attractions such as a jeep ride through the Fantastic Caverns, a tour of the National Tiger Sanctuary, or a stroll through the 114-acre Springfield Botanical Gardens. Drive 30 miles south to sample Branson's famous theaters along 76 Country Boulevard or Silver Dollar City, an 1800s-themed amusement park.
In May, Nixa hosts its annual Sucker Day festival. Started by a barber in 1957, this event centers on catching and frying up "sucker" fish, though today the festivities also include a parade, live music, and local crafts.
Best for Outdoor Adventurers: Broomfield, Colorado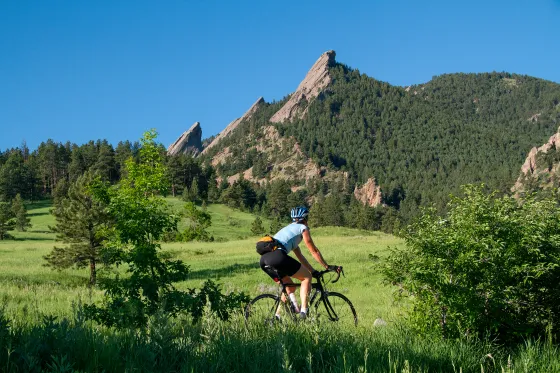 50+ population: 33.1%
County median home price: $370,500
Parkland within 15 miles: 94 square miles
Perched against the gorgeous backdrop of the Rocky Mountains, Broomfield gives retirees a way to stay fit, active, and outdoors without sacrificing urban access.
Drive 30 minutes northwest and you can climb 1,300 feet up Flagstaff Mountain—or visit Chautauqua Park or stunning views of the "Flatirons" rock formations. Just 13 miles to the west lies Eldorado Canyon State Park, a top climbing destination that also makes an ideal spot to picnic, fish, horseback ride, or cross-country ski. Finally, you can reach Colorado's most famous attraction, Rocky Mountain National Park, within an hour and a half.
Right around town, residents can explore more than 8,000 acres of open space and 281 miles of trails, or tee off at three different golf courses. On snowy days, expand your workout to the climbing wall or indoor aquatic park at the Paul Derda Recreation Center.
Along with outdoor activities, Broomfield offers plenty of other quality-of-life benefits. Kick back with a craft brew from the taprooms at Nighthawk Brewery or Four Noses Brewing Co. You can take in a concert or even a circus or a rodeo at Broomfield's 1stBank Center, or zip over to neighboring Boulder or Denver for more city amenities. Broomfield Days, held one weekend in September, offers residents a golf tournament, 5K race, parade, and craft fair.
Best for Golf Fanatics: Falls Church, Virginia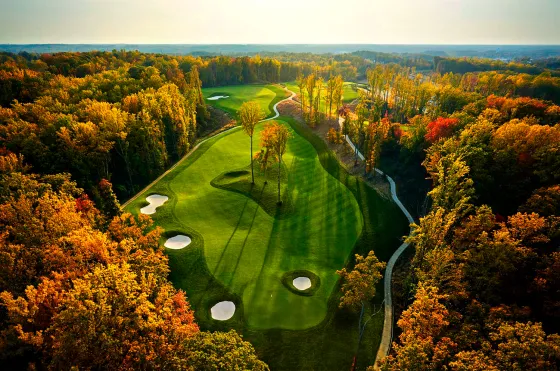 50+ population: 37%
County median home price: $663,683
Golf courses within 30 miles: 168
Swing into retirement by settling down in Falls Church. The quaint Washington, D.C., suburb offers easy access to "an excellent blend of old-money private golf clubs, military courses, and high-end public golf courses," says Joe Passov, senior editor at Golf magazine—"as well as more modestly priced municipal courses."
There are more than 165 golf courses within 30 miles of the town, and the area's temperate weather means you can play the links nearly year-round. Passov recommends trying local favorites such as Potomac Shores Golf Club, designed by golf legend Jack Nicklaus, or the Golf Club at Lansdowne, which offers 45 holes of championship golf.
On days you want to put down the clubs, shop weekly at Falls Church farmers' market, showcasing more than 50 vendors; sample Vietnamese cuisine at the Eden Center; or explore the 45-mile-long Washington & Old Dominion Trail for scenic biking and walking. Or take off for an adventure in the nation's capital; it's just a 10- to 15-minute Metro ride away.
Methodology
To find Money's Best Places to Retire, we looked only at places with populations between 10,000 and 100,000. We eliminated any place that had more than double the national crime risk, less than 85% of its state's median household income, or a lack of ethnic diversity. This gave us 2,400 places.
We then collected about 170,000 different data points to narrow the list. We considered data on each place's economic health, cost of living, crime, taxes, weather, ease of living, and amenities, all provided by research partner Witlytic. Our partners at realtor.com contributed data on housing market costs and growth.
Rankings were derived from more than 70 separate types of data in the following categories: economy, cost of living, housing, crime, amenities, weather, taxes, and pleasantness. For the seven retirement destinations noted here, we generally put the greatest weight on cost-of-living factors as well as whatever amenity or feature Money was highlighting—whether job opportunities, outdoor space, or golf courses.
Finally, reporters researched each spot, checking out neighborhoods, interviewing residents, and searching for the kinds of intangible factors that aren't revealed by statistics.
Among the statistics called out here: Projected job growth reflects Moody's forecasts through 2021. Cultural institutions includes the number of American Alliance of Museums–accredited museums, symphony orchestras, and live theaters within 30 miles of the city or town. Average property tax reflects the annual city tax paid by residents.