Twenty-five miles south of downtown Denver, Parker sits 600 feet higher than the Mile High City. The location means breathtaking views and plenty of proximity to wildlife, with foxes, deer and wild turkeys regularly roaming backyards.
That gorgeous natural setting, combined with spillover from Denver's tech- and natural resource-driven economy, helped fast-growing Parker score top marks in two of our major data categories this year: Economy and Income and Health and Safety. "The city's blowing up," said Jake Minturn, who opened Downhill Brewing, one of Parker's three breweries, in 2017.
A generation ago, Parker was still a ranching outpost of less than 5,000. But as Colorado's economy and population took off in the late 1990s, Parker began to attract white-collar workers and young families looking for more space than Denver had to offer. Today, Parker's population is 59,000 and growing.
As of June 2020, the unemployment rate in Parker was 8.7% compared to the national average of 11.1%. There aren't any major headquarters in the area, so many residents work remotely or commute into Denver. Based on our estimates, only about one in five Parker residents works in industries seriously impacted by COVID-19, like retail and entertainment. And about 76% of the people here own their homes.
Money's Homeowner Toolkit
Whether you're in your forever home, or looking for greener pastures, here are the tools we recommend for all homeowners.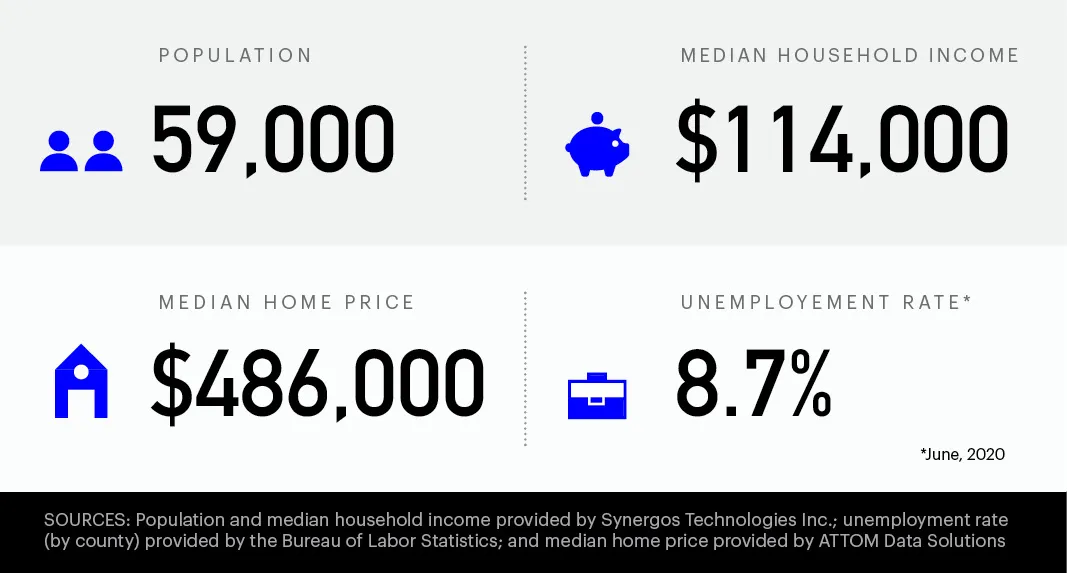 Despite its breakneck growth, Parker has managed to maintain a strong sense of community: The "Talk of the Town" newsletter offers details on local events from watercolor workshops in the summer to the Parker Ice Trail, a 450-foot ice-skating path that winds its way through the town's Discover park from Thanksgiving until Spring.
The sense of community is felt by small businesses too. When COVID-19 struck, Minturn said he feared his brewery's revenue would crater, but he's managed to keep about two-thirds of his regular business. One customer started coming by every day to buy a single 32 oz. "crowler," just to help keep the brewery afloat. "It was all community support," says Minturn. "I teared up a couple of times, it was crazy."
The biggest complaint you'll hear about Parker from local Coloradans is that it remains relatively inconvenient. It's not on any of the major interstates that knit together the Denver area and it's about half an hour farther than downtown from the mountains.
But with prices skyrocketing in Denver, surrounding areas like Parker are starting to look more attractive. Homes in Parker are listed for roughly $169 per square foot compared to $338 in Denver, according to listings. And it might be the right time to buy in: In the last two years, prices for homes were up 2.4% in Denver vs 7.2% in Parker. — Prachi Bhardwaj