3 Ways to Invest in Gold if You're Worried About the Economy
Money is not a client of any investment adviser featured on this page. The information provided on this page is for educational purposes only and is not intended as investment advice. Money does not offer advisory services.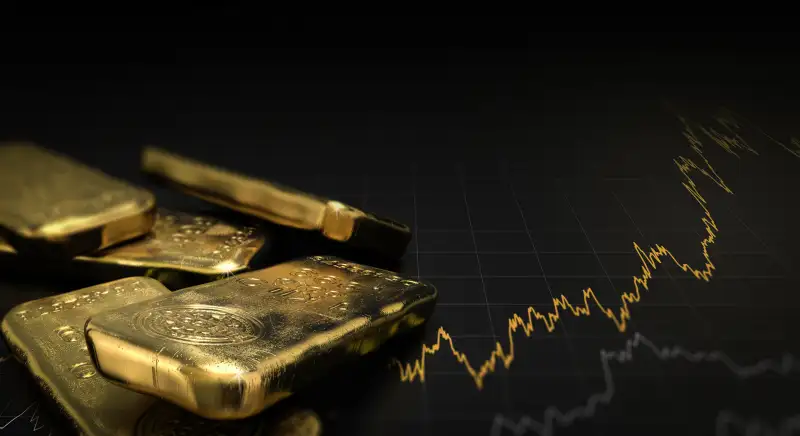 Getty Images/iStockphoto—Olivier Le Moal
The current state of the economy has many people nervous, with growing concerns over bank solvency, stock market volatility, and rampant inflation. If you're looking for more stable investments that could potentially safeguard you against inflation and a looming recession, investing in gold may be a solid option.
In this article, we highlight three popular methods you can use to invest in gold, their benefits, and how they work.
Quickest Option: Gold ETFs (Like Stocks)
ETFs represent a convenient and safe way to enter the gold market. Similar to trading stocks, you can purchase gold ETFs through user-friendly platforms like Public. These "Exchange Traded Funds" are commodity funds, and although they are made up of assets that are backed by gold, investors don't actually own the physical commodity. To put it simply, Gold ETFs act like individual stocks and can be traded and exchanged in the same way. This means that when the time comes for you to redeem a gold ETF, you would receive the cash equivalent rather than the precious metal itself.
How to buy gold ETFs
Investors buy and sell gold ETFs through a brokerage — either online or in person. ETFs charge fees, but they tend to be lower than the fees charged by gold mutual funds.
There are a variety of gold-related ETFs to choose from, but not all of them are backed by physical gold. A few of the largest include SPDR Gold Shares (GLD), abrdn Physical Gold Shares ETF (SGOL), and iShares Gold Trust (IAU). In addition to these, there are other gold-related ETFs that represent gold mining stocks, gold streaming, or financing.
Investing in ETFs allows you to invest in gold without having to fork out the costs to buy, sell and store physical gold. Another benefit of gold EFTs is that they may offer greater liquidity, as you can buy and sell shares at any time during trading hours.
Retirement Fund Option: Gold IRA
If you're interested in diversifying your retirement fund, another method to invest in gold is through a gold Individual Retirement Account (IRA). A gold IRA is similar to a traditional IRA in that it lets you invest in tax-preferred securities, but instead of holding stocks, bonds, or mutual funds, your account holds physical gold in the form of bullion, coins, or bars. Despite its name, gold IRAs also give access to other precious metals, like silver, platinum, and palladium.
Benefits of this option
Gold's historical track record has shown that it is often a hedge against inflation, which may help you protect your retirement savings from market fluctuations in the long run.
Works with IRS-approved gold custodians, which have to follow strict rules and guidelines.
Can help diversify your retirement portfolio.
May let you roll over part of another IRA or 401(k)
Offers similar tax advantages to traditional IRAs
How to buy gold in an IRA
To invest in gold through an IRA, you first need to open an account with a gold IRA company. Top gold IRA companies are typically transparent about their fees and offer unbiased educational resources and responsive customer support. They also feature intuitive account setup and options to roll over different retirement accounts.
Least Secure Option: Buy Physical Gold
The most tangible way to enter the gold market is by buying physical gold in the form of coins or bullion. This option requires you to buy, store and sell the gold yourself, which can come with some substantial costs and challenges. However, investing in physical gold can offer certain advantages such as the fact that gold is a tangible asset that isn't susceptible to the same risks as other assets such as stocks and bonds.
Benefits of this option
You would own a physical, valuable asset that can be easily passed on to others.
Stable value
You typically don't need to keep an eye on it like you would a portfolio of stocks and bonds.
How to buy physical gold
Gold bullion bars and rounds are generally sold and mailed to you by online gold retailers such as Moneymetals. These retailers frequently offer discounts to members of the military and for buying in bulk. However, sellers will usually mark up the price of physical gold, so you'll likely pay more than the actual value. Some retailers consider buying more than 100 gold bars (or 500 gold coins) a "bulk" purchase, but this will depend largely on the seller.
You may also be able to buy smaller gold bars, ranging from half a gram up to 100 grams from stores that specialize in numismatics, pawn shops, and some jewelry stores.
Bottom Line
For centuries, gold has been used as a store of value and has maintained its purchasing power over time, being perceived as a symbol of stability and wealth. Today, gold is often considered a popular and safer investment option, and can prove to be an effective hedge against inflation and other economic downturns.
Whether you choose to invest in gold ETFs, a gold IRA, or physical gold itself, it's important to do your research and understand the risks and potential rewards of each investment method.
*The information provided on this page is for educational purposes only and is not intended as investment advice.