7 Simple Ways to Winterproof Your Car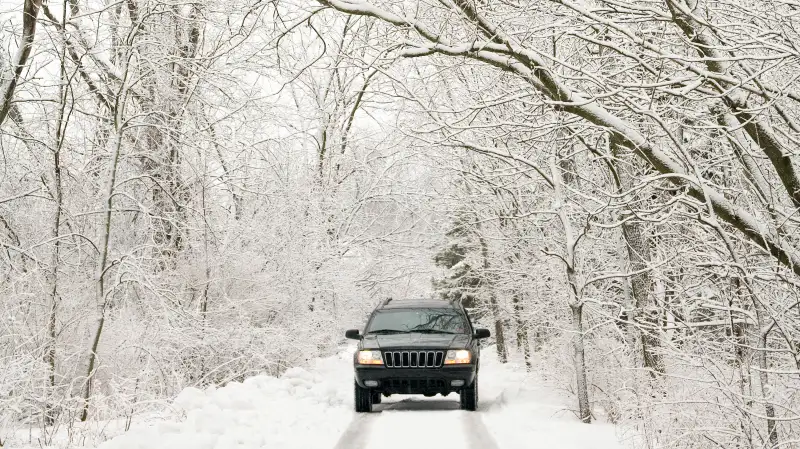 The weather outside may be frightful, but your driving experience can still be delightful. All it takes is a little preparation to set yourself up for a safe and sound winter driving season.
Of course, the best advice is always this: When the roads are slick and unsafe, stay home. But if you must go out, you'll be glad you planned ahead.
1. Check the Battery
Your vehicle's battery loses 33% of its power when the temperature dips below freezing and as much as 60% of its juice when the mercury falls below zero. So it's wise to give the battery and its charger a once-over to ensure they're performing optimally. A quick trip to your local car technician will quickly reveal whether the battery is winter-ready, or corroded and otherwise not performing well.
2. Switch to Winter Wiper Blades and Cold Weather Washer Fluid
Windshield wipers are crucial to a clear view from the driver's seat — but a nasty winter storm makes their job many times harder. That's why you should consider investing in a pair of winter blades, which are built to withstand precipitation and freezing cold. Most winter blades are encased in a protective rubber shell that prevents ice and snow from hardening on the wiper. The going rate for a pair ranges from less than $20 to about $40, depending on size and quality.
While you're attending to windshield issues, car safety experts also suggest switching over to cold weather washer fluid, or any brand containing antifreeze.
3. Store a Shovel in the Trunk
You're driving down the road when your tires hit a patch of ice that sends you sliding into a snow bank. It's a gentle spinout that causes no injury or damage, but now your front tires are sunk in a heap of fresh snow. You're not going anywhere for awhile — unless you packed a shovel and have the muscle to dig yourself out. The shovel needn't be a humdinger, just something sturdy that fits in the trunk.
4. Check the Tire Pressure
For every 10 degree change in temperature, car tires lose a pound of pressure. That's why it's wise to make sure the pressure in all four tires is in check at the outset of the winter season. In cold weather, any pressure imbalance will be made that much worse.
5. Evaluate the Tire Tread Depth
Car tires in any season need a tread depth of at least 6/32-inch to get adequate traction, according to Tire Rack. If yours fall short, you're going to need to go tire shopping. Wintry road conditions necessitate even more depth than normal to help the tire grooves compress and release snow as they roll. Without sufficient tread depth, spinouts are more likely.
Should you opt for new winter tires, be sure to get a full set. Mounting winter tires on the front of a front-wheel-drive car can prompt sliding while putting winter tires only on the back of a rear-drive car will make turns more difficult.
6. Switch to Thinner Oil
Cold weather thickens the engine oil, which forces the car battery to work double time to get your car running smoothly. But you can give your battery a break and prevent potential engine trouble by switching over to a thinner oil. Most vehicles are served well by a 5W-20, 5W-30, or 10W-30 oil formula, but be sure to check your owners manual for notes on compatibility. It's also wise to have the oil filter changed to maintain fluidity.
7. Pack a Blanket
Should you get stranded on the side of a highway during a temper tantrum by Jack Frost, you'll be much less likely to run the risk of frostbite, hypothermia, or plain old cold weather discomfort if you've got a warm blanket stowed away in the trunk. While you're at it, it's not a bad idea to add a set of hand warmers, gloves, a wooly hat, a flashlight, bottled water, and a non-perishable snack to your winter weather emergency survival kit. Here's hoping you never have to use it.
Read more articles from Wise Bread:
56 Life Hacks to Help You Win at Winter
12 Cheap Ways to Make Your Car Look Awesome
Five Reasons Why I Love Public Transportation