Barnes & Noble's Nook Spinoff Reverses the Usual Plot
Money is not a client of any investment adviser featured on this page. The information provided on this page is for educational purposes only and is not intended as investment advice. Money does not offer advisory services.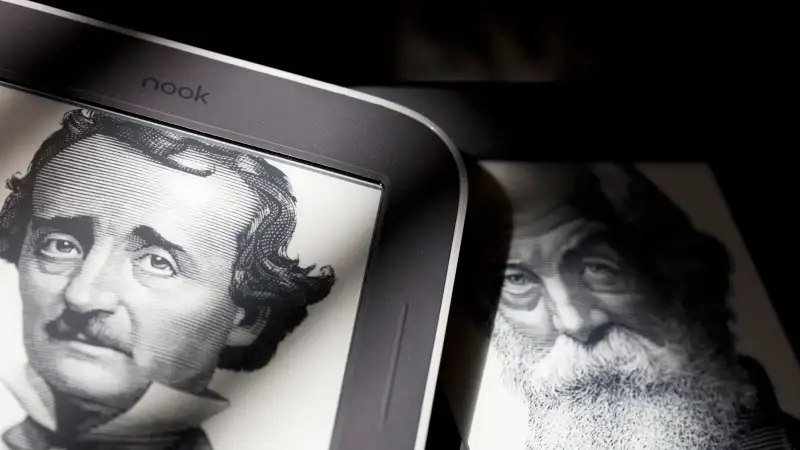 In most media companies, it is the "old" part of the business — usually, things printed on dead trees — that's a drag on the much faster-growing and promising tech-driven side. So the typical playbook calls for management to sell, jettison, or spin off its old media unit so investors can focus on the newer and shinier parts of the company.
That's what happened at the old News Corp. (now Twenty-First Century Fox) , Time Warner (former parent of Time Inc., which owns Money) , and it's happening again at Tribune.
Yet at the struggling bookseller Barnes & Noble , it's just the opposite.
The company — which on Wednesday reported a bigger-than-expected quarterly loss of 72 cents a share (Wall Street was bracing for around a 63 cents a share drop) — found a way to assuage worried investors by announcing that it plans to split off its troubled Nook e-reader division into a separate company.
The stock immediately shot up on news that Barnes & Noble investors would no longer be saddled with the Nook's disappointing sales:
Barnes & Noble CEO Michael Huseby noted that management has taken several steps to strengthen the company. Among them: Improving the company's core retail operations and growing its promising college book business. As such, he said, "we believe we are now in a better position to begin in earnest those steps necessary to accomplish a separation of Nook Media and Barnes & Noble Retail. We have determined that these businesses will have the best chance of optimizing shareholder value if they are capitalized and operated separately."
In other words, investors will better appreciate the decent growth in the company's traditional print-driven businesses — retail revenues grew around 1% in the quarter, while college sales jumped more than 18% — if the Nook wasn't tethered to the company.
In the quarter that ended April 30, Nook sales fell more than 22%. In fact, revenues for the company's tablet business for the fiscal year have sunk to around $505 million, versus $933 million in fiscal year 2012.
When Barnes & Noble launched its first Nook e-readers around five years ago, the device was supposed to be an answer to rival Amazon.com's Kindle devices. Yet as e-readers morphed into full-fledged tablets, which required investments not only in hardware but also in building out a software- and payment-based ecosystem, the book-selling chain started feeling the pinch.
The company recently began breaking out its Nook sales, possibly to find a suitor for the division. Yet the grim details only added to the misery that Barnes & Noble investors were feeling.
How much time does this buy both halves of Barnes & Noble?
The traditional retail business has found some success with an aggressive push into the college book space. Yet Dan Caplinger at the Motley Fool correctly notes that there is a concern that eventually, the digital revolution will hit that business too, so the company may be right back having to figure out a digital business model.
And as for the Nook, sales were depressed in part because the product line did not get a refresh in 2013. This year, Barnes & Noble has teamed up with Samsung, which is launching a 7-inch Galaxy Tab 4 Nook later this summer.
The fact that Samsung will be shouldering the burden of hardware development does take a load off of Barnes & Noble — more specifically, the soon-to-be-independent Nook business.
However, with demand for Nooks so soft compared with other tablets, it's unclear how a smaller, independent Nook company will be able to keep up with the Amazons and Apples of the world when it comes to software development, marketing, or that cool factor.